It's still the very early days of Vine, and yet there's already an air of stigma around Twitter's video-sharing app. 
Plenty of porn—a few self-shots, but mostly just videos of computer screens—popped up just a few hours after the app went live, and the volume of it grew over the weekend, leading to a porn clip making its way to the curated Editor's Picks section.
Though porn is perhaps the most discussed Vine topic to date, at least in terms of media coverage, there are a few other quirks pointed out in this amusing fake App Store description of the fledgling app.
(Somewhat serendipitously, Vine was briefly featured in Apple's App Store before getting yanked after Monday's porn kerfuffle.)
The spoof app description, tweeted by @death_stairs, calls out Vine on hosting porn, turning smartphone-wielding creators into wannabe auteurs, trolling others in the comments (because there's no way to get blocked for spamming), questionable editor curation, and creating tedious stop-motion clips of eating a meal.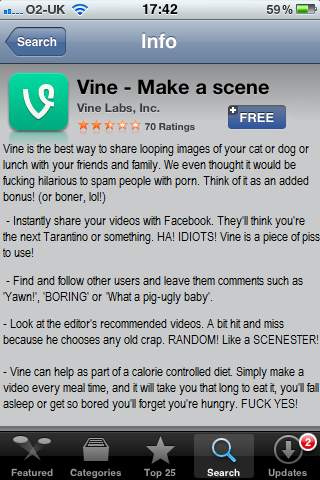 Photo by faul/Flickr