Employees of social media monolith Facebook are staging a virtual walkout to protest the company's decision to take no action on President Donald Trump's posts.
Last week, Twitter took the steps of fact-checking two of Trump's tweets, then covering another and limiting the extent to which it could circulate on the platform. In the former, Trump made unsubstantiated claims about voting by mail; in the latter, he quoted a 1960s-era Miami police chief widely accused of racist tactics.
"When the looting starts, the shooting starts," Trump wrote. Most viewed the statement as tacit permission for law enforcement to fire freely at people believed to be looting or vandalizing property during protests over the death of George Floyd, who was killed by police last week.
Trump's posts were also made on Facebook.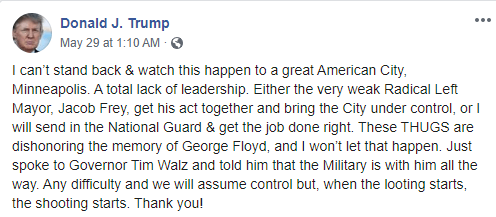 Facebook CEO Mark Zuckerberg responded to Twitter's policy enforcement action by telling Fox News that he doesn't think social media companies should be the "arbiter of truth."
Those comments came in advance of Trump's "shooting" post.
There is some irony in this statement. Facebook does use fact-checkers and takes action against posts deemed inaccurate or misleading.
However, the company has long essentially given politicians free rein on the grounds that their statements are newsworthy—for which it has been heavily criticized.
Following Zuckerberg's announcement, Facebook employees expressed their displeasure with his decision not to take action on Trump's posts. Its policies clearly prohibit content that promotes violence.
According to the New York Times, today employees staged a virtual walkout to protest the decision. It is reportedly the first walkout in the company's 15-year history.
Employees have circulated petitions to create a more diverse leadership pool at the company, where under 4% of employees are Black. Some staffers have also threatened to resign over the policy, the Times states.
Others have called for Joel Kaplan's resignation. Kaplan, vice president of global policy, is seen as an extremely influential conservative voice at the top echelon of Facebook.
Because employees are working remotely, today's walkout is being conducted virtually.
Facebook told the Times that it welcomes feedback from employees. In response to the rumbles of dissent, Zuckerberg has also reportedly rescheduled his Thursday meeting with employees for tomorrow.
READ MORE: