Not so fast, says Facebook, in response to an ambitious predictive study released by Princeton last week in which it compared Facebook's growth and decline to that of an infectious disease.
The report, which declares that Facebook is "just beginning to show the onset of an abandonment phase," mapped the rise and fall of MySpace using epidemiology, modeling user adoption and abandonment patterns just as they would those of an infected population. Then they applied the same criteria to Facebook.
The conclusions the scientists reached, namely that Facebook's userbase already peaked in 2012 and that the social media monolith will drop 80 percent of its users over the next four years, were alarming enough to make headlines.  
But will Facebook really die out like the plague?
Not unless Princeton goes with it, Facebook responded today.
Attacking the study's methodology of analyzing Facebook engagement using Google search trends instead of Facebook's own analytics reports, Facebook's data scientist Mike Devlin applied the same tactics in a sardonic takedown of Princeton University itself, puncturing the logic behind the university's science.
"In keeping with the scientific principle 'correlation equals causation,' our research unequivocally demonstrated that Princeton may be in danger of disappearing entirely," Devlin wrote on his own Facebook account yesterday.
Devlin produced a number of graphs that show Princeton to have experienced a serious decline in social media ranking based on Facebook Likes, Google trends, and interest metrics. He also revealed a drop in the number of Google Scholar listings for "Princeton" over time.
Then he pointed out that since university enrollment seems to be consistent with Google search trends, the drop in Google searches for "Princeton" could only spell inevitable disaster for the Ivy League university: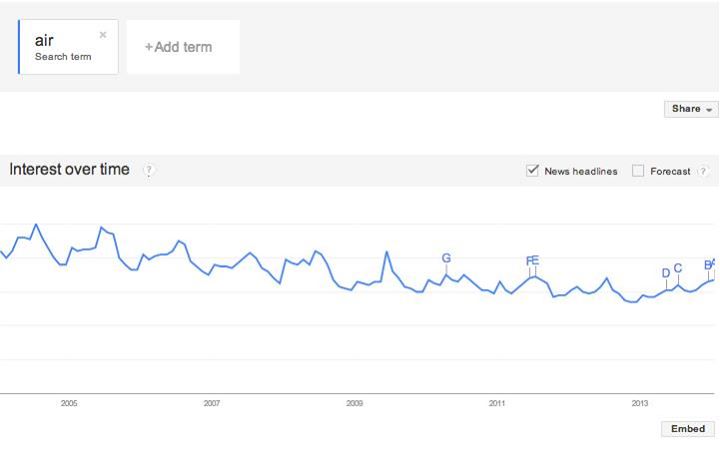 Photo via Facebook
"This trend suggests that Princeton will have only half its current enrollment by 2018, and by 2021 it will have no students at all, agreeing with the previous graph of scholarly scholarliness. Based on our robust scientific analysis, future generations will only be able to imagine this now-rubble institution that once walked this earth."
Devlin went on to snark that he was also worried about the universe running out of air, since the Google search trends for "air" are also in decline.
Devlin's attempt to dismiss the Princeton study may have overreached, however, in that it also takes a sideswipe at the idea that Google trends can be indicative of real-world data. If that's the case, then humanity might be doomed, for real: the study mentioned that Google search queries had been used as predictive factors in everything from the behavior of the stock exchange to flu outbreaks.
But as Devlin points out, "not all research is created equal."
Perhaps he would think more highly of a study predicated on Facebook Likes.
Photo by patrick_nouhailler/Flickr