Facebook introduced a company rebranding on Monday in an attempt to distinguish the business from the social network.
Antonio Lucio, Facebook's Chief Marketing Officer, revealed in a blog post the new logo that will represent the company. The logo for Facebook the social media app will remain the same.
"The new branding was designed for clarity, and uses custom typography and capitalization to create visual distinction between the company and app," Lucio writes.

Aside from the font change and capitalization, Facebook also notes that the new logo will change colors depending on where it's used.
"Instead of the company owning a single color, we designed the brand to be responsive to its context and environment," the company wrote. "This system allows the wordmark to take on the color of our individual brands, creating a clearer relationship between the company and the products we build."
The rebranding is also part of Facebook's effort to let users know which apps it owns. Everything from the Facebook app to Messenger, Instagram, WhatsApp, Oculus, Workplace, Portal, and Calibra will soon include at least a small reference to the uppercase Facebook logo.
"This brand change is a way to better communicate our ownership structure to the people and businesses who use our services to connect, share, build community, and grow their audiences," Facebook says.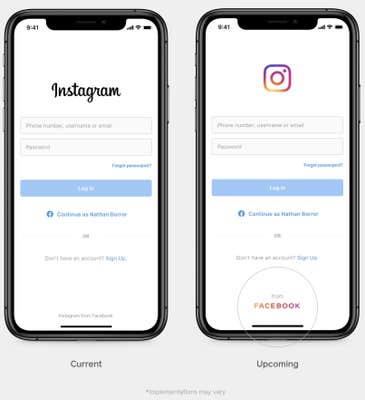 On top of placing the new logo inside its family of apps, Facebook admitted earlier this year that it would be forcing employees of those apps to transition their internal email addresses away from @instagram.com, @whatsapp.com, and @oculus.com and to @fb.com instead.
Facebook CEO Mark Zuckerberg has also been attempting in recent months to fix the company's battered public image by claiming that the company is now centered around user privacy.
Despite the company's latest attempt at quasi-transparency, everyone from Facebook co-founder Chris Hughes to Sen. Elizabeth Warren (D-Mass.) have called for the tech giant to be broken up.
READ MORE: