Mark Zuckerberg wants Facebook to be the world's personalized newspaper. But he doesn't want it to be a crappy tabloid; Zuckerberg wants the Facebook News Feed to operate like a thoughtfully curated stream of content. And odds are you probably want that, too.
But as we all know, the News Feed is broken, and Facebook is getting serious about improving it. Of course, the only way to rid yourself of those odious posts about NCIS from your high school pal who never left the neighborhood is to hide them—Facebook, unfortunately, can't make your acquaintances any cooler. But it can push certain kinds of spammy stories out of sight. Starting today, Facebook will clean up the News Feed in three ways:
 
Facebook will punish people who beg for likes.
If you post something and whinge at your Facebook friends to 'like' or share it, you're either a desperate spam artist (in Facebook's terms, a "like-baiter") or you've been suckered into participating in a fundraising campaign. "People often respond to posts asking them to take an action, and this means that these posts get shown to more people, and get shown higher up in the News Feed. However, when we survey people and ask them to rate the quality of these stories, they report that like-baiting stories are, on average, 15 percent less relevant than other stories with a comparable number of likes, comments and shares," Facebook explained.
Nobody likes being made to feel obligated to pass something along. These posts are basically the chain emails of social media, and they're terrible. And now Facebook is going to treat them terribly.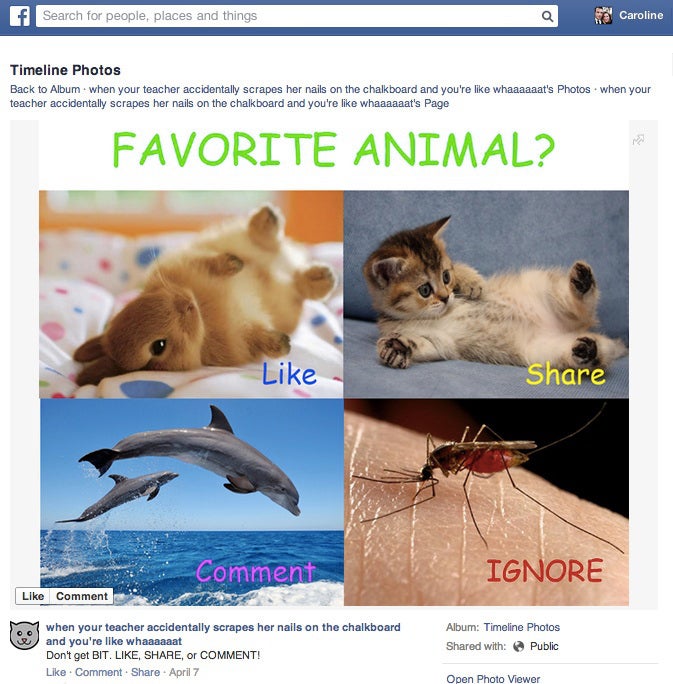 Are you sharing the same photo over and over? Stop doing that.
There's nothing inherently bad about content that goes viral, but Facebook users have complained that they see the same stuff over and over again. So Facebook will hide some content that gets posted repeatedly.
 
Facebook hates spam.
Facebook has it out for what it calls "spammy links." These are links shared on Facebook that Facebook believes to be deceitful; people click on them, and then they turn out to be pages of ads.
"The update we are making today improves News Feed to reduce cases of these spammy links, and in our early testing we've seen a 5 percent increase in people on Facebook clicking on links that take them off of Facebook—this is a big increase in the context of News Feed and is a good sign that people are finding the remaining content in their News Feed more relevant and trustworthy," Facebook wrote.
It's good to see Facebook taking initiative to improve News Feed, but these changes are strange considering everything that appears in the feed that's not an ad is something shared by a Page or person that a Facebook user follows. If Facebook users don't like what they see posted from a specific account, they can always hide that account's posts… or unfollow it altogether. The big problem with Facebook's News Feed is that it buries too many stories, not that it allows too many crappy ones through. Even when clicking on "Most Recent" instead of "Top Stories"you're not seeing a true chronology of Facebook posts.
While in most cases, Facebook's decisions to imitate Twitter have been misguided, there is one page out of the Twitter book that Facebook should consider: Stop curating the News Feed altogether. Or it should provide an unadulterated version, just a constant chronological feed of updates, as an option. That way, it can keep fiddling with algorithms in its quest to be a news reader and give users a chance to actually see what everyone they choose to follow is posting.
Spam photo by janetgalore / Broom photo by jrigol / remix by Jason Reed (CC BY SA 2.0)