It's pretty common for big social media platforms to block adult content, or make it more difficult for users to access it. Facebook does it, Instagram does it. Even Tumblr, the Internet's Mecca for porn GIFs, does it, albeit in a more roundabout way. But what happens if you use one of these platforms to send a link to non-pornographic content that's hosted on a porn site? (Yes, shockingly, it exists—you're probably just not looking for it.)
Apparently, Facebook will just go ahead and block you from sending it anyway. According to Reason.com, that's what Cleveland standup comedian Walter Hemmelgarn discovered when he tried to send his friend a link to an Avenged Sevenfold cover that was on the free porn site Xvideos via Facebook Messenger. (The video itself is SFW, but the site itself is decidedly less so.)
How Hemmelgarn found the cover on Xvideos, and why he was searching for metalcore covers on a porn site? That's unclear, but it's a different story for a different time.
Although the video itself was totally SFW, it nonetheless failed to pass muster with Facebook Messenger. When Hemmelgarn tried to send the link, a message popped up saying the app had detected "a link that our security systems detected to be unsafe," blocking him from sending the content. A similar message came up when I tried to send my friend a totally SFW economics lecture that also happened to be posted on Xvideos: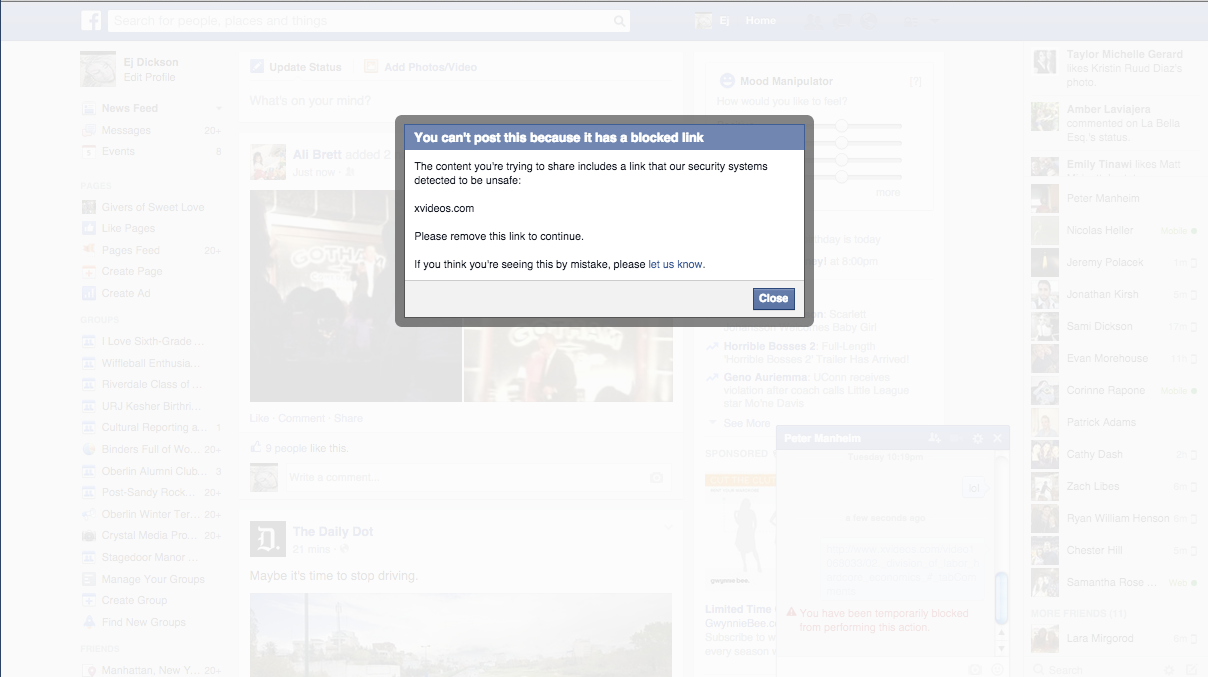 Given how many other social media platforms have anti-pornography policies, it makes sense why Facebook Messenger wouldn't let users send such content. It also makes sense that Facebook would say they block users from posting such sites because the links are "unsafe," to preemptively deflect criticism that the site is blocking such content for the purpose of user censorship. (Whether or not that argument is actually valid is a different story: A 2011 Symantec report, for instance, determined porn sites were far less likely to be infected with malware than shopping sites or blogs were.)  
But what's weird about this specific anti-adult content policy is that it appears to be inconsistent. When Reason tried to send videos from lesser known free porn sites like 4Tube, Facebook Messenger allowed them to send the link. So not only is Facebook Messenger preventing you from sharing SFW content from specific, blacklisted sites, for pretty much no reason other than that they don't like them—it's also not doing a very good job of blocking them, either. As if you didn't have enough reasons to hate Facebook Messenger.
H/T Reason | Photo by wiros/Flickr (CC BY SA 2.0)