Facebook's "I'm Voting" app was credited in a study with convincing 340,000 Americans to vote in 2010, and the social network brought it back for 2012's national elections. Although we don't yet know what effect Facebook had on voter turnout this year, the social network has released some interesting facts about which Facebook users carried out their civic duty.
The findings were published last Friday in a note authored by Eytan Bakshy, a member of Facebook's Data Science Department. Of the roughly 168 million Facebook users in the United States, 9 million used the app to declare their intention of voting.
According to the study, more women than men reported that they were voting. As Bakshy points out, however, this doesn't mean that females are more politically engaged than their male counterparts. Instead, it's reflective of the fact that women are more willing to share on Facebook than men.
"The answer is much simpler: as shown in the chart [below], women are disproportionately more likely to share in general on Facebook. Compared to comments, likes, and status updates, voting has the same amount of gender imbalance as we see in other forms of communication."
It wasn't just women who were more forthcoming with their information than their counterparts. Liberals— those whose declared political affiliation ranges from "very liberal" to "Democratic"— voted at a higher rate.
Chart via Facebook
The numbers also showed that close to half of those who used the "I voted" app, 46.6 percent, did so via their mobile device. This is surely good news for Facebook, which recently renewed its focus on mobile after smartphone users helped the company increase its revenue by 32 percent in the third quarter.
The researchers also looked at how fans of various celebrities on Facebook voted. According to the data collected, those who liked First Lady Michelle Obama were more likely to click the voting button than those who have declared themselves fans of the Jersey Shore's Snooki.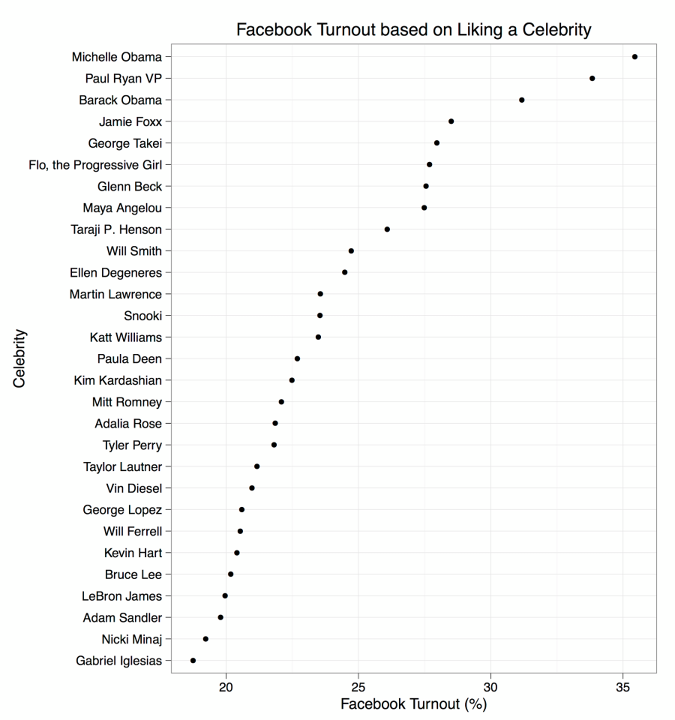 Chart via Facebook
Bakshy wrote that people who liked black celebrities voted at higher rates than those who liked other celebs, a reflection of "the excitement and high levels of turnout seen in African-American communities in [the] election."
That argument is tenuous at best given that the Hispanic vote played a prominent role in the election, yet those who liked Latino celebrities were amongst the least likely to click the "I voted" button.
Perhaps the most curious data reported from the study was "Facebook Turnout based on Liking a Non-Human Entity." Unsurprisingly, those who liked "Binders Full of Women" and "Big Bird" on the social network clicked the "I voted" button more than those who liked Hello Kitty and Scooby-Doo. The former two became memes thanks to mentioned by Mitt Romney in the presidential debates.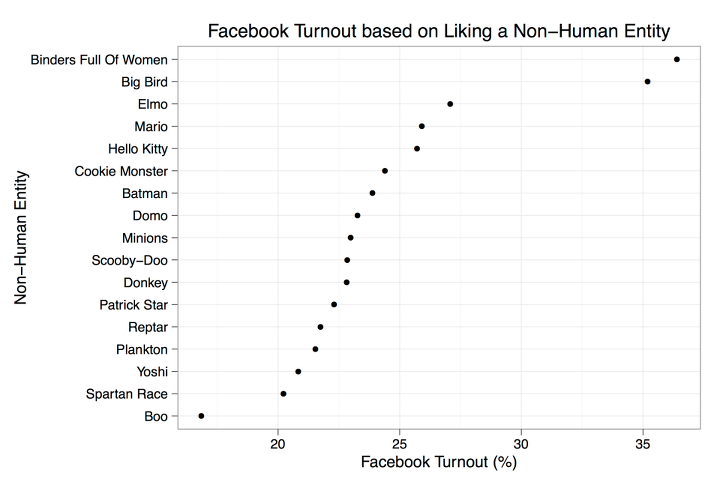 Chart via Facebook
Photo via michaeljzealot/Flickr