Last year, Facebook introduced a way for users to ask for each others' phone numbers and contact information. If someone hasn't put their information on the network, Facebook will prompt users looking at that profile to ask for the missing phone numbers, addresses, and other contact info.
Now the social network is pushing forward an even more aggressive version of this data-guilting feature: an Ask button.
On desktop or mobile, users get shown the Ask button when people in their network haven't provided personal details in their profile, like their hometown or their relationship status. Only users who are friends with each other will see each others' Ask buttons, and Facebook requires that users list a reason why they're requesting the information, which may decrease the chances of someone just getting bored and clicking 'Ask' on all their friends.
But make no mistake: This is primarily a way for Facebook to goad users into putting more information up on Facebook without directly doing the goading. It's nagging by proxy.
People have always been able to ask their Facebook friends this stuff—that's what texting and emails are for—so it's far from a necessary function. 
Instead, Ask serves as a prompt. Seeing that button makes profiles look incomplete. It also encourages people looking at profiles to help their friends fill in their information—even if theonly reason it looks empty in the first place is because the new Ask button is there.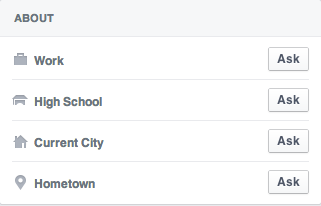 A Facebook spokesperson told Daily Dot there is no way to prevent the Ask buttons from appearing.
Facebook's user interface is very easy to navigate. That's one of the advantages it has over rivals like Twitter. It's easy enough for less tech-savvy grandparents to figure out. Putting personal information into a Facebook profile is not confusing or difficult. When people fill out their profiles, they share what they're comfortable sharing. There's usually a reason why they've omitted a certain detail.
For example, maybe users don't want to tell people about their relationship status because they're in a rocky romance, and constantly toggling between "It's Complicated" and "In a Relationship" isn't a good look. Facebook is now pointing out to everyone who visits a profile when people haven't specified their romantic status. And while users will have a chance to answer in private instead of answering by publicly updating their information, it's awkward at best and invasive at worst.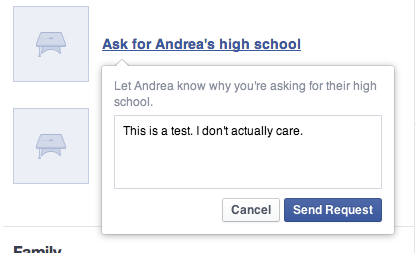 That's certainly the case for me at least. When I haven't filled stuff in on Facebook, it's because it's too complicated to be reduced to an easy answer, and I don't really want people or a social network drawing attention to the messy corners of life. For instance, now whenever someone goes on my profile, they see I haven't selected a current city. That's because I don't want to select a current city! I'm in the middle of a lengthy immigration process, and I have to go back and forth between my partner's city and my hometown. The reason I didn't put down a current city is because it's the tangled part of my life right now.
Before, Facebook displayed the information users chose to share and allowed people to omit what they didn't want to highlight. Now the fact that users are being reticent is the thing being highlighted. And people who didn't want to share are now forced to reject a request for information in a more formal way than simply changing the subject in a Facebook message.
Most people aren't going to care about the Ask button. But for people with parts of their lives in flux, it's a frustrating addition.
H/T Ars Technica | Photo via Jan Persiel/flickr (CC BY-SA 2.0)