This article contains graphic content that may be NSFW.
Although women currently have an unlimited number of options for sex toys to help them get off in bed (I can't count how many times I've heard friends rave about their Hitachi Magic Wand this week alone), let's face it: It's easier for some women to make it happen than others. According to Planned Parenthood statistics, approximately 30 percent of women have trouble reaching orgasm, and a 2012 study reports that a staggering 23 percent of women said they didn't find sex at all pleasurable.
With this in mind, it's clear that there are still few sex toys on the market that can reliably and consistently help a woman achieve orgasm during sexual intercourse with a partner. The women behind the Brooklyn-based sexual health startup Dame Products believe that they've invented such a toy. It's called the Eva, and it's a nonintrusive vibrator that women wear to achieve clitoral stimulation during sex that's currently fundraising on Indiegogo.
In essence, the Eva is a hands-free vibrator that women can wear during sexual intercourse. It has two "wings," which fit snugly under the labia majora so it rests atop the clitoris without getting in the way of penetration. (There are some NSFW animations on Eva's Indiegogo page that demonstrate how this works in greater detail.) It's USB-rechargeable and has three different speeds which you can control via a button on the device.
You can wear it either with a partner or solo, but the major selling point of Eva is that it's hands-free, as opposed to a regular vibrator, which you'd have to operate and manipulate during sex (which, as most women know, can often be close to impossible depending on the position.)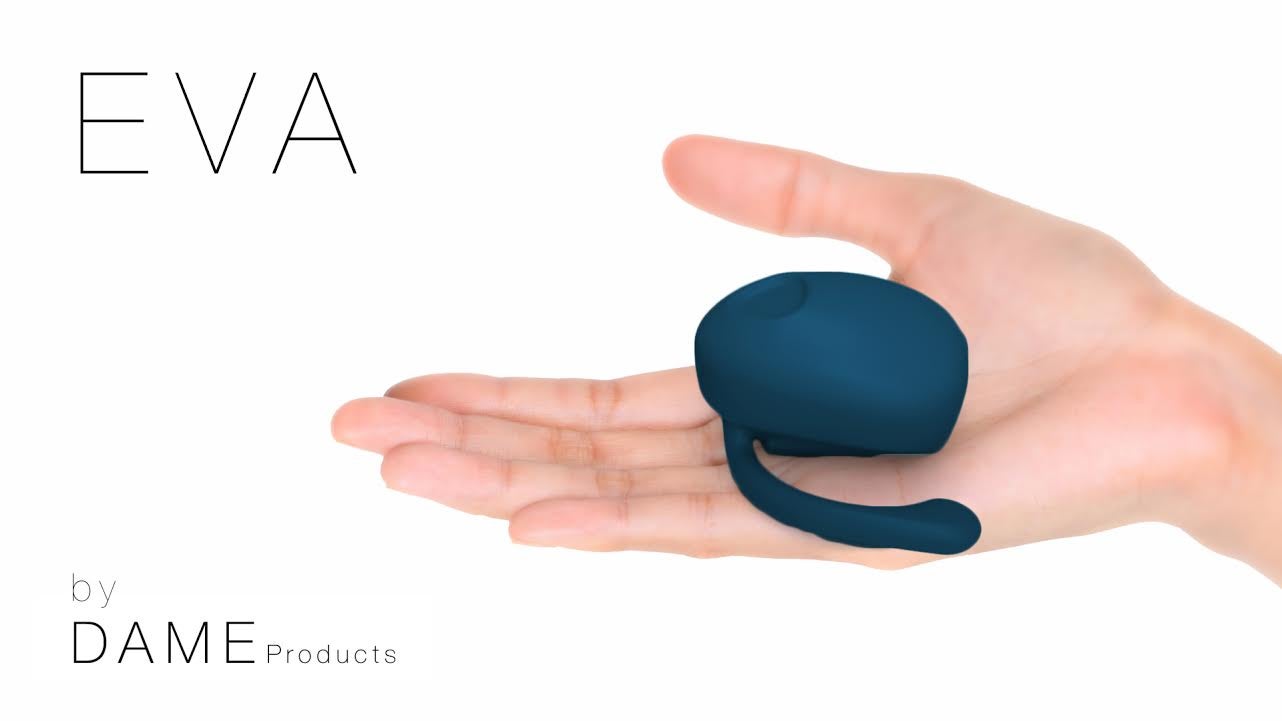 The Eva was created by Alexandra Fine and Janet Lieberman, an MIT engineering grad with a background in consumer electronics engineering. (Before launching Dame Products with Fine, Lieberman worked on the MakerBot Replicator Mini.) 
"I was resigned to being just a little disappointed when I got products in from Amazon," Lieberman told the Daily Dot, explaining her inspiration. "Once I got one with my boyfriend, and he and I were both engineers, and neither of us could figure out how to make it work. This is something you're supposed to be using in the moment."
Fine and Lieberman were further emboldened by research on what they refer to as "the pleasure gap," or the gap between the likelihood of men and women achieving orgasm during sex. Because 70 percent of women require clitoral stimulation for orgasm, they felt the sex toy marketplace was missing a product that could stimulate a woman's clitoris during penetration, without obstructing intimacy between partners.
"Clitoral stimulation is really important to a lot of women for their pleasure and enjoyment, and it's difficult to get during sex. Usually, you have to get it before or after," Lieberman said. "Women need a little more time to get to that moment, to touch and feel and kiss to get revved up a bit more. And a lot of the vibrator solutions on the market today don't allow partners to be close and intimate while using them."
Eva is far from the only couples' vibe targeted at clitoral stimulation on the market. If you go to Babeland or Adam & Eve, you'll find dozens of vibrating cock rings and bullets and other products that are intended for usage during heterosexual sex. But the most popular is probably the WeVibe 4, a vibrator worn internally that's intended to stimulate your clitoris and your G-spot at the same time. (The speed and intensity can also be controlled by a partner via wireless remote.)
Unlike the WeVibe, the Eva is worn externally rather than internally, which Lieberman says gives her product a major advantage. The WeVibe, she said, "does two things at the same time. Sometimes you want one without the other." She also said she's spoken with many women who've reported that because the WeVibe is worn internally, it gets in the way during penetrative sex, preferring the feeling of their partner's penis to the vibrations of the product. 
"We wanted this product to keep couples focused on each other without changing the way sex feels," she said. "We thought it solved some problems without introducing new ones."
That said, there are some obvious potential issues with the Eva. For starters, although the product itself looks sleek and relatively nonintrusive, the "wing" mechanism makes it look a bit beetle-like, sort of like the scarab in the Cave of Wonders from Aladdin. (Though on second thought, considering the Eva is meant to go inside your Cave of Wonders, maybe it's a very appropriate design.) Furthermore, there's a great deal of variation in women's labial size and length, so making a wearable vibrator that fits all women equally snugly was, as Lieberman admits, a challenge.
Despite potential design issues, the numbers supporting the evidence of a "pleasure gap" between women and men don't lie. Given how difficult it is for women to achieve orgasm solely from penetrative sex alone (hell, it might not even be possible for the vast majority of women, if recent studies are any indication), there's clearly a need for a product that offers clitoral stimulation during sex, without being obtrusive or difficult to manually operate. And while it might take some convincing for women to hop in bed with their partners, bringing a vibrating scarab resting atop their clitorises along for the ride, at least Eva is doing its part to make the "pleasure gap" a little bit smaller.
Photo via Daniel Stark/Flickr (CC BY-NC-SA 2.0)