The Christmas sweater has never looked this cool.
In lieu of scratchy wool, these "ugly Christmas sweaters" are screenprinted on a cotton blend shirt or sweatshirt. Instead of cheesy art only an ironist or your grandmother could love, they're adorned with dinosaurs, unicorns, and lusty mooses.
They're the brainchild of Chris Reams and Anne Warren, the husband-and-wife team behind the Skip N Whistle Etsy shop.
"Our Christmas sweater tees and sweatshirts make the perfect gift for anyone on your list," the pair told the Daily Dot. "Santa Claus and the dinosaurs is our personal favorite!"
In business since September 2009, the New Orleans couple sells T-shirts for crazy cat people and other oddly charming fashion items—with more than 200 items available. Come every December—and the inevitable ugly Christmas sweater parties that come with it—the two see a rush of new business. This time around, they've recruited assistants for the first time.
"The hardest part of running an Etsy store during the holidays is also the increase in traffic," Reams said. "Sales start flowing in faster than normal towards the last part of November, hit a fever pitch for about two weeks and then they just get super crazy for a few last minute days. Sellers really need to have extra help to answer emails and make sure things get mailed on time. Our elves are standing by and have been training for months."
If you're interested in snagging an ugly sweater shirt for yourself or a loved one, you'll have to act fast. The shop is only filling Christmas orders until Dec. 14. According to Reams, they need the extra time to give each order that personal Etsy touch.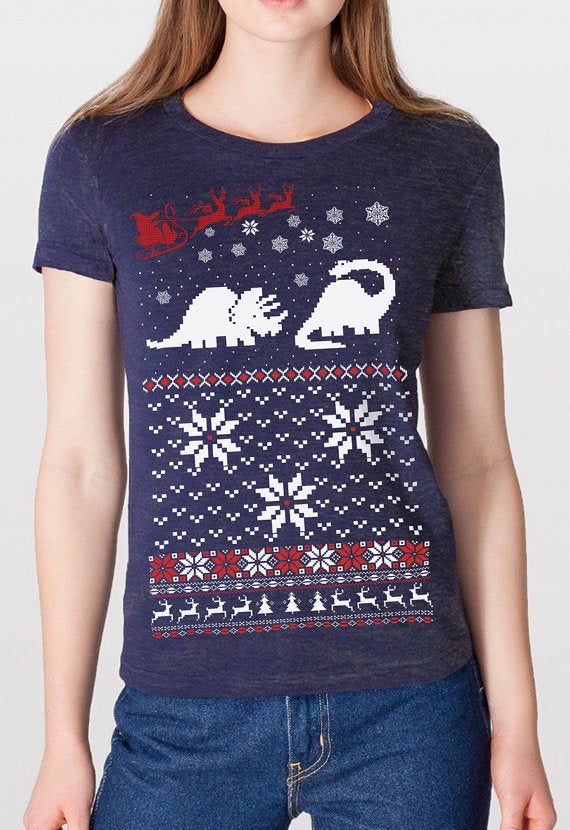 "We get a lot of requests for gifts to be sent to people and are often asked to hand-write special messages on a card," he said. "We really enjoy helping to spread good cheer from one person to another like that.
"All of our items are screen printed by hand, and then to be able to include a handwritten card rather than just an email message really completes the circle."
Photo via Skip N Whistle/Etsy