Eric Trump deleted a tweet featuring a photo of rappers 50 Cent and Ice Cube on Tuesday that falsely made them appear to be wearing hats supportive of President Donald Trump.
In the tweet, which was shared thousands of times before being taken down, Eric tagged the two men while describing them as "courageous."
"Two great, courageous, Americans!" Eric said.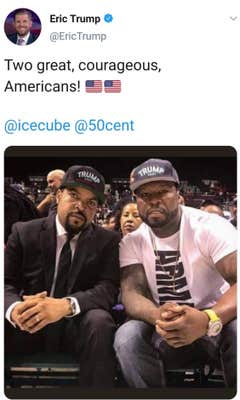 The picture, which Eric seems to have believed was genuine, is merely a photoshopped-version of a picture in which neither men are wearing Trump hats.
The original photo can be found on Ice Cube's profile, originally posted in early July. Ice Cube can be seen wearing a "Big 3" basketball hat, and 50 Cent is wearing a New York Yankees hat.
Eric likely fell for the ruse given that both rappers were in the news in recent days due to issues related to the president.
50 Cent this week seemingly endorsed Trump after railing against the tax plan of Democratic presidential nominee Joe Biden.
Ice Cube was also in the news after offering his ideas up to the Trump administration in an effort to help the Black Americans. The rapper has pushed back on claims that his actions were pro-Trump, noting that he likewise offered to work with Biden as well.
Eric only deleted the tweet after receiving a response from Ice Cube, who seemed unenthused by the picture.
"[N-word] please…" Cube said.
Unsurprisingly, this is not the first time in the last several days that Eric has sent out a fake tweet.
On Friday, Eric tweeted out a picture of a mansion purported to belong to Biden. Eric argued that the politician's ability to own such a house was finally suspicious.
As it turns out, Biden hasn't owned the home in more than 20 years and first purchased it for $185,000 in 1974.
---
This week's top technology stories
H/T Mediaite