A Texas mayor has drawn criticism for his conviction that only men should lead public prayer.
Eric Hogue, mayor of Wylie, Texas, defended his belief in an email last week to Mayor Pro Tem Jeff Forrester. A political blogger recently got ahold of the email exchange and began circulating it online.
In the email, Forrester initially wrote to Hogue to ask if a local missionary group could come to their upcoming council meeting and pray over them. Hogue agreed, under one condition.
"All I ask is that those leading the public prayer be young men," wrote Hogue, who is also a minister at the Cottonwood Church of Christ and a magician. "I am a Church of Christ preacher and I am a member of the Church of Christ, and we take the new testament literally."
Hogue cited two Bible passages to defend his decision, including 1 Corinthians 14:34-35, which reads, "Women should remain silent in the churches. They are not allowed to speak, but must be in submission, as the law says. If they want to inquire about something, they should ask their own husbands at home; for it is disgraceful for a woman to speak in the church."
He also quoted 1 Timothy 2:11-12: "A woman should learn in quietness and full submission. I do not permit a woman to teach or to assume authority over a man; she must be quiet."
The email was posted on the Facebook page of the mayor's church and in a local political Facebook group.
"I understand not everyone may agree with me, but I can't go against my conscience," Hogue continued. (Hogue did not respond to request for comment on this article by press time.)
Hogue's decision was met with criticism from some Wylie residents, including Mary Shaddox.
"That's his right in his church and his home but he cannot bring it into a government office," Shaddox told NBC DFW.
Some Twitter users criticized his decision as well.
"This is so disgusting," wrote Twitter user @BaileyCausey624. "I am a strong young woman who plans to do many things with her voice. Eric Hogue should feel ashamed of himself. A man like that should certainly not be in politics. I feel so sorry for all the women in his life. They are human and deserve a voice."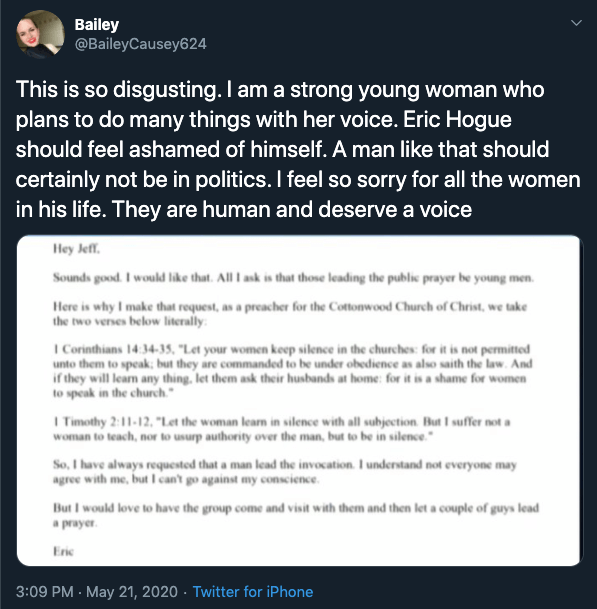 Nevertheless, Hogue has stuck by his convictions for 12 years and has only chosen men to lead council meeting prayers since taking office in 2008. He told NBC DFW that he thinks the criticism over his public prayer decision is motivated by Wylie residents who are angry that the mayoral election got pushed from May to November as a result of the coronavirus pandemic.
"I think the main thing is the budget cycle is coming up and they would like to have the new council in place," Hogue told NBC DFW. "I totally get that but we are living through a pandemic."
Hogue's critics may at least be pleased to know he will not seek re-election when his term expires in November.
READ MORE:
H/T NBC DFW