The Obama administration, bowing to bipartisan pressure, recently agreed to release a memo laying out its legal rationale for authorizing military drone strikes against United States citizens.
The surrounding controversy about drones belies some very fundamental questions: What are drones? How are they being used? Are they legal? And, perhaps most importantly, will a drone be able to one day drop of a plate of piping hot tacos right at my front door? Fear not, fellow citizen. We have the answers.
What are drones?
At the most basic level, drones are just any aircraft that can fly without a human pilot on board. The vehicles are usually operated by an automated computer system inside the vehicle, or by a human being piloting with a remote control.
How long have drones been around?
The concept of drones dates back over a century. In 1898, famed inventor and geek icon Nikola Tesla patented a "Method of and Apparatus for Controlling Mechanism of Moving Vessels or Vehicles."
The first flying drones were created during World War I, but the technology never developed to the point where it was usable in combat before the war's conclusion. During World War II, drone tech was taken up by the Nazis, who created the fearsome V-1 ?flying bomb" designed to fly up to 150 miles and then drop its payload without the need for a human manning the cockpit. The V-1 was used extensively during the bombing of British cities.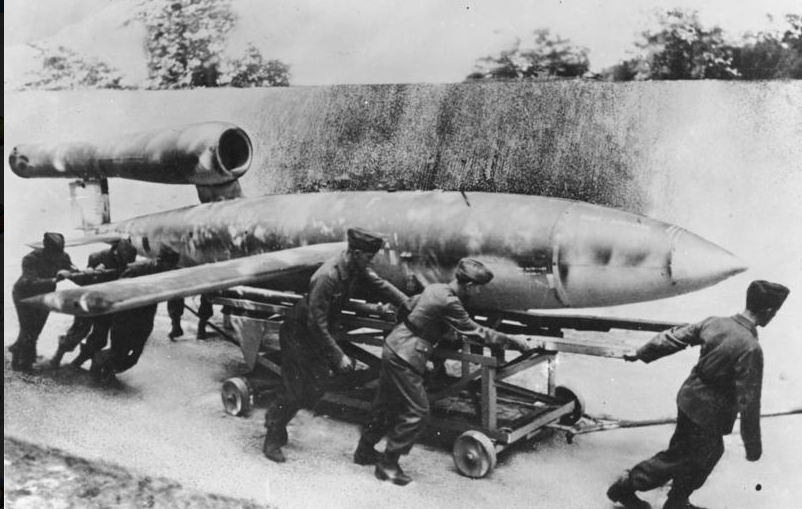 Photo by Lysiak/Wikimedia Commons
After the war, drones were primarily used for surveillance and intelligencegathering purposes by governments like the United States and Israel.
On the civilian side, drones grew out of the model aircraft hobbyist community that sprouted in the 1960s and ?70s. As this technology has become both cheaper and increasingly powerful, more individual citizens, corporations, and nonprofit groups have taken an interest.
How are drones used now?
Killing people in other countries. (More than 2,400 people, including at least 273 civilians, have been killed by U.S. drone strikes since 2009.) 
Shooting movies. (Hollywood is lobbying to do a lot more of this in the future.)
Monitoring and fertilizing crops. (The preeminent drone trade group predicts 80 percent of the commercial drone market will be in agriculture.)
Satirically monitoring highway traffic.
Providing Internet access to people around the world.
Will I be getting packages delivered by drones one day?
If drone-to-door package delivery doesn't happen at some point in the future, it won't be for lack of trying.
Late last year, Amazon CEO Jeff Bezos told 60 Minutes about his intention to create Amazon Prime Air, which would feature a fleet of drones replacing the company's current army of UPS trucks.
"I know this looks like science fiction," Bezos told host Charlie Rose. "It's not."
Judging from Amazon's actions since that interview, Bezos's dream of drone delivery doesn't appear to be an idle threat. Fortune reports that the famously tight-lipped e-commerce behemoth has put up job notices for a communications manager and patent lawyer for its Prime Air project.
The posting for the communications manager said the company is looking someone who is "Comfortable dealing with ambiguity and able to form a cohesive and effective outcome from potentially incongruous facts (or lack thereof) and individual perspectives."
Given that Amazon is already planning for some ?incongruity," it should give a sense of how contentious the company sees the idea of delivery drones zipping around major cities could be.
While Amazon is still in the early stages of drone delivery, smaller competitors are charging ahead. For example, San Francisco-based tech startup QuiQui plans to begin promotional drone delivery service for prescription medicine later this year.
What about crazy, Bond villain-esque uses for drones? 
That too. Work is being done to create a network of drones to transmit data through infrared lasers from New York to London a few milliseconds faster than using the undersea cables currently in place. The construction of just such a system has the potential to earn a handful of high-frequency trading firms a very large amount of money.
Why are people freaked out by drones?
Drones can crash into your head.
Drones can invade your privacy.
Drones can sexually harass you.
Drones can scare animals.
Drones can let police monitor you without a warrant.
These fears are probably why a recent poll found that nearly two-thirds of Americans oppose have more drones flying overhead.
Are drones legal in the United States?
Yes. No. Well, kind of. It depends what you want you use them for.
The Federal Aviation Administration (FAA) imposed regulations prohibiting the commercial use of drones in 2007. The agency allows use by hobbyists as long as they abide a set of best practices dating back to the early 1980s, which include only operating drones within line of sight, staying under 400 feet, and avoiding airports. These regulations are intended as placeholders for a long-delayed, more robust set of rules that FAA officials are hoping to get out by the end of this year. Based on a roadmap released in 2013, it seems likely that the FAA's ultimate set of rules will allow for some very limited commercial drone use.
However, a recent court decision has thrown the FAA's entire ability to regulate drones into question. The case revolved around a group of drone photographers called Team Blacksheep, who were contracted by the University of Virginia to take footage of the campus from the air for a promotional video. After the flight, the FAA fined the videographer $10,000 for operating the drone recklessly. The decision was appealed, and an administrative law judge ruled that the FAA's rules gave it authority that was far too broad. Basically, the judge charged that the agency was essentially claiming that ?a flight in the air of a paper aircraft, or a toy balsa wood glider, could subject the operator to [FAA oversight]."
The FAA has appealed the decision, which agency officials assert returns things the status quo. Although, some people have challenged the agency's logic and argue that domestic, commercial drone use is now technically legal.
Nine individual states have passed laws curtailing drone use and at least four more have recently considered passing similar legislation—primarily with privacy in mind. The majority of the laws are targeted at limiting what law enforcement can do with drones, but the laws in Texas and Idaho also prohibit publishing any photos or videos taken from a drone.
But does the government also secretly love drones?
In its 2013 roadmap, the FAA declared that it would create six drone test sites across the country where agency officials could run experiments helping them figure out how to best integrate drones into the national aerospace ecosystem. The first test site began operation in conjunction with North Dakota State University's agricultural research division this spring.
While the FAA is proceeding cautiously with domestic commercial drones, they're gung ho about having them operate in the arctic. For nearly a year, the agency has been working with companies, like energy giant ConocoPhillips, to promote commercial drone flights in regions of Alaska above the Arctic Circle.
Can I use drones for huntin'?
Not in Alaska, Montana, or Idaho—all three states have enacted legislation outlawing the use of drones for hunting. Idaho and Wisconsin don't have specific laws banning hunting with drones, but preexisting regulations prohibit the practice.
All other states—well, who knows?
I love animals and hate huntin'. Can I use drones to stop hunters?
You can try. Animal rights activists have been using drones to monitor wildlife and track poachers in places like Namibia.
Back in the United States, PETA has taken up the practice of flying drones, termed ?air angels," near hunters in hopes that the buzzing noise produced by the vehicles would scare off their prey as well as help them report on any illegal activity on the part of the hunters, such as drinking alcohol while in possession of a firearm. This tactic has angered hunters, some of whom lobbied the Illinois state legislature to pass a law prohibiting "the use of drones to interfere with hunters or fishermen."
What about hunting drones? Not hunting with drones, but hunting for drones. I want to shoot them out of the sky because they're annoying and scary.
Last year, the town of Deer Trail, Colorado (pop. 561), flirted with issuing drone hunting licenses that would have allowed residents to shoot drones out of the sky and then rewarded them with a bounty for drone parts they returned to city officials.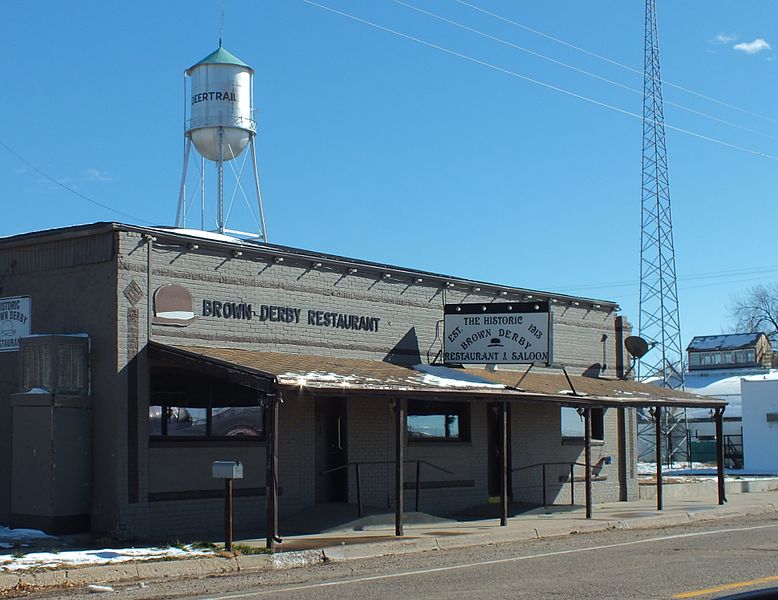 Photo by ERoss99/Wikimedia Commons
Unsurprisingly, the FAA wasn't particularly thrilled about this development. The agency released a statement urging Deer Trail residents to refrain from shooting at drones. ?[A drone] hit by gunfire could crash, causing damage to persons or property on the ground, or it could collide with other objects in the air," an FAA spokesperson insisted. "Shooting at an unmanned aircraft could result in criminal or civil liability, just as would firing at a manned airplane."
Luckily for the FAA, the drone hunting bill was put to a vote the following year and was resoundingly rejected by the Deer Park electorate.
On a scale of one to 10, how awesome is drone photography?
Does this video of a drone flying over the tallest building in the world answer your question?
On a scale of one to 10, how awesome is launching a drone out of an underwater submarine?
Ten.
Are there drones for sale? How can I buy one?
Here are a few options for you to consider: 
Parrot AR Drone 2.0
$150 at Brookstone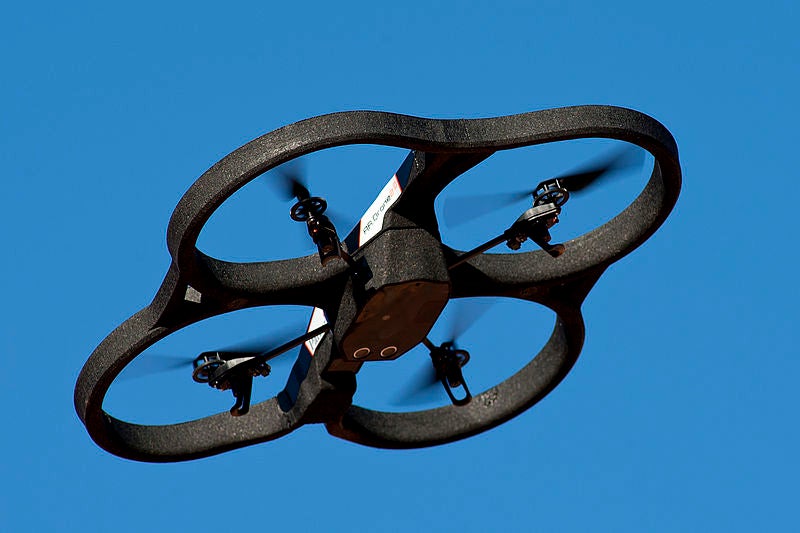 Photo by Nicolas Halftermeyer/Wikimedia Commons
DJI Phantom GPS Drone
$475 at Rakuten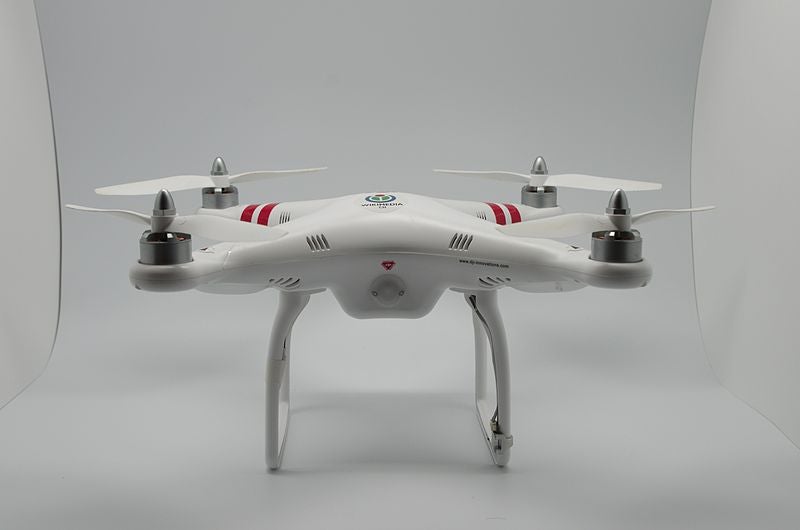 Photo by Clément Bucco-Lechat/Wikimedia Commons
Aibotix Aibot X6 UAV
$30,000 at Aibotix.com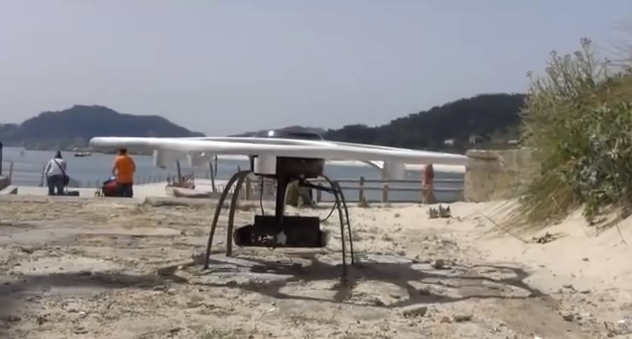 Screencap via Acre Surveying Solutions/YouTube
What if the only thing I want delivered is tacos? I love tacos.
Tacocopter has you covered.
Main image by Andrew/Flickr (CC BY-SA 2.0)