The reelection campaign of President Donald Trump is taking a contradictory route to appeal to voters—namely, through the use of running ads in Spanish on Facebook.
Historically, Trump's attitude toward Spanish-speaking Americans has been notoriously hostile. In a 2015 debate, Trump criticized fellow presidential candidate Jeb Bush for speaking Spanish at campaign rallies, despite the absence of an official national language in the United States. "This is a country where we speak English, not Spanish," Trump said during the debate.
According to Gizmodo, the ads—which can be found in the Facebook Ad Library—feature a message urging users to secure a free ticket to an "Evangelicals for Trump" coalition launch. The Spanish ads are similar to their English counterparts, save for the photos being used. In the Spanish ads, supporters can be seen praying. The English version of the same ad shows a group of supporters standing and smiling.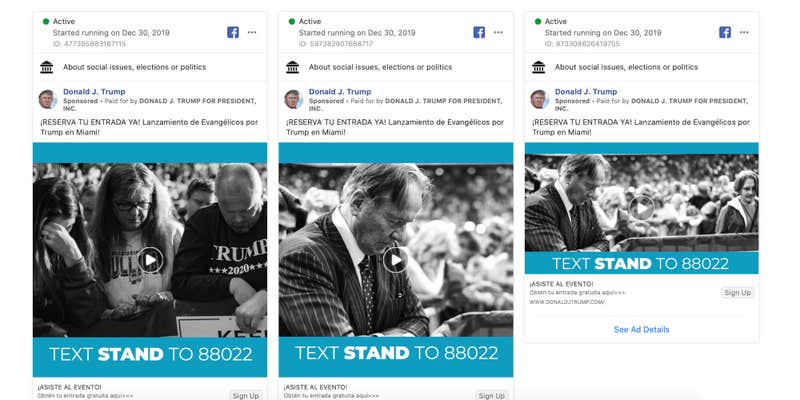 According to Facebook Ad Library data, the Spanish advertisements have only been shown in Florida, and the Trump campaign spent less than $100 on each one. Over 50 ads began running on Dec. 30, 2019, despite Trump's previous advocacy for Spanish speakers abandoning their linguistic roots.
"We have to have assimilation," Trump said during that same 2015 debate. "To have a country, we have to have assimilation."
According to the United States Census Bureau, around 13.4% of Americans speak Spanish at home, putting this pro-assimilation attitude at odds with a hefty chunk of the American population.
READ MORE: