When you think of the technology at Disney theme parks, the images that likely come to mind are the dated autonomatronics of rides like Pirates of Caribbean and the Country Bear Jamboree. Yet, the Happiest Place on Earth has actually long been a leader in the mass adoption of cutting-edge technologies. Not only is the company investing more than a billion dollars in the tech required to track every move made by every single visitor to the Magic Kingdom, but, according to a newly uncovered trio of patents, Disney wants to get into the drone business.
If Disney decides to actually implement the technologies contained in the patents, the result would be a major step forward in how drones are both used and conceptualized by the vast majority of Americans. However, under current Federal Aviation Administration regulations, actually using that technology would be against the law.
Disney's patents seem to center around doing large-scale stage shows featuring disney characters. The technology would allow Disney to coordinate multiple drones such that they can operate giant puppets. Here are a couple of the drawings that were included in the patents: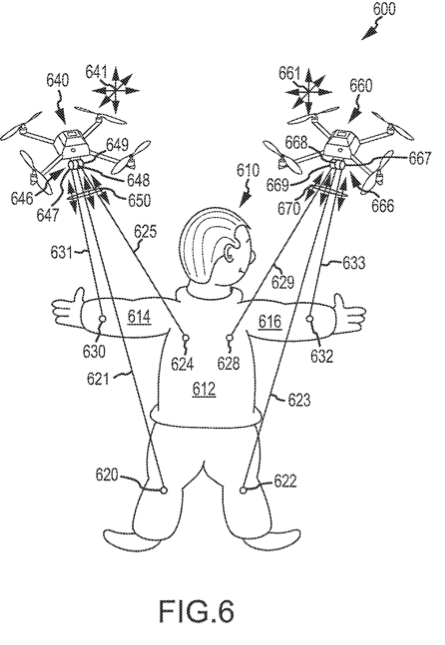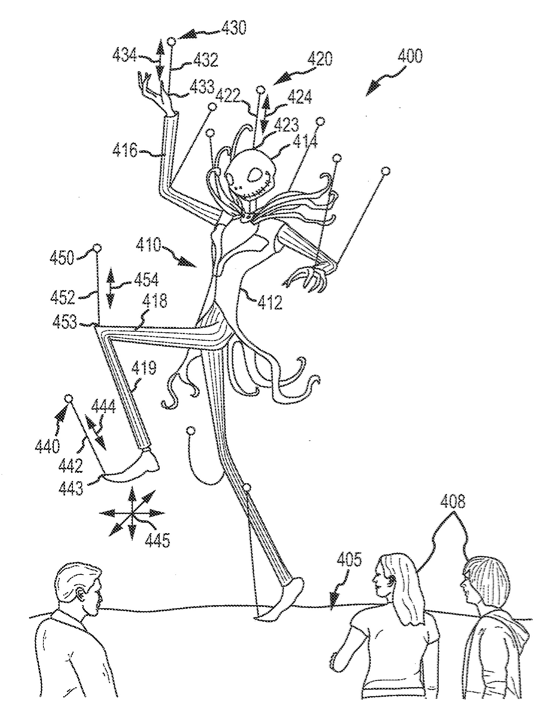 In addition to operating puppets, the drones would be also be employed to carry screens and projectors broadcasting iconic Disney images and video in midair.
News of the patents was first revealed on the Disney news blog Stitch Kitchen, which noted:
While 'Fantasmic!' at Disneyland and Disney's Hollywood Studios as well as Disney California Adventure's 'World of Color' all use fountains to project virtual screens upon which images are projected, the patent applications find several faults, including the inability to quickly update the images for seasonal purposes and the height of the projected water screens is too limiting. In addition, fireworks are considered too unreliable when it comes to consistent performances.
All of these uses seem like really impressive additions to Disney's evening show spectacles; however, none of these users are technically legal.
In 2007, FAA issued regulations prohibiting the commercial use of drones. These regulations have been used to block efforts by companies like Amazon, along with some smaller upstarts, to deliver packages by drone. It's also served as an at least temporary roadblock to using drones for things like conducting journalism and carrying out search and rescue missions.
Those regulations, which have been challenged in court with some success, were only supposed to be a temporary placeholder while the agency devises more permanent rules that are expected to legalize commercial drone use—at least in a limited, highly regulated fashion. The FAA has repeatedly pushed back on the release of the long-term rules and, despite a mandate from Congress to have something ready by next September, it doesn't look like those rules will be coming any time soon.
This leaves companies like Disney in a tricky position. Drones present a huge opportunity to do really cool stuff, but making that cool stuff a reality is going to take a significant amount of time and effort. Investing in the research and engineering required is expensive and can't be converted into something usable until the FAA decides to change its stance on commercial drone use—something that's not guaranteed to ever happen.
To make matters worse, even testing commercial drone technology is illegal. While Amazon has asked the FAA for permission to just try out how drone package delivery would work, the requests haven't gone anywhere.
While Disney may have big plans to make drones an integral part of its magic, those plans will have to stay on the page, at least for now.
ht Stitch Kitchen | Photo by Carlos Cruz/Wikimedia Commons (CC BY-SA 3.0)