Opinion
Something isn't right with Discord. For one, it's about to become a lot harder to sue the company. On Tuesday, Discord updated its terms of service by adding a binding arbitration provision and class-action waiver.
Under the new terms of service, users waive their right to a trial by jury if a user brings about a dispute against the company. Discord users must give advanced notice to the company if they have an issue, and the two will go about "good faith negotiations" to "settle any dispute, claim, question, or disagreement." If negotiation doesn't work, the next step is "binding arbitration," where a third-party arbitrator will try to work out a deal between the two parties.
In other words, Discord is challenging your right to sue.
Discord is slowly changing from a voice chat app to a multi-purpose distribution platform, and over the past few months, it's taken more steps forward to control its future—which is at odds with its users' culture. Users also agree to resolve disputes "in an individual capacity" and not through "consolidated, class, or representative proceeding," unless Discord decides to "agree otherwise." Oh, and an arbitrator's decision in one dispute "cannot be used to decide other disputes with other customers," so two users can theoretically end up with different results after filing similar claims against Discord.
Users can opt out of the arbitration section by sending an email to Discord within 90 days of either their account's creation or the Terms of Service's introduction, according to the Discord Blog (the service originally offered only 30). And to Discord's credit, the platform respects users' wishes to opt out and stresses that it won't punish users who do so. However, it remains unclear if users can opt out of the class-action waiver. The Daily Dot reached out to Discord for comment and has not received a response.
https://twitter.com/aeonlamb/status/1052777579961176064
Discord's stripped the right to directly sue and requires you to go through an arbitrator.

They've also stripped the right to class-action lawsuits.

The biggest implication? A lack of responsibility if there's a data leak.

And the justification here is… yikes. https://t.co/mrfbpPX8zM

— Victoria Rose :3c (@riningear) October 18, 2018
Discord's official answer is absolutely baffling. They're basically saying that they're removing your and everyone's right to sue because many companies have used frivolous lawsuits to get what they wanted.

This is dumb on so many levels. pic.twitter.com/yEoXfC8eCY

— Dream (@Dwimepon) October 18, 2018
https://twitter.com/felixlulz/status/1052860771800100865
Discord representative, in response to the ToS update that revokes your right to sue them:

"Oopsie woopsie OwO that's a nice legal right you have there.. would be a shame if someone blew it up x3 Buy our wumpus plushie!"

— Mattt | commissions OPEN, check pinned (@MatttGFX) October 18, 2018
It kinda threw me off, as i thought discord had already that clause in it;

The whole deal is probably to ensure the legal safety of the company, now that they operate a store, which makes the danger of being hit by lawsuits in the states somewhat more of a potential problem

— kroati (@kroati1) October 18, 2018
Discord Trust & Safety member karrdian defended the recent changes on Reddit's r/discordapp forum by claiming "the modern class action lawsuit" is "really damaging to companies who are trying to do the right thing." That's because these class-action lawsuits take away money "that could be better spent on pushing new updates and getting better games that you can play." Discord users aren't buying it.
"You're not explaining how this benefits the users in any way shape or form other than 'it's cheaper,'" one Redditor complained. "In truth, it doesn't beyond that, it only hurts their ability to have a fair trial… You can't expect us to be happy about this or care about why you are doing this when you are ignoring our own rights."
Others feared for their safety in the case of an emergency, such as a data breach.
"So what should users do when you damage them in such a way that doesn't represent an enormous amount of monetary damage but you have done it to millions of people?" another redditor asked. One user replied, "Discord will never do anything like that because they're user friendly (shut up or you're banned)."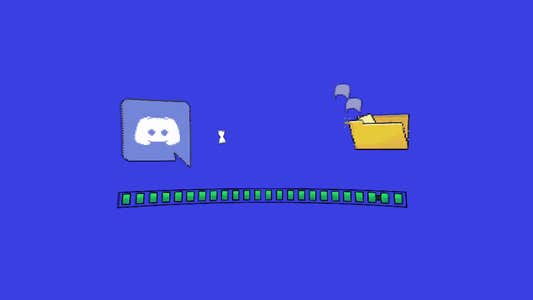 It may seem bizarre that Discord users are lashing out against the company. After all, these class action and arbitration clauses are relatively common. Steam has one. So does PlayStation Network. And even indie gaming platform itch.io has a class waiver. But there's more going on than just an arbitration agreement.
Discord came about in 2015 as a lightweight VoIP communication program for multiplayer games. Unlike its competitor Skype, Discord was as sleek and minimal as possible, and it kept features easy to use and light on resources. To this day, it's an incredibly well-optimized software suite, and its voice chat features are regularly used by activists, journalists, artists, and online fandoms around the world.
But that's not the only reason why every other internet denizen has a Discord account. The service was built as a decentralized platform that gives users the freedom to run Discord servers (or community chatroom hubs) as they prefer. While Discord's messages aren't encrypted, and the company stores every single IM created on the service, karrdian told r/discordapp that Discord staff "don't lurk and silently wait for people to say things," nor does it use an automated system to catch terms of service violations. This means Discord generally takes a hands-off approach to moderation and only steps in when content is reported, which gives users the freedom they need to be themselves without an overbearing authority figure lurking over their shoulders.
On the one hand, this fostered private adult servers like Healsluts, where Overwatch and Final Fantasy XIV players engage in erotic roleplay without worrying about any embarrassing consequences in their personal life. On the other, far-right political movements took advantage of Discord's decentralized moderation style by creating endless "alt-right" servers that evaded the service's moderators. Discord has since removed a number of alt-right servers from the platform for terms of service violations.
Love. Not hate. pic.twitter.com/5xFpvHTuI2

— Discord (@discordapp) August 14, 2017
Laissez-faire moderation has its strengths and weaknesses, but Discord's approach worked, and the company received approximately $50 million in investments in 2017, Tech Crunch reports. Big names like Accel—which has investments in Facebook, Dropbox, Slack, and Spotify—along with Greylock Partners (Airbnb, GoFundMe, and Medium) now have a stake in the company, as does Time Warner's WarnerMedia. And things are changing over at Discord, one step at a time.
This summer, Discord began cracking down on Partnered Discord servers with adult content by allegedly removing Partnership status for several communities with NSFW channels. The service has since clarified that NSFW channels are not allowed on Partnered servers, but in two separate tweets from last fall, Discord told users that adult content was allowed on Partnered servers as long as it was contained in its own discussion channel. Over time, the policy seemingly changed, forcing Partnered servers to catch up, lest they lose their custom server URL and other perks.
"The r/Gaymers Discord is pretty pissed about this," one redditor wrote. "They had one channel where a lot of people talked about sex and shared porn and selfies, which was a really positive environment for people coming to terms with their sexuality and allowed them to gain a lot of confidence with like-minded people. Now they've lost that unless the server admins want to give up partner perks."
Then there's Discord's move toward monetizing the platform. In 2017, Discord unveiled Discord Nitro worldwide, a subscription plan that lets users post animated emoji, use GIF avatars, and expand their upload size, all for $4.99 per month or $49.99 per year. Then Discord launched the Discord Store, which lets customers shop for games like Into the Breach and Frostpunk. Now, the original Discord Nitro has been renamed "Discord Nitro Classic," and for $9.99 per month or $99.99 a year, Discord users can access over 50 games for free. Discord doesn't just want you to hang out on its servers, it wants you to become a repeat customer that spends your money at its storefront, too.
But offering games and subscriptions for sale means Discord has to change its business model. It's no longer just a VoIP for chatting with your friends. It's a storefront too and a centralized platform, and that means the company has to protect itself from lawsuits. Combine that with an all-time high in users—Discord hit 130 million registered accounts in May—and Discord sees its new arbitration policy as the difference between life and death.
"The current legal landscape in the United States is such that class action lawsuits can be abused," the Discord Blog writes. "This clause was added because we are now operating a game store and subscription service for profit. Like many other companies, we are now a target for entities who wish to abuse the class action lawsuit."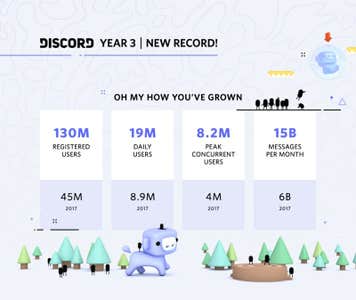 READ MORE
In 2015, Discord was an underdog that gave users the freedom they needed to communicate without the technical woes behind Skype, Teamspeak, Mumble, and other services. But that was three years ago. Now, Discord has earned so much money from venture capitalists that it openly brags "we'll be around for a while." It's the VoIP communication platform, and it wants a bite out of digital distribution too. There's nothing wrong with ambition, but as Discord expands beyond its humble roots, it needs to be in tune with its most important investor—its users.