Dirty Delete is a weekly column that goes deep into the social media history of politicians that runs on Thursdays in the Daily Dot's web_crawlr newsletter. If you want to get this column a day before we publish it, subscribe to web_crawlr, where you'll get the daily scoop of internet culture delivered straight to your inbox.
Analysis
James A. Lindsay is on a crusade to destroy everything he considers woke.
Lindsay is the Kraft Single of intellectuals. He pretends to be real cheese, but we all know he's actually pasteurized processed American cheese food.
His schtick is stringing academic sounding terms together to make a point about wokeness, equality, and his other pet peeves. But if you pay attention it's mostly just "fashionable jargon to argue for ridiculous conclusions," as the Atlanticdescribed the hoax papers Lindsay and his cohorts' submitted to academic journals in what became known as the "grievance studies affair."
He's likened critical race theory (CRT) to Nazism, called sustainability a scam, and opined that "whatever 'human rights' means, it's probably … a theft of our inalienable individual rights."
Like many right wing internet personalities, Lindsay delights in mocking George Floyd. Earlier this year, he joked that the murdered Black man is like a Santa Claus who brings Democrats presents on the anniversary of the Capitol riot. Classy.
Lindsay once claimed that there will be a white genocide if people keep studying history through a lens that includes the impacts of slavery and racism (aka CRT). His comment was denounced widely, including by the editor of Quillette, who said it could "inspire racist violence."
Calling people groomers is probably his favorite pastime. Lindsay actually claims he started the trend of smearing LGBTQ people by accusing them of being pedophiles.
(Just don't mention that he's been known to pal around with a former member of a notorious sex cult.)
Lindsay's groomer fixation got him permanently suspended from Twitter last year. Then wannabe edgelord Elon Musk bought the platform and allowed Lindsay to return with his boorish screeds about anything that promotes a more equitable society.
He loathes environmental, social, and corporate governance (ESG), says the Pride flag belongs to the "hostile enemy," and believes Marxist critical theorists are on a mission to destroy western civilization.
He's so consumed with outrage that he made it onto the Southern Poverty Law Center's extremist files and Moms for Liberty invited him to speak at its annual summit.
Lindsay is on Twitter, Instagram, Gab, Truth Social, and Gettr.
Dirtiest Delete
There are a lot of posts that Lindsay should have deleted but didn't.
One he saw fit to delete was when he lobbed his catch phrase "ok groomer" at a clearly satirical tweet about making kindergarteners choose new pronouns every morning and pledge allegiance to the Pride flag.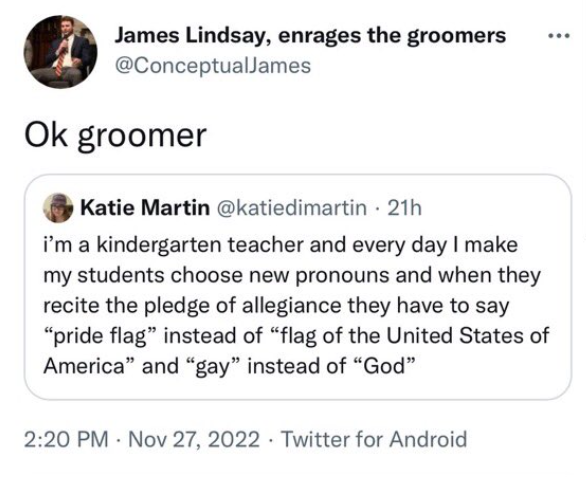 Like what you are reading?
Sign up to receive web_crawlr, a daily newsletter
from the Daily Dot, in your inbox each morning.