Jan. 6 Capitol riot organizer and "Stop The Steal" leader Daniel Bostic announced he would be attending the Conservative Political Action Conference (CPAC) in Orlando, Florida, later this week.
"I will be attending CPAC next week in Orlando, Florida! I'd love to meet up if you'll be there. Shoot me a DM! #CPAC2021," Bostic tweeted last Thursday.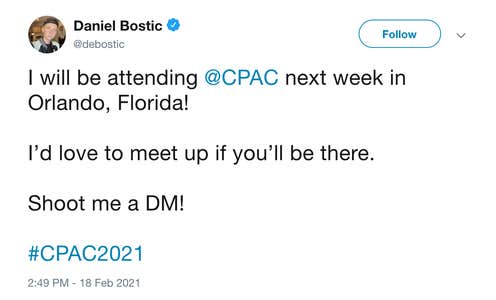 Bostic, a close ally to far-right activist Ali Alexander (formerly Ali Akbar), who is currently under an FBI investigation, helped coordinate the Jan. 6 Capitol insurrection while leading the "Stop The Steal" movement.
Bostic and Alexander are longtime friends who have grifted in far-right circles for over a decade.
"On Jan. 6, Bostic was in Washington with Alexander. The two can be clearly identified in video clips climbing the Capitol steps with Alex Jones," Salon reported in mid-January, in an article highlighting the duo's intertwined relationship.
The Daily Dot found that Bostic, on Jan. 6, defended the Capitol riots, while he marched in Washington, D.C.
"If you're calling a couple hundred agitators entering the US Capitol a 'coup,' then you are dumb. Like, really really dumb," Bostic tweeted. "You cannot expect elections to be conducted in secret without repercussions," he further remarked.
Bostic didn't respond to the Daily Dot's questions on Monday night about if CPAC organizers had questioned him ahead of the conference, which is slated to start on Thursday.
CPAC chairman Matt Schlapp and CPAC communications director Ian Walters also didn't return the Daily Dot's multiple requests for comment on the matter.
But it shows that CPAC, the mainstream conservative conference, still wants to maintain a cordial relationship with the most far-right members of the Republican party, despite the efforts in the past months to delegitimize the results of the 2020 election. Former President Donald Trump, who still hasn't publicly conceded, will be speaking Sunday.
CPAC organizer Matt Schlapp defended the decision yesterday.
Former Vice President Mike Pence will not be attending, raising the question of if Pence is worried about these types of far-right activists, who marched through the Capitol demanding he be hung less than two months ago.
Also in attendance will be Scott Pressler, the leader of an anti-Muslim organization, who called Jan. 6: "The largest civil rights protest in American history."
However, not everyone is welcome. Yesterday, CPAC rescinded the invitation of a speaker after it was revealed he posted anti-Semitic content.
On Twitter, Young Pharaoh called out the organization, saying it was "censorship."
Ironically, the theme of this year's CPAC is "America Uncanceled."
---
This week's top technology stories