Mississippi Republican Sen. Cindy Hyde-Smith was criticized on Tuesday over a 2014 Facebook photo showing her wearing a Confederate cap and brandishing a rifle, Politico reports.
The post resurfaced as Hyde-Smith faced outcry, including Walmart's withdrawal of campaign donations, for making remarks about lynching last month.
After a visit to the Jefferson Davis Home and Presidential Library in 2014, Hyde-Smith posted several photos to Facebook. One photo in particular drew attention because it showed Hyde-Smith in a grey Confederate soldier's cap bearing the Confederate star.
"Currently on display are artifacts connected to the daily life of the Confederate Soldier including weapons," Hyde-Smith wrote in the caption. "Mississippi history at its best!"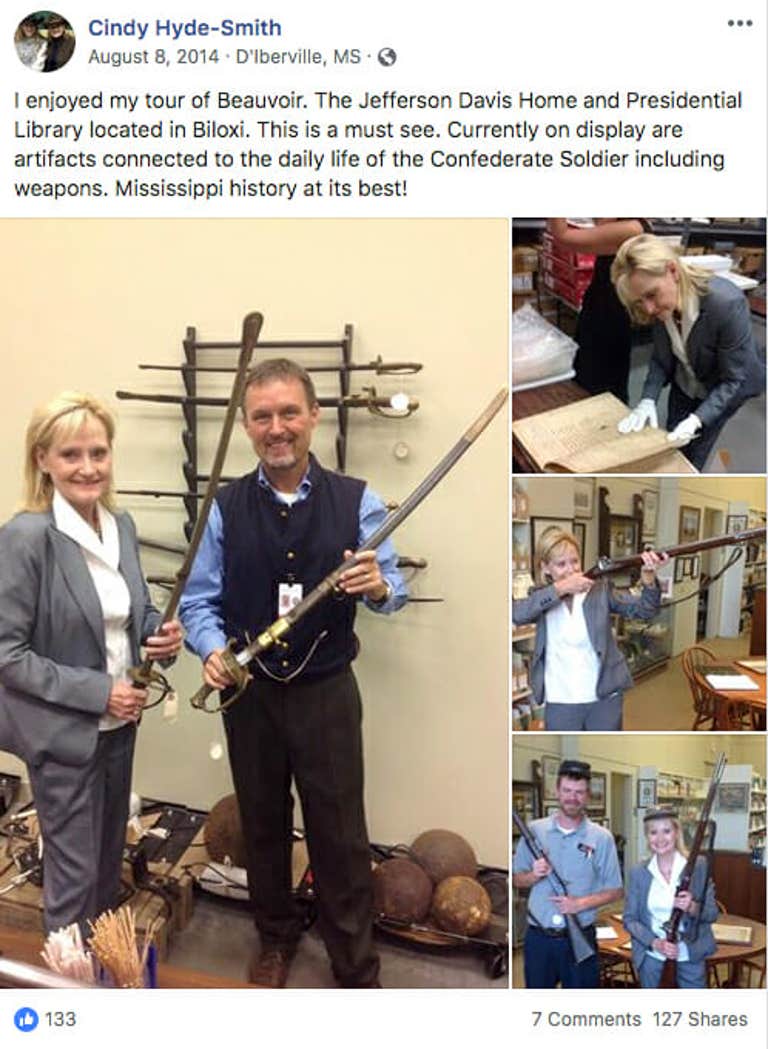 At campaign stop in Tupelo, Mississippi, on Nov. 2 ahead of the midterm elections, Hyde-Smith reportedly made reference to one of her supporters, a local rancher.
"If he invited me to a public hanging, I'd be on the front row," she said.
Multiple companies, including Walmart, stated following reports of their donations and public pressure that they would ask for refunds from Hyde-Smith's campaign.
Hyde-Smith is now facing Democrat Mike Epsy, who is Black, in a run-off election to take place Nov. 27.
READ MORE:
H/T Politico