Chance the Rapper endorsed Kanye West's presidential bid in a string of tweets Monday, criticizing those who say former Vice President Joe Biden is an acceptable replacement to President Donald Trump. 
After West released a tribute song and accompanying music video dedicated to his late mother Donda West, Chance retweeted the video and wrote, "and yall out here tryna convince me to vote for Biden. Smfh." 
In subsequent tweets, Chance made clear he was supporting West in the presidential race. In one post, Chance asked his followers if they were "more pro biden or anti ye and why?"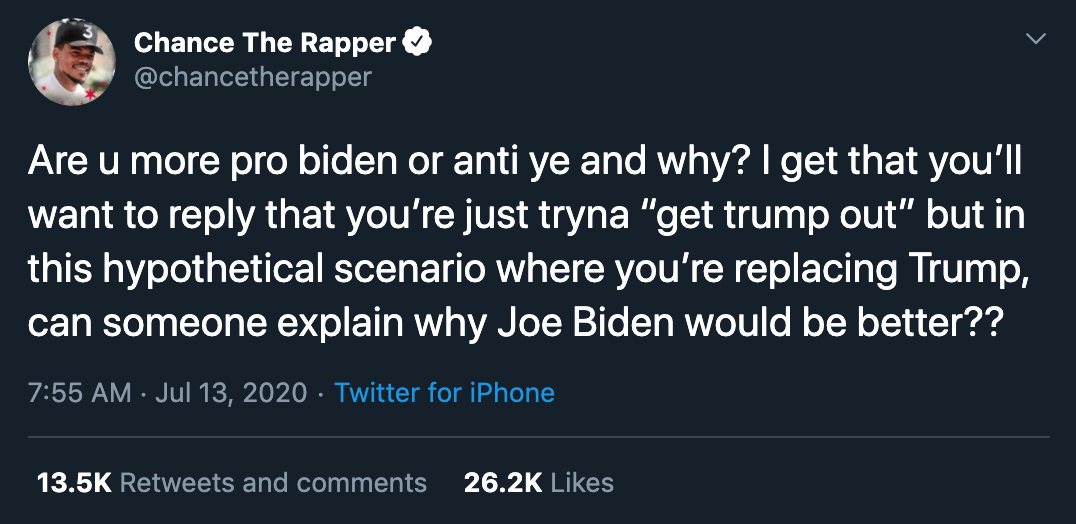 "I get that you'll want to reply that you're just tryna 'get trump out,'" Chance continued. "But in this hypothetical scenario where you're replacing Trump, can someone explain why Joe Biden would be better?"
In reply to a user asking for examples of issues West would address as president, Chance—also a Chicago native—replied that reparations and universal basic income were on the list.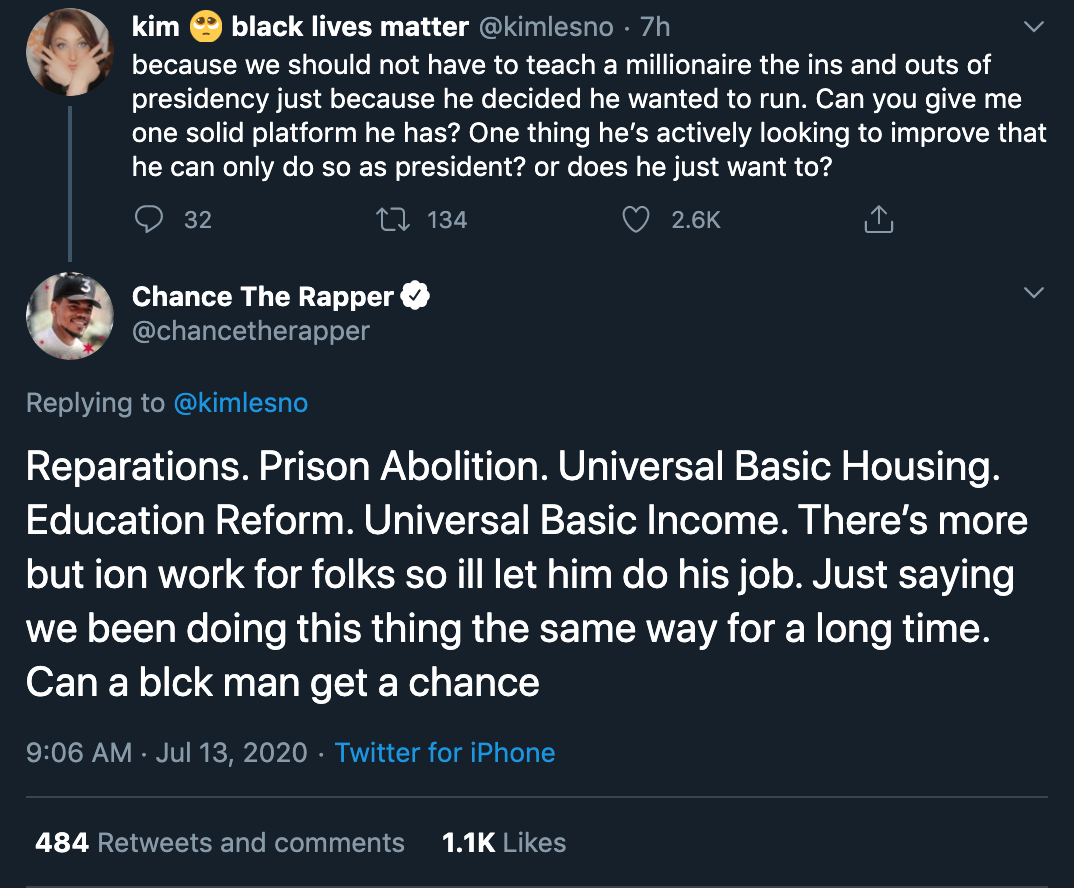 "Reparations. Prison Abolition. Universal Basic Housing. Education Reform. Universal Basic Income," the rapper tweeted. "Just saying we been doing this thing the same way for a long time. Can a blck man get a chance."
In another tweet, Chance said he trusted West more than Biden to advance these causes.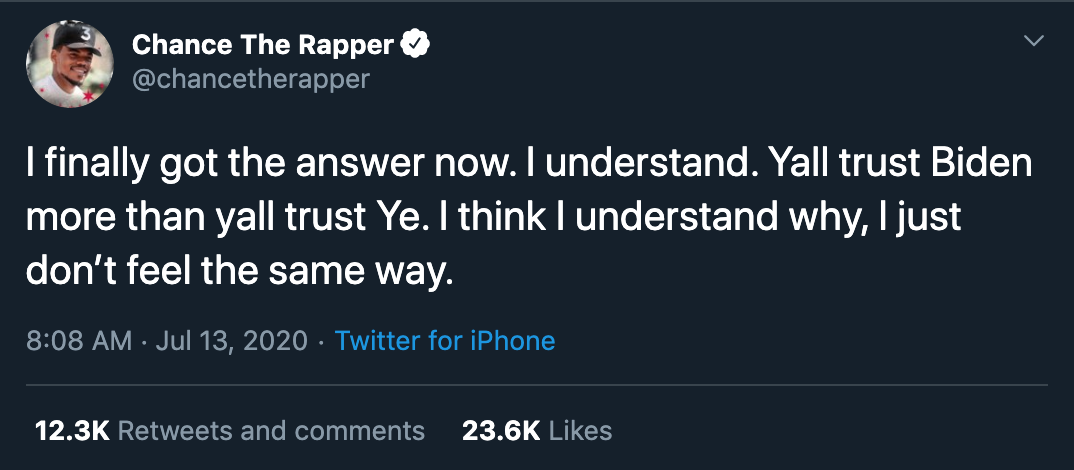 "I finally got the answer now. I understand. Y'all trust Biden more than y'all trust Ye. I think I understand why, I just don't feel the same way," he wrote.
Then Chance indicated he cares more about dealing with issues facing the Black community more than the identity of the person elected president.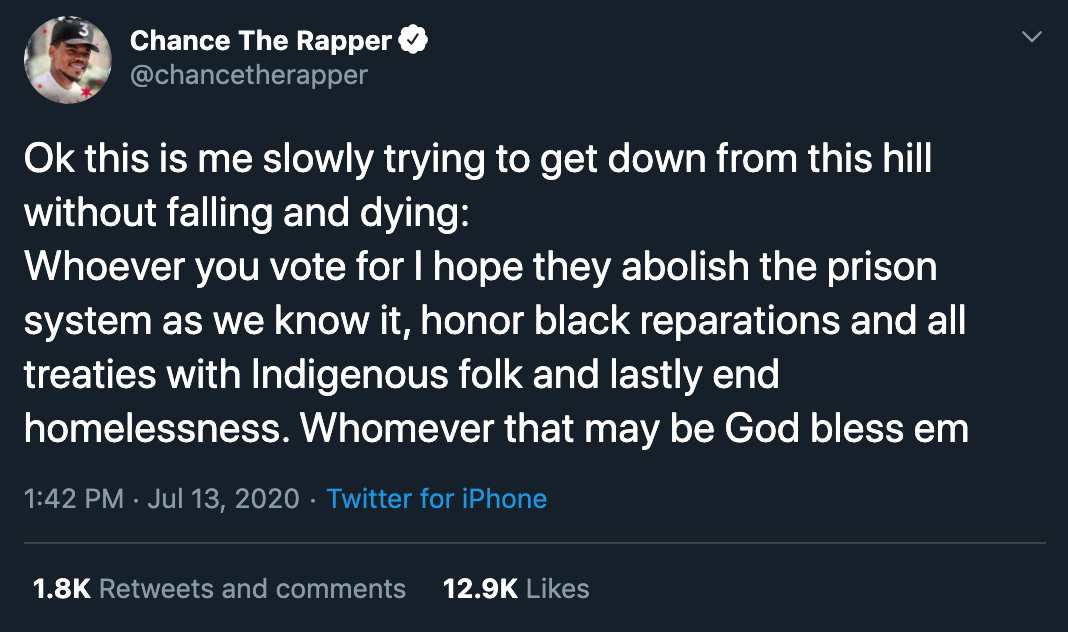 "Whoever you vote for I hope they abolish the prison system as we know it, honor black reparations and all treaties with Indigenous folk and lastly end homelessness," he said. "Whomever that may be God bless em."
The Chicago rapper clarified that he understood the slim odds of West becoming president before logging off.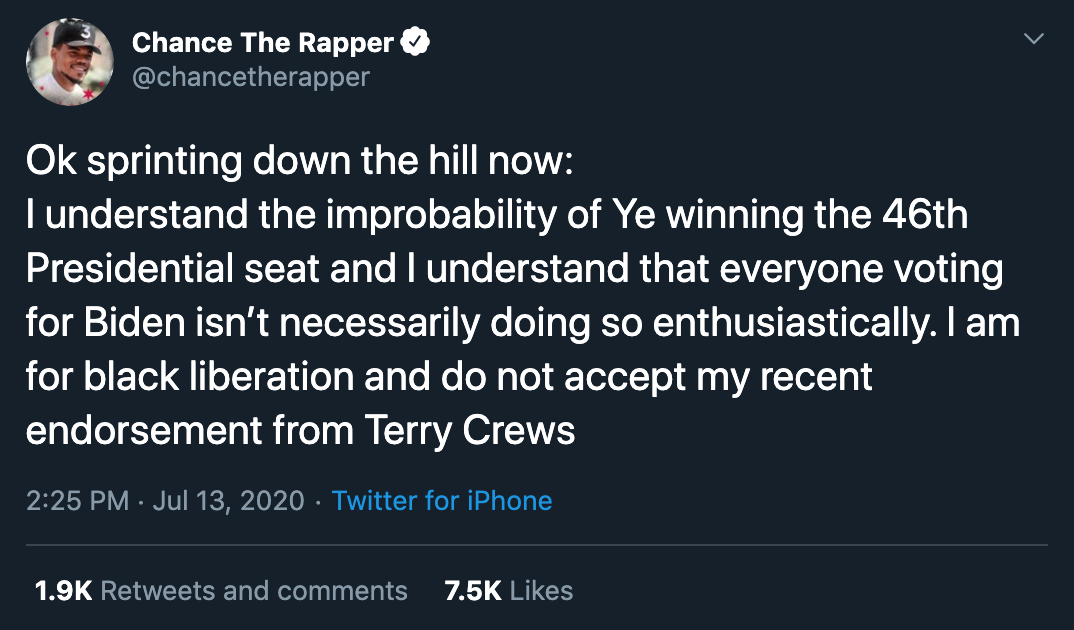 "I understand the improbability of Ye winning the 46th Presidential seat and I understand that everyone voting for Biden isn't necessarily doing so enthusiastically," Chance said in his final tweet on Monday afternoon.
READ MORE: