This article contains sexually explicit material that may be NSFW.
With hundreds of thousands of performers plying their wares on websites like My Free Cams and LiveJasmin, and the industry as a whole raking in an estimated $1 billion per year, interactive webcamming is one of the most popular, not to mention lucrative, sectors of the online adult industry. But how easy is it to actually build a successful career as a cam model? While you might imagine that all it requires is a wireless connection, an empty bedroom, and a willingness to flash strangers online, most cam performers will tell you that the reality of the industry is a lot more complicated—and a lot more expensive—than that.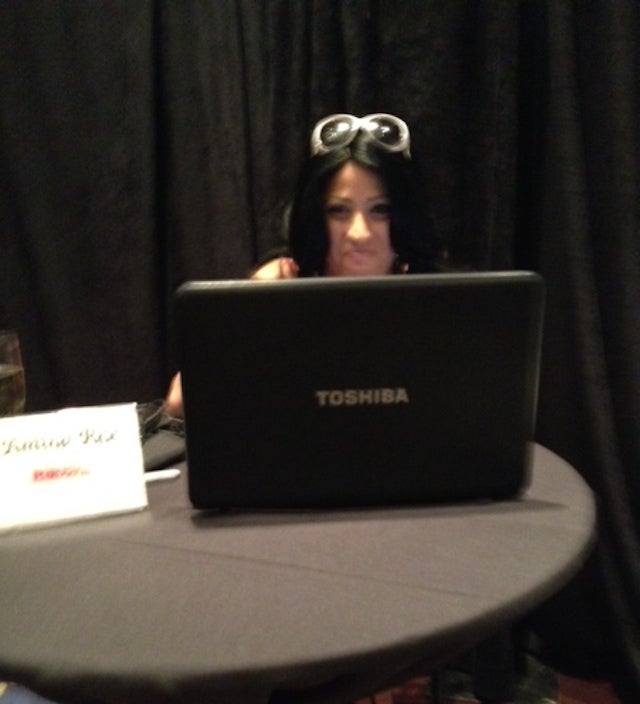 "The more you invest in your camming experience, the more you get from it," says Kitty Kums, a popular webcam model for the website Naked.com, who estimates that she's spent thousands of dollars on equipment during her four-year camming career. "If you want to make more money you're going to take the time to get the right camera, you're going to get the right outfits that suit you, you'll buy the right props or games to keep it interesting."
You also need the right equipment. As the Daily Dot learned at Camming Con, the country's first convention for cam performers that was held in Miami Beach last weekend, camgirls invest hundreds, if not thousands, of dollars in laptops, webcams, microphones, and lighting equipment to provide the most immersive experience for their customers. The Daily Dot spoke with cam performers about their favorite brands and products, and most importantly, why female ejaculators shouldn't buy MacBooks.
BRITTANY ROSE: (PlayboyLive) "I use the camera that's in my desktop iMac. It's all built in, I don't have anything extra. Sometimes they ask me to get a movable camera and move around with it, to see more and I can move around with a desktop. It's my mom's computer, and I live with her, so that's what I use."
BROOKE KNIGHT (PlayboyLive): "I use a MacBook Pro and plug in the Logitech. I like the quality better and you can move it around and switch the angles, so you can get different angles. Which is important to me, because I feel more confident in different angles, and if I use a stationary camera the picture is… I don't know, more flat."
SOPHIE DEE (adult performer, camgirl on Streamate and Sophiedeelive.com): "I use a MacBook Pro and just use the cam that comes with it. It works good for me."
DIANA HEMINGWAY: (Chaturbate) "A lot of girls go with the Logitech Pro 9000. I decided to go with a less expensive version which is the Logitech C-615 in the camera. The main drawback is it doesn't have a zoom, so you can't zoom in and out so you just set it and forget it. But it's been a very versatile camera for me. I also use a Samson GoPro microphone. I'm not real crazy about that, because when you're holding the microphone it turns the audio back from my computer off, so if someone drops tokens on me I can't hear the ching ching ching. But everything functions really well with my ASUS all-in-one PC."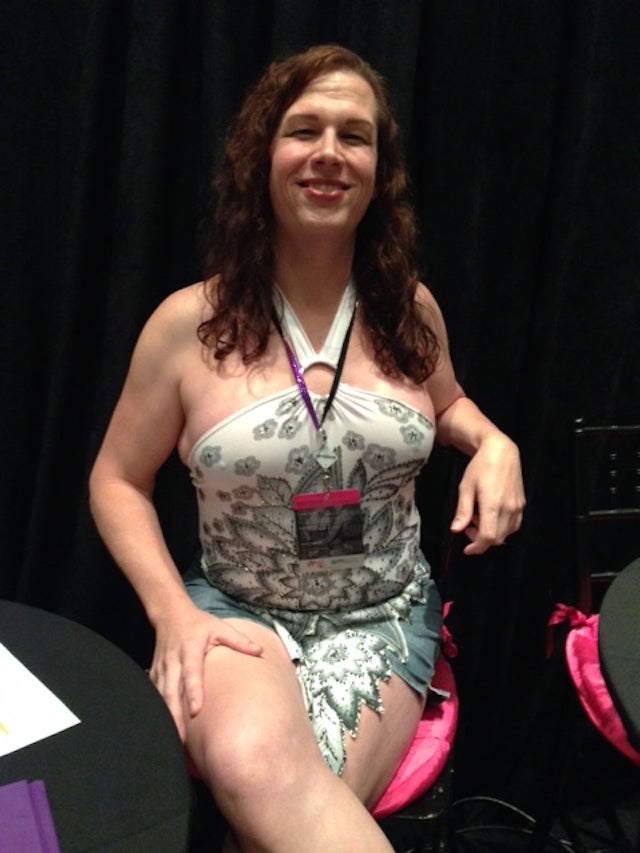 BUNNI BUNNI (MyFreeCams.com): "I have an Alienware gaming laptop, because I like to game, which was a gift from a member, and I have a webcam on top of that, the Logitech 9000 Pro. Before that I had the Toshiba gaming laptop, and it came with Harman Kardon speakers, which were really nice when I was playing music during shows."
"For my site, the way I see it, personality is the key thing. Fans appreciate HD, so they can see good detail for whatever you're showing, but it's more about personality and less about how high-tech your setup is. We even have fun filters, so you can be, like, an alien during your show, just to be funny and make them laugh. Because in this work environment it can get really repetitive really fast and you can get really bored."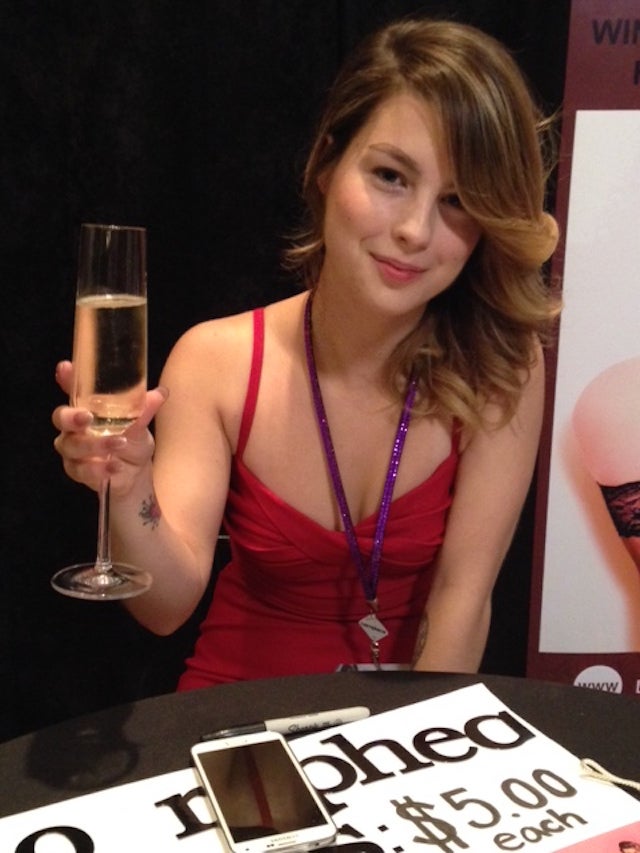 EVA KORKORO (MFC): "I have the Logitech C-920, which I plug into my laptop. That's the most popular webcam right now. And I don't have them, but I know a lot of models will use the studio umbrellas, because different kinds of lights will make your skin look oily and stuff, which looks bad on cam. The cheap way to do it use different lightbulbs and have different lights shining you."
KITTY KUMS (Naked.com): "The secret is lighting, lighting, lighting, lighting. You can have a horrible cam and still look fabulous if you use good lighting. Lighting and angles are important. You can use basic lighting, sometimes I have a little lamp I put on the bottom, and you should never put a light behind you. When you're on cam, you want the light to be behind your laptop. It doesn't matter what kind. I use the phosphorous lighting, so it's not so bright, because if it's really bright it makes you look greasy. If you have it directed right behind the camera—perfect."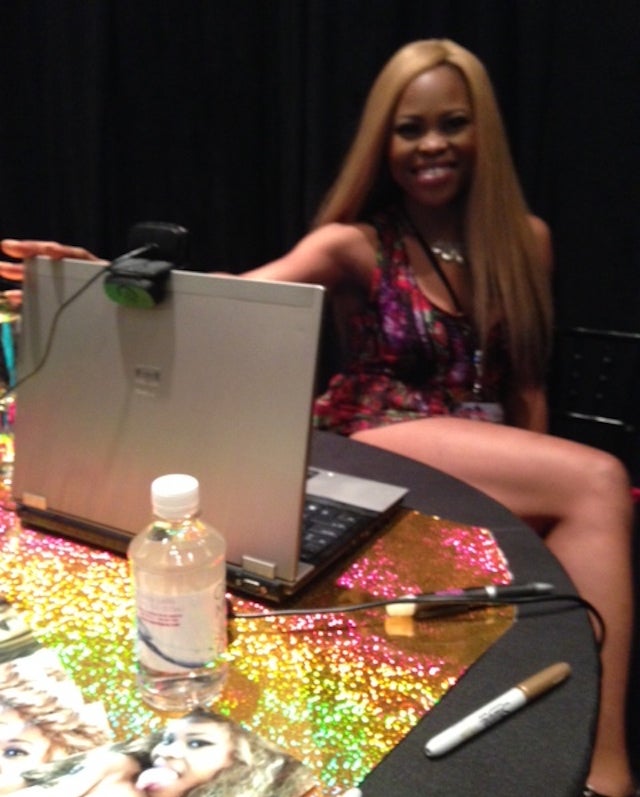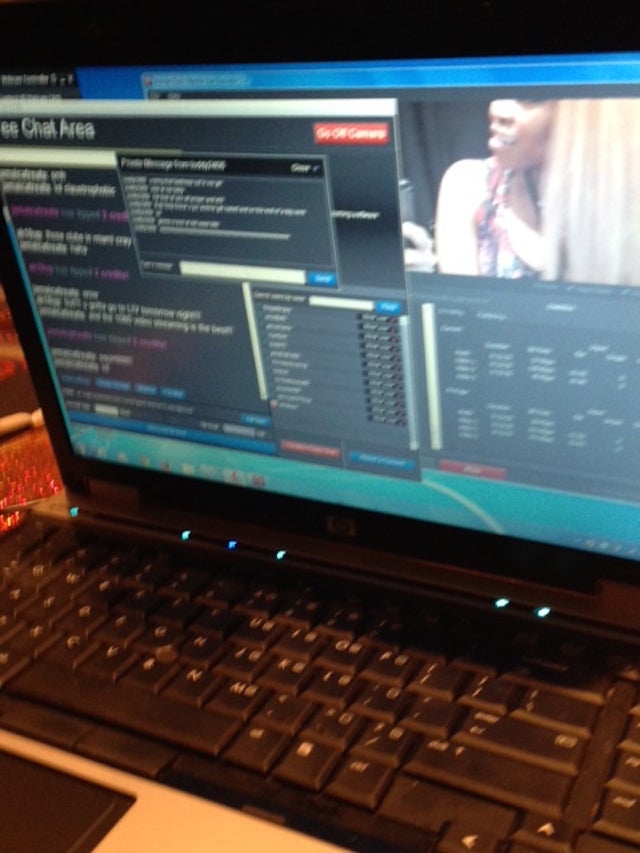 "The best cam that I would suggest that you use as a model is the Logitech. They have the best cams out there, in my personal opinion. I've always had great feed from their cams, HD quality, 1080 HD, so it's great. I'd highly recommend the C-920 Logitech. The streaming is really smooth, there's no autofocus glitches—some cams autofocus a lot. And they last a long time."
"Most cams, if you get them wet from like, you know—(laughs)—all sorts of things! [But] if you get them wet, after the next day, they're done. Right now I am using an HP. HP is great because I'm really hard on my laptops. I would recommend Mac, but if you're rough on your laptops I would not recommend it, because if you damage it, you're basically done. Mac is the best possible laptop to cam from, but if you're rough on your laptop you should not use it. If you're a squirter like me, or if you're clumsy and drop your cams, it's better to get a PC than a Mac."
Correction: The original version of this article incorrectly identified the type of hardware Diana Hemingway uses. She actually has an ASUS and a C-615. 
Photo by lovemaegan/Flickr (CC BY 2.0) | Camming Con photos by EJ Dickson