Islamist hackers opposed to the Iraqi government and backing, to an extent, ISIS, the Islamic State now stretching from Syria to Iraq, are attempting to accept Bitcoin donations by asking for money from supporters on Twitter.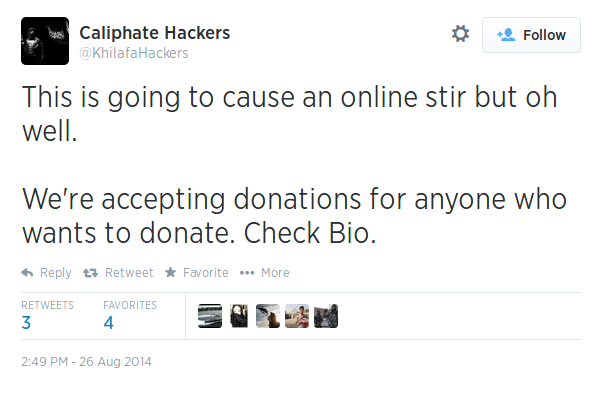 @KhilafaHackers, whose Twitter account was recently suspended as part of a network-wide crackdown on jihadi accounts, solicited donations to what they called the "#ISIS Bitcoin Address: 1BgfmoHKmNCfWTQQyjjfhaQNDwDRDM93x1." 
At the time of publication, no money has passed through to the address. Still, the tweet drew attention from onlookers who wondered if ISIS itself was now officially accepting Bitcoin.
Isis appears to be accepting bitcoin donations, but address seems to have gone https://t.co/JhF1SZSnLj h/t @matthew_d_green

— Kadhim (@kadhimshubber) August 27, 2014
The Khilafa Hackers (a play on "caliphate" hackers) have claimed responsibility for taking down multiple websites they deem anti-Islamic in just the past few days since their Twitter account was reinstated.
Bitcoin, which has long been a household name, is pseudonymous virtual currency with no central authority. Anyone can use the cryptocurrency and tracking or blocking the money is a difficult task. That independence from highly centralized and controlled currencies like the dollar or Euro is extremely attractive to a wide range of actors: Businesses, libertarians, privacy advocates, cybercriminals, and jihadis alike.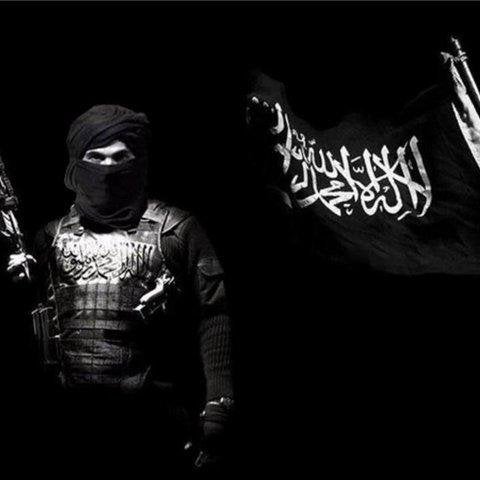 @KhilafaHackers Twitter photo
The potential adoption of Bitcoin by those working with the Islamic State is bound to drum up more skepticism towards the virtual currency but perhaps it shouldn't. After all, the most secretive and easy-to-hide source of money—for everyone from jihadis to you and I—is simple paper cash. The difference is that Bitcoin can travel around the globe in the blink of an eye.
The fact that absolutely anyone can use Bitcoin no matter what is exactly the sort of freedom that attracted its biggest supporters.
The tweet, which continues to attract attention, was taken down around 12pm EST on Wednesday along with the Bitcoin address in @KhilafaHackers' Twitter bio. Other jihadis who posted the account—@Abu_Baghdadi, for instance, a prolific tweeter who posts beheading pictures—have also removed the account.
This isn't the first connection between ISIS and Bitcoin. Last month, the Daily Dot reported that a blogger was teaching jihadi groups to use the cryptocurrency along with other anonymity tools like Tails and Tor in order to stay secure while online.
Shortly after taking down the address, @KhilafaHackers sought to clarify their position:
Before the Media goes on a Frenzy. We don't work for the Islamic State. We're not directly affiliated with them. We're independent.

— Caliphate Hackers (@KhilafaHackers) August 27, 2014
"I don't want Bitcoin to be tainted with 'ISIS hackers now accept Bitcoin donations'," @KhalifaHackers told the Daily Dot. "We're not affiliated with ISIS."
Khilafa Hackers, who write with fluent English, said they supported ISIS "to an extent."
"We don't support any crimes commited by any group in Iraq, but we support the fight against the central Iraqi government," they said.
Remix by Fernando Alfonso III