Bolivia plunged into chaos on Sunday following the resignation of President Evo Morales, along with his vice president and other top government officials.
Hours later Morales tweeted that police had been ordered to illegally arrest him, referring to his resignation as "a coup."
https://twitter.com/evoespueblo/status/1193702186024361985?s=20
Those sympathetic to Morales quickly began spreading word that a coup was taking place. Others took the opposite position in a war of competing narratives that has increasingly characterized social media commentary of world events.
Morales, a leftist leader who came into power in 2005, is a popular figure among many Bolivians who see him as a champion of democracy. He is also the first indigenous leader of a nation with the largest portion of indigenous people in Latin America.
Many believe that the U.S. has been hostile to Morales since he was elected, and that the circumstances that led to his ouster were directed by the Trump administration.
Indeed, this afternoon, the State Department called what was happening not a coup.
US not beating around bush on #Bolivia, with State Department official also rejecting criticism that it's a coup — but calling for civilian-led process now https://t.co/7b5QCOtsh6

— Shaun Tandon (@shauntandon) November 11, 2019
Last month, Morales was reelected by a large margin. Before the results were official, the Organization of American States decried the election as rigged in his favor, sparking weeks of protests against him. Based on OAS's findings, U.S. Secretary of State Mike Pompeo called for new elections.
Fully support the findings of the @OAS_official report recommending new elections in #Bolivia to ensure a truly democratic process representative of the people's will. The credibility of the electoral system must be restored.

— Secretary Pompeo (@SecPompeo) November 10, 2019
Writing in the Nation last week, Mark Weisbrot questioned whether it was purely coincidental that both OAS and Trump were attempting to discredit the election results "without offering any evidence." Weisbrot is among those who have accused OAS of caving to pressure from the administration.
They never did find any evidence of fraud in the October 20th election, but the media repeated the allegation so many times that it became "true," in this post-truth world. Thread: https://t.co/8oWFNKNebT

— Mark Weisbrot (@MarkWeisbrot) November 10, 2019
[continued from here: https://t.co/S2u4V3veWw]
The OAS is not always the neutral, independent body it should be. It overturned an election it didn't like in Haiti and scrutinizes left-leaning countries while turning a blind eye to right-wing regimes. https://t.co/lZGbaRS4bB

— Kevin Cashman (@kevinmcashman) November 11, 2019
Morales himself attempted to quell the unrest by vowing to call for a new election. But after the military turned against him, he caved to pressure and resigned yesterday. Following his resignation, violent demonstrations paralyzed parts of the country, the New York Times reports.
Violencia que causa @evoespueblo con su gente pagada!!! #CNNEspanol #CNNInternational Please investigate what's going on in #Bolivia where a #dictadorship is on @evoespueblo mind. He caused violence and people died because of him. #NoFueGolpeFueFraude #NoCoupInBolivia pic.twitter.com/ufwkB5rB3A

— Heidy Vargas (@Heidicita21) November 11, 2019
Since resigning, Morales, whose location is not currently known, has continued tweeting and retweeting claims that he was deposed in a military coup from his official Twitter account. Mexico has offered him political asylum, and a litany of nations and individuals including Nicaragua and Rep. Ilhan Omar (D-Minn.) have condemned the "military coup" in Bolivia.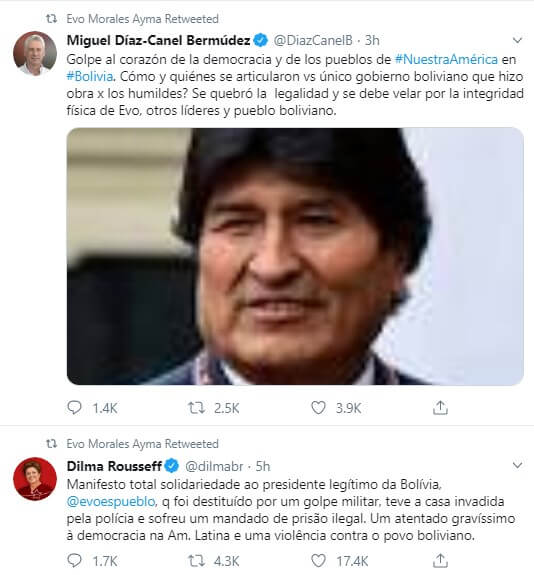 https://twitter.com/codepink/status/1193923427276656644?s=20
The United States is backing a right-wing coup in Bolivia. https://t.co/LVVDknzbKq

— Jacobin (@jacobinmag) November 10, 2019
I tell @AJEnglish that @evoespueblo resigned before his democratic mandate ended bc violent thugs threatened lives & homes of his supporters/local party leaders of Movimiento al Socialismo

Anti-democratic hooligans attacked state media & officials https://t.co/iq6Ahtqhyl pic.twitter.com/fBMrn9NeAV

— Anya Parampil (@anyaparampil) November 11, 2019
"This Is a Military Coup": Bolivian President Evo Morales Resigns After Army Calls For His Ouster https://t.co/AhKlzreVKR pic.twitter.com/5NjAYF0wIy

— Democracy Now! (@democracynow) November 11, 2019
Simultaneously others are denying that a coup is taking place, many of them under the hashtag #NoCoupinBolivia, which has thousands of tweets.
This movement was led by the Bolivian people. The youth of #Bolivia choose to fight for their country and their freedom every single day since the fraudulent elections. The resignation of Morales was achieved through peaceful protest #NoCoupInBolivia #BoliviaUnida https://t.co/Gg773iJx8v

— Stephanie (@stephaniezalles) November 11, 2019
https://twitter.com/ale_chavez_g/status/1193906878968938497
As the war of truth wages on social media, some have begun questioning the authenticity of the accounts weighing in on the crisis.
https://twitter.com/Louis_Allday/status/1193661776681984000?s=20
https://twitter.com/AliAbunimah/status/1193937803555561472?s=20
As the conflicting narratives hash out on social media, the future of Bolivia remains uncertain.
READ MORE: