A United States military veteran wants people to stop using his image in anti-Trump memes circulating on social media.
Photos of Bobby Henline, a four-tour Iraq War veteran, have been used in memes referencing a recent story in the Atlantic that alleges Trump has called Americans who died in war "losers" and "suckers." One meme shows Henline, who was wounded in an IED blast, with the caption, "Trump says he's a 'loser.' I say he's a hero! What do you say?"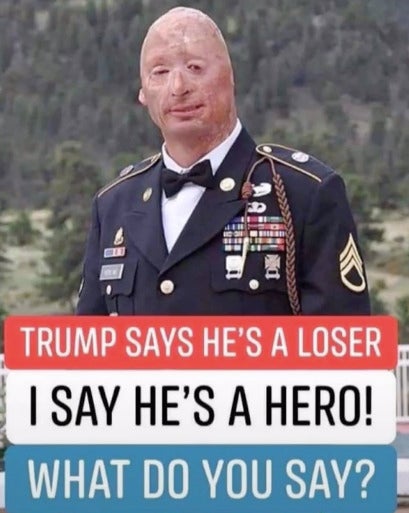 Henline, who supports Trump, recently told Fox News that he objects to being used as a "prop" in these posts.
"I'm just so irritated that they put my image up there because now it looks like the president called me a loser," Henline said. "And they're using that to sell something that they believe in for their agenda. It's not fair to put us [veterans] as props in the middle of all that."
The Iraq War veteran also told Fox News that he doesn't believe the Atlantic story, which cites four anonymous sources, and thinks it is a smear campaign by Democrats to get Trump out of office.
"I really believe the president didn't say this," Henline said. "There's been anonymous sources and other sources in the room that aren't necessarily friends with the president or believe in his ways, but they're still not gonna slam him and make up this rumor and keep it spreading."
Henline thinks the story and the corresponding memes nevertheless accomplished their purpose of turning veterans against Trump.
"Them taking that well-recognized photo and using it for their agenda and changing veterans' minds, thinking the president talks to them like that is ridiculous," he told Fox News. "And I believe it worked. And that's why I want to get it taken down because it shouldn't be working. People need to hear the truth. That's my image. And it should not be up there speaking for me."
Henline has also spoken out about the use of his image in these memes on Instagram and TikTok.
"People, stop using me for your propaganda, for your agenda," Henline said in one TikTok, which features him standing in front of the meme that invokes him. "I don't know what Trump said, but I'm sure he didn't call me a loser. I didn't hear him call me a loser. So this has got to stop."
---
Read more of the Daily Dot's tech and politics coverage