ln between watching movies and writing scripts as a film major at the University of Texas at Austin, Bobby Finger created GIF animations.
Finger used his Dell laptop's print screen feature to paste together frames from movies like Ghost World and then shrink them down to be used as an AOL Instant Messager avatar.
"They had to be some absurdly small size," Finger told the Daily Dot. "It was tedious and annoying."
Today, Finger has learned to embrace the tedium of GIF creation and has become one of Tumblr's most beloved animators. On Wednesday night, he will join three other artists tasked by Tumblr to live-GIF the first presidential debate between President Barack Obama and Republican challenger Mitt Romney.
Finger, 26, will work side-by-side with GIF masters Lacey "lulinternet" Micallef, Christopher "topherchris" Price, and the artist collective known as Mr. GIF in Tumblr's Union Square headquarters in New York. The task is to capture the "best debate moments, from zingers to gaffes to awkward silences" in real-time, Tumblr Editor-in-Chief Chris Mohney wrote in an announcement.
Finger's GIFs, however, will try focus on what's not being said.
"It's about adding your own personal touch to it. Lacey does her 8-bit stuff, and Topher does his absurdist, surreal, compelling, weird thing, and Mr. GIF does these artistic, beautiful GIFs. I'm looking for references. I'm looking for the things candidates say or the moderator says or things that are done in the audience that I can relate to something else in popular culture."
Finger's obsession with pop culture and film started when he was a teen growing up in San Antonio, Texas. That's when he discovered his father's Sony MiniDV video camera. He experimented with it often, capturing video of his friends horsing around and editing it to create fake movie trailers. He's also versed in stop-motion animation.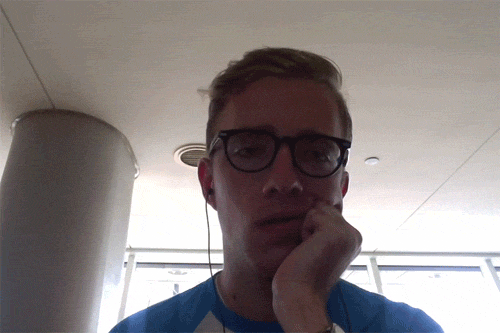 "I remember one time I had to clean my room, and I just took a frame on the camera every 10 seconds," Finger said. "And it took forever because I wanted to animate the room cleaning itself."
Finger majored in film at UT Austin but quickly learned just how competitive the industry was. He  ultimately ended up switching to advertising, and in the process, stumbled upon writer Rich Juzwiak's blog fourfour, which had become known for Juzwiak's use of pop culture GIFs in his writing. That was the inspiration Finger needed to take GIFs more seriously and to share them with the world.
Finger joined Tumblr in 2009, and he's been creating GIFs ever since.
One of his favorites—and one that most accurately captures his GIF style—features Michelle Obama adjusting her hair on stage at the Democratic National Convention spliced together with a scene from Love Actually. It has collected more than 5,000 notes.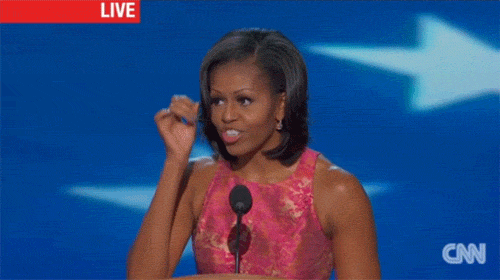 It's these sorts of moments that Finger hopes to GIF on Wednesday night.
"It's not just about capturing reactions or something that can be easily repeated," Finger said. "I don't know what to expect."
All images and GIFs by Bobby Finger