Considering the continued popularity of the iPhone, T-Mobile probably thought it was a winning business move to offer BlackBerry owners a chance to trade in their devices for a new iPhone for no money down.
The folks at Blackberry didn't agree.
The companies will be parting ways as of April 25 when BlackBerry's current licensing agreement with T-Mobile comes to an end. Both sides have been quiet about the reasons behind the falling out, but it's widely suspected that T-Mobile's BlackBerry trade-in ad is the culprit.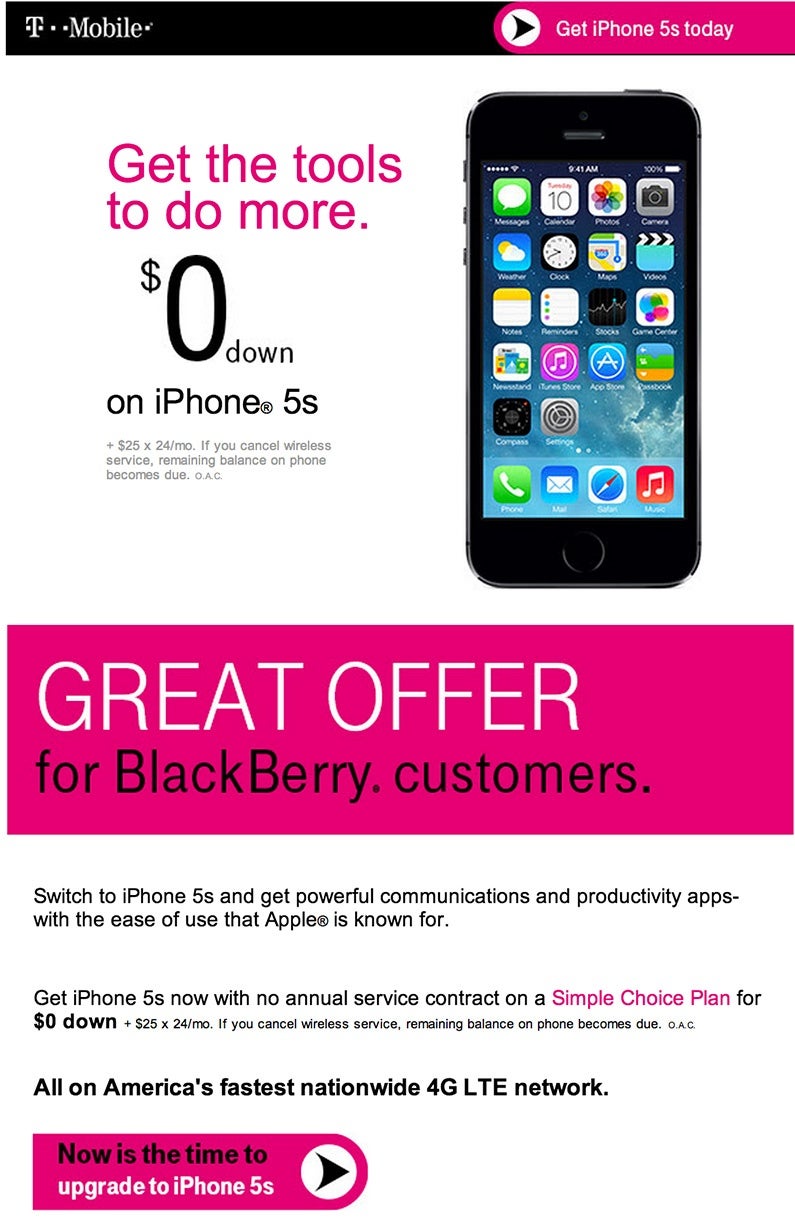 Screengrab via CrackBerry.com

"BlackBerry has had a positive relationship with T-Mobile for many years," wrote BlackBerry CEO John Chen. "Regretfully, at this time, our strategies are not complementary and we must act in the best interest of our BlackBerry customers. We hope to work with T-Mobile again in the future when our business strategies are aligned."
After the licensing agreement expires, T-Mobile will no longer be able to sell any new BlackBerry products. However, ArsTechnica reports the mobile carrier will still be able to service existing BlackBerry customers for the foreseeable future.
The announcement comes not long after a public war-of-words between the two companies back in February when T-Mobile released its ad. In an open letter, Chen said he was "outraged" by the "clearly inappropriate and ill-conceived" ad. Furthermore, he said BlackBerry was not consulted before the ad ran.
T-Mobile CEO John Legere responded on Twitter with a cutting insult that compared BlackBerry with the go-to punchline for outdated technology, MySpace.
Was going to engage John Chen on Twitter, but turns out he's not here. I'll check MySpace. Don't worry @BlackBerry Something in the works!

— John Legere (@JohnLegere) February 19, 2014
With this development, T-Mobile has become the first major U.S. carrier to drop BlackBerry. Both companies have struggled in recent years as the fourth place companies in each of their respective markets.
Photo by Romain Bibré/Flickr