The open-sourced world of the Internet has brought us elaborate digital environments like Minecraft and a virtually never-ending encyclopedia in the form of Wikipedia. Could it soon be providing our money as well?
In recent months, Bitcoin, a form of digital cash that has been around since 2009, has shown some impressive signs of growth as it strengthens against the dollar and fuels a resurgence in online gambling.
Two online casinos that only accept Bitcoins have already drawn major traffic—and in one case, profit—during the past year. Meanwhile, a new site based in Canada is poised to bring online poker back to the U.S. in a big way after the Justice Department shut down three of the nation's biggest poker sites—and froze more than $100 million of players' money—in a 2011 federal crackdown on Internet gambling.
The poker world refers to the event as "Black Friday."
"It was like a bomb went off," Infiniti Poker founder Michael Hajduk told Bloomberg Businessweek last month. "U.S. players were uprooting their families and moving to Malta. Crazy stuff was happening."
Hajduk's site, which is scheduled to go live this month, is the latest online service to start accepting Bitcoin, a first-of-its kind digital currency that's been thriving in the darker, seedier corners of the Internet.
According to Bloomberg.com, the value of a Bitcoin has grown from $5.88 in January of last year to $20.49 today. The currency, which is distributed by a non-centralized network of computers, has been steadily climbing since it crashed to $2.14 in November 2011. It fell to that drastic low after spiking at an all-time high of $29.58 in June of 2011.
That earlier $30 peak came quickly after intense bolstering by supporters. This time, the growth appears more gradual and sustained.

Chart via Bitcoincharts.com
"Given the current arc of its progression and growth, and as long as it can be used for illegal or illicit activities, it's going to continue to grow the way we've seen it do this past year," said Nikos Kaplanov, an editor of the Temple Law Review who was among the first academics to take an interest in studying the real world applications of a digital currency.
The self-replicating computer program behind Bitcoin was first created by an anonymous person, or group, under the pseudonym "Satoshi Nakamoto," who has evaded all attempts to track him (or them) down. The currency it creates exists only in the digital world as a code that gets transmitted only once, then becomes valueless, allowing Bitcoin to be exchanged like cash. Unlike other online transactions, those made with Bitcoins are not linked to any sort of bank account, making them virtually untraceable.
The anonymous and decentralized nature of Bitcoin has made it particularly valuable as a means of conducting black- and grey-market transactions. The currency, large enough to be worth more than $200 million U.S. dollars at current market values, has enabled Silk Road, an online megastore for illicit drugs that only accepts Bitcoin. The site was doing $1.9 million in monthly business as of August 2012, Forbes reported.
Now Bitcoin is poised to do for gambling what it's already done for drug sales, opening a new frontier in online betting that circumvents U.S. anti-gaming laws.
"Traditional online poker sites fought payment processing and regulatory issues for years," wrote Bryan Micon, chairman of the Bitcoin-powered poker site Seals With Clubs. "Bitcoin is not a payment solution, it's not the latest hack around the traditional banking system—it's a new currency. It's a game changer."
Infiniti Poker's Hajduk agrees.
"At the end of the day, [the government] cannot freeze your account because they cannot kick down the door to Bitcoin," he told Businessweek.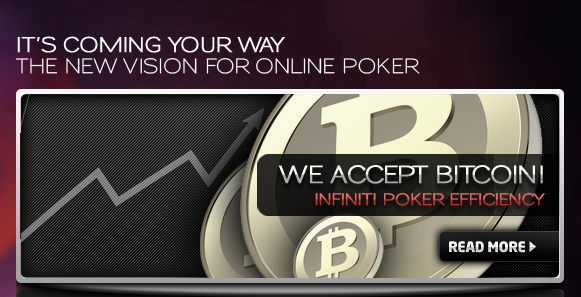 Screengrab via InfinitiPoker.com
It's not just poker that's getting a boost from Bitcoin, though. Two online Bitcoin casinos that opened last year each reported significant profits in the later half of 2012. SatoshiDice (a computerized dice game named for the mysterious creator of Bitcoin) reported a profit of 33,310 Bitcoin in 2012, equal to more than half a million U.S. dollars. Similarly, the owners of bitZino, which offers several different online casino games, claimed to have paid out 28,986 Bitcoins in the second half of last year, which comes out to about $495,000 U.S.
If these self-reported financials are accurate, it means that both online startups have been successful at muscling into the online gaming industry with this new, experimental currency. Larry Tadd, the founder of bitZino, told Ars Technica that Bitcoin is an ideal enabler for online gaming.
"Users don't have to trust us with their funds any longer than necessary. If you compare this to traditional online casinos, which can take weeks to send you your winnings, the benefit is obvious. And of course, it goes both ways: it is also extremely easy and quick for users to add funds back to our site. Frictionless, non-reversible, zero-fraud payments—you can't ask for a more perfect payment system!"
bitZino did not actually turn a profit in 2012, but Tadd said he expects net gains this year.
And a good deal of that money will probably be coming from the United States. Part of Bitcoin's appeal to online casinos is that it manages to get around stiff federal laws banning online gaming. The Unlawful Internet Gambling Enforcement Act of 2006, which has been slowly choking traffic to online casinos, prohibits U.S. financial institutions from allowing money to be placed in online casinos. But because Bitcoin does not traverse through American banks, it is not governed by the current law, according to Kaplanov.
"Right now they are just stopping financial institutions from funneling money to these gambling sites," Kaplanov said. "Using a Bitcoin, you're able to circumvent that very easily."
But this may not be the case forever. Though a representative from the Department of Justice did not return the Daily Dot's request for comment, Kaplanov said he worked closely with the department's task force on digital currency during his research. He believes the federal government will ultimately modify the law to include Bitcoin transactions, and that they will likely be within their legal limits to do so.
"You're still betting," Kaplanov said. "It's not about the medium. The federal government has already made it clear it has an interest in stopping the action of gambling."
But although lawmakers may one day take steps to regulate how Bitcoins are spent, Kaplanov argues in his research paper that the government will probably never be able to ban the currency outright. Bitcoin will likely have to overcome its image as a purely black- and grey-market currency to ever gain real legitimacy, he said, but there are ardent Bitcoin purists trying to do just that. Last month, European regulators gave first-round approval to what could be the world's first Bitcoin bank.
"Ultimately, there are a lot of directions Bitcoins can go in the next few years," Kaplanov said. "It will be interesting to see the progression, but I think it's safe to say it will be around."
Photo by zcopley/Flickr