This article contains sexually explicit material that may be NSFW.
In the era of Pornhub and Redtube, griping about having trouble finding free online porn is a bit like complaining about how difficult it is to find shrooms at a jam band concert. But apparently, thanks to changes in Google's search settings, it's become much harder to find hardcore smut on the search engine, which has led porn fans to migrate to an unlikely source: Bing, a.k.a. the search engine you only reluctantly use after searching for anything on Facebook.
Since Google tweaked its Safe Search settings back in 2012, porn aficionados have been flocking to Bing in droves to fulfill their fapping needs. Reddit in particular is a veritable shrine to the Bing porn search, with users posting informal paeans to the search engine's virtues in r/AdviceAnimals and r/GIFS. Here's a redditor imagining what life is like in the Bing offices (NSFW):


And here's one who says he just realized why "everyone says Bing is better for searching for porn":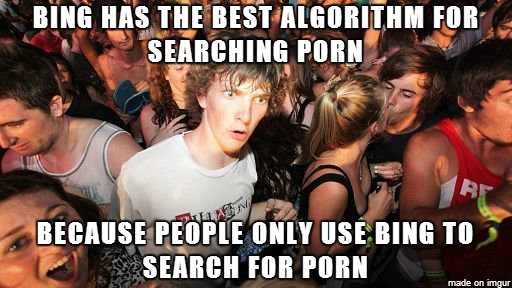 So why is Bing so clearly superior to Google when it comes to searching for smut? A Redditor in r/OutOfTheLoop was wondering the same thing, and Reddit was quick to come up with a few answers:
"Google introduced filters a while ago that remove a lot of porn from search results, even if you have safe search turned off."
"Going on Bing and video searching gets you the porn you want. No one cares about text or image searching, it's all about the video searching." 
"Also since no one uses Bing, they will never see your previous/recommended searches."
"I just assumed that if someone else checks my search history, they sure as hell aren't going to check my Bing search history. They'll check my Google one."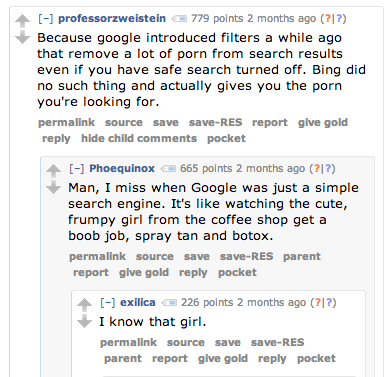 Basically, the consensus seems to be that unlike Google, which requires you to type insanely specific keywords to get the kind of results you're looking for, Bing's video search immediately calls up a well-organized series of short links and related search terms along with your search results.
The side-by-side comparison is actually pretty striking. For instance, this is what I came up with when I typed "blow job" into Google Image search, with my safe search settings turned off: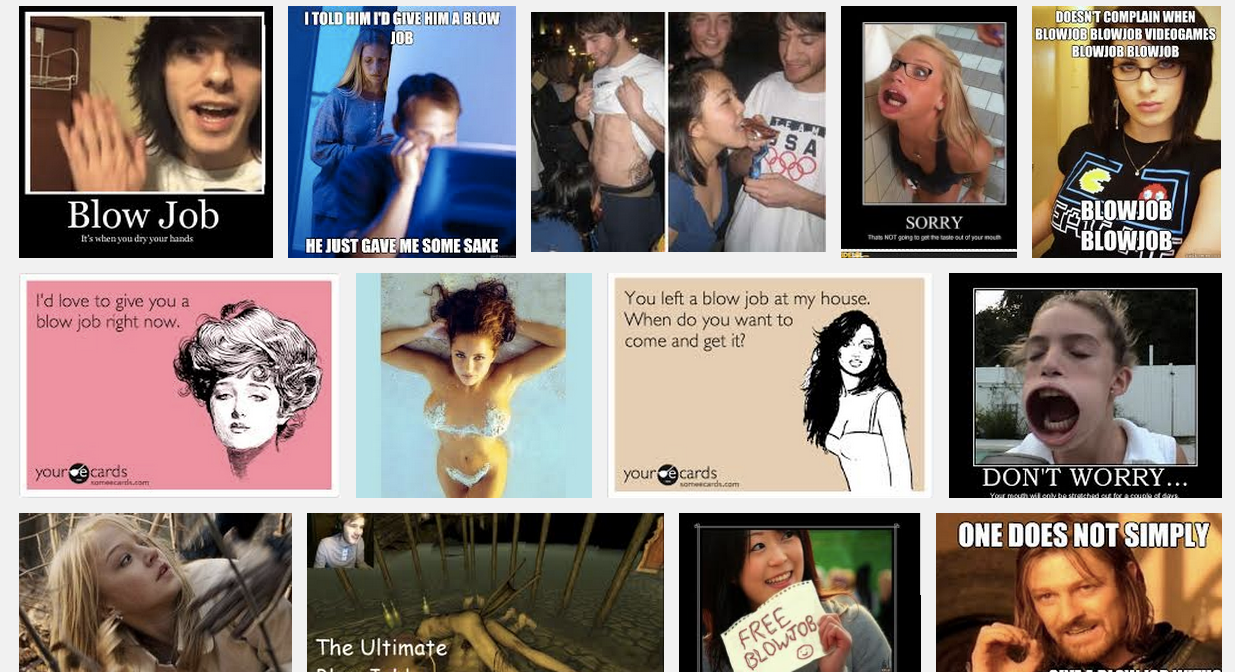 WHAT IS THIS NONSENSE. This isn't porn. I don't know what this is. It isn't even NSFW. Am I a sex writer at the Daily Dot doing a Google search at work that isn't NSFW? I might as well be teaching kindergarten or working for a nonprofit. This is insane. I DON'T EVEN KNOW WHO I AM ANYMORE.
Conversely, this is what came up when I typed "blow job" into Bing's search engine: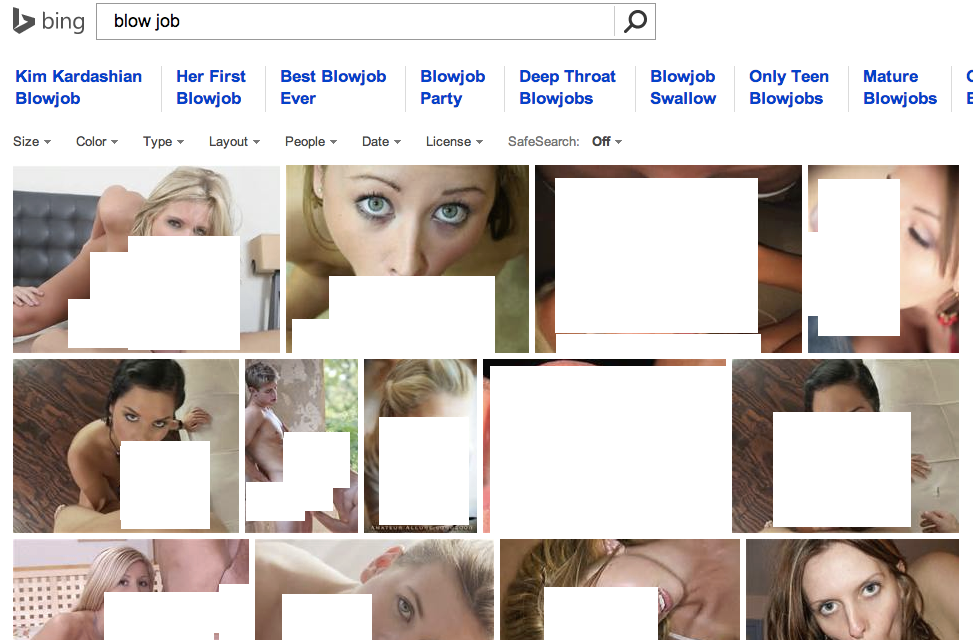 Ahhhh. OK. There. That's much better. 
Of course, it's not that surprising in itself that a lot of people are still using Bing: According to Alexa rankings, Microsoft's search engine is still the third most popular in the world, ranking just behind Google and Yahoo. What is kind of surprising is the degree to which Bing makes it easier for search for porn than other search engines do—which is to say, a helluva lot easier.
We've reached out to Bing to see whether they've deliberately designed their search engine to make it easier to search for online smut, and if they'd like to comment on how revered they are among porn-loving Redditors. Given Microsoft's demonstrated aversion to adult content, it's unlikely we'll get a response. But hopefully, they're pleased to know that even though Bing ranks third worldwide, they'll always be first in fappers' hearts.
Update: A spokesperson for Microsoft has responded to the Daily Dot with the following statement: "Bing is focused on presenting the best possible multimedia experience period. Thanks to our SafeSearch technology, which by default is set to filter out adult content, we work to make sure people not only find what they want, but don't get what they don't."
H/T Reddit | Photo by Crysco Photography/Flickr (CC BY ND 2.0)