A Minnesota family says their property was burned and graffitied because they support President Donald Trump—but social media users aren't buying it.
Denis and Deana Molla of Brooklyn Center, Minnesota, said their garage, trucks, and trailer were burned just after 3am on Wednesday, CBS Minnesota reports. They also had "Biden 2020," "BLM," and an anarchy symbol spray-painted on their garage. The family believes their house was targeted because of the two "Trump 2020" flags they had recently draped over their trailer and truck.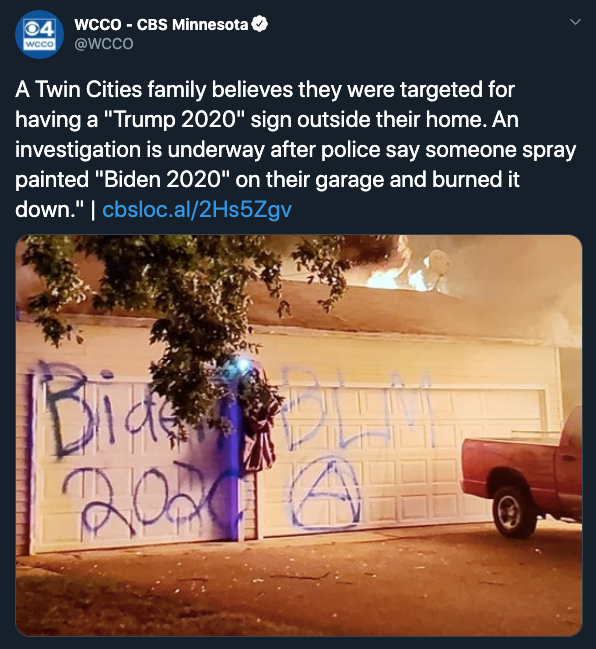 Many Twitter users thought it a little too convenient—and contradictory—that all of that graffiti would appear on the Mollas' garage at once.
"There's not a single American in this entire country that would tag both 'Biden 2020' and a circle 'A' on the same property," @mike_hugs wrote in a tweet that has been retweeted over 9,000 times.
Other users said the graffiti looked like a plant by somebody who just wanted an excuse to air their grievances toward Democrats and protesters.
"The ONLY people who would ever paint an Anarchy symbol AND 'Biden 2020' on something are people who are trying to get on Fox News to talk about their victimhood," @soonergrunt tweeted. "And who graffitis something and THEN burns it down? That's just bad time management."
Not only did the combination of spray-painted messages on the Mollas' garage door seem dubious—the actual appearance of the messages was called into question.
"That's the whitest graffiti I've ever seen. They even dotted the 'i,'" @Cdonatac tweeted, followed by, "Trump supporters need to stop destroying their own property."
Even the fact that somebody captured such a pristine image of the Mollas' flaming garage led some people to suggest that, while a major crime certainly took place at the residence, it might not have been arson or vandalism—but rather, insurance fraud.
"Between the B by someone who's never sprayed before, the incorrect anarchy symbol hilariously paired with Biden 2020, plus the perfectly taken photo during home on fire, I deduce we mayhaps discover a surprise in a few weeks *law and order clunk clunk sound*," director Aaron Stewart-Ahn tweeted. 
---
Today's top stories