I'm over 25 weeks pregnant. I'm at that point where I'm always sleepy, always hungry, and constantly feeling kicks and rolls within my belly. Imagine being on a rollercoaster. Now imagine that feeling lasting anywhere between 30 minutes to an hour straight. When I'm not trying to keep myself busy with work or my long Netflix/Hulu queue, there's really only one thing on my mind: This creature growing inside me.
Pregnancy—especially for a first-timer such as myself—is quite an overwhelming experience. It's both super distracting (in a good way) and extremely uncomfortable (in a bad way, obviously). I've quickly learned that you need the best tools if you want to make it through, and not just with white noise and random jibber-jabber, but practical things that will benefit you and your baby.
Over the past few weeks, here are some of the apps I've found to be useful and entertaining. —Jam Kotenko 
The best pregnancy apps
1) WebMD Pregnancy (iOS)
Looking up random medical stuff related to pregnancy online is generally not recommended, at least not without backing it up via a consultation with an actual physician. Why? Because the internet is a bottomless pit of scary and misleading things and you'll end up reading about some rare condition that is not even applicable to you or your type of pregnancy.
However, if this is your first pregnancy and you just have to know more, then at least find a source that is well-vetted and reliable. WebMD Pregnancy has information drawn from actual doctors and feature articles that are both reviewed by licensed medical practitioners and well cited from reliable medical origins.
You'll need to create a WebMD account to use the app, but once you do and you specify your due date, you're golden.
You get useful snippets of data on where you are on your pregnancy. You can jot down journal entries and add unforgettable moments, complete with photo or video. You can read pregnancy-related articles.
The bread and butter of the WebMD Pregnancy app is the Pregnancy 101 section, where you can learn everything about you and your baby on a weekly basis as well as important notes regarding nutrition, exercise, illnesses, and health and safety, among other things. It even has a section "Just For Dads," because it's not just you experiencing this pregnancy, after all. —J.K.
2) BabyBump Pregnancy Pro (Android and iOS)
Although it has "pro" in the name—which would usually refer to a paid version of an app—BabyBump is actually free. And for a free app, you actually get a lot of functionality.
Features include a journal to record your daily symptoms, moods, and thoughts; a baby name function that lets you search by sound, meaning, origin, or gender; a kick counter and contraction timer to monitor your baby's shenanigans, and a section where you can watch a vaginal birth video (if you want some mental preparation) and customize your birth plan. It also has a super useful groups tab that lets you communicate with other users to share your experiences and ask questions related to your pregnancy.
This app is a heavyweight and is a useful one to have if you're totally gung-ho about tracking your entire pregnancy. I went whole hog when I used fertility apps to aid in getting pregnant, but now that I actually am pregnant, and after using this app during my first trimester, I found that logging symptoms is something I'd prefer to reserve for monthly doctor visits, when they actually matter. But hey, if you're a knowledge sponge, go for it—this app has it all. —J.K.
3) Nurture by Glow (Android and iOS)
Another pregnancy-tracking option that's suited to studious new moms is Glow's pregnancy app, Nurture. I previously used Glow to track my fertility and I thoroughly enjoyed its ease of use and comprehensiveness, so transitioning to Nurture was the natural move for me.
At a glance, you can immediately find out how big your baby is, in inches as well as in fruit size (more on this later), as well as how many days you have to go till Go Time.
The main purpose of this app, however, is tracking. The more you use it, the more relevant the insights and feedback you receive from the app. You can take notes, keep track of your appointments, and peruse useful tips. You can also take a photo of your bump daily and the app will turn it into an awesome time lapse—as long as you don't get distracted and forget to take photos, like I often did.
Its best feature though is its community tab, where you can read advice shared by other parents who are also using the app. The app allows expecting parents to share stickers through private messaging (a subscription-based feature) and community features, too.
While the app is free, Glow offers subscription services for access to comparative insight data, exclusive articles, private messaging, premium support, and the ability to customize your profile. The subscriptions run from $7.99 a month to $59.99 for a lifetime, and work across all Glow applications. —J.K.
4) Totally Pregnant (Android and iOS)
The first thing that really caught my eye about this app is its infographic-like interface. You'll be prompted to personalize your experience by entering your name and your due date, but after that, you'll be directed to a screen featuring a colorful roulette of options for totally pregnant you.
Totally Pregnant has six main tabs that let you do anything and everything related to your baby, from documenting your pregnancy through photos and signing up for a baby registry on Amazon, to signing up for prenatal yoga classes and finding baby-related shops and services that are within your vicinity.
You can also get a weekly summary about your baby's development and find out more through videos and blogs that elaborate on things that you need to know. What's particularly nice is that the app gives you all the information you need without really demanding a lot of data from you as the user. —J.K.
I like Sprout because it has all the things that are necessary in a comprehensive pregnancy app, minus the tediousness: weekly medical tips, doctor's appointments organizer, and all the tracking functions you may need (weight, kicks, and contractions). It also has a useful tab for listing tasks, newborn essentials, as well as things to pack in your hospital bag when it's officially time for the baby's debut.
The best feature of the app, however, is the simple and straight-up view of your baby's development, with timely descriptions that are accessible via tap and are shareable through other apps and social media platforms. —J.K.
Created by the Knot, the Bump app supplements the company's website, TheBump.com. Through the app, expecting moms can find articles by the trimester, from ways to announce your pregnancy to the best feeding supplies for your newborn. Articles also span topics of curiosity, like what strange pregnancy dreams mean and the latest in pregnancy studies and news. Though you might be using the app solely for your pregnancy, the Bump has useful information for 2-year-old toddlers and older.
Much like the Nuture app, the Bump has a helpful community of "real answers" from other Bump users and pregnancy experts, tailored to your trimester. The app also allows you to create a registry through retailers like Babies "R" Us, Amazon, and Target, or search their registry catalogue by item. —Samantha Grasso
7) My Baby's Beat ($1.99 on Android, $4.99 on iOS)
During your entire pregnancy you'll only get a few doctor's appointments that include an ultrasound, and these are your chance to see how your baby is actually doing inside you. Most of the time, you'll only feel sporadic kicks (depending on how far along you are).
If you can't wait for your next sonogram to hear a quick hey from your mini me, the My Baby's Beat app will help soothe your maternal need to hear your baby's heartbeat. Rather than buy a fetal stethoscope (which I totally did) and be frustrated at your inability to locate and hear your kid's pulse (you will often pick up yours, but not the baby's), you can use your smartphone as a scanner and the app as a recording device.
When using My Baby's Beat, it is recommended to be lying flat on your back, with your device on top of your belly, removed from any phone casings, and set to airplane mode. Although some users have been able to pick up sounds as early as week 20, the description page says the app was designed for use during weeks 30-40 of your pregnancy, so be sure to manage your expectations. —J.K.
Pregnancy often affords you a lot of free time, and most of that free time ought to be occupied by lots and lots of planning for your coming offspring.
Pinterest—normally a black hole for productivity—is actually a pretty great companion for a pregnant person because you can pretty much search anything from "cute baby portraits" and "baby announcement ideas" to "Lion King baby room" and be rewarded with a lot of pin-worthy results. By all means, go crazy. You can even invite your pals to collaborate and make suggestions. Pinterest claims to update their app every two weeks, so if you may not have had the best of luck years ago when struggling to decorate your first apartment, you may have better luck this time around. —J.K.
9) Baby Pics App ($2.99 on Android and iOS)
Inspired by all those picturesque Pinterest ideas and ready to let the creative juices flow? Don't feel like you need to spend the big bucks on week-long projects just yet. With the Baby Pics App, expecting parents can start documenting their newborn's journey with the help of a smartphone and few eloquent, trendy art stamps.
Showcase important milestones and other moments by overlaying unique artwork around photos of your growing baby bump, and include personalized text and filters to make your snap stand out above all other social media pregnancy frenzies. You can even order prints of your creations and use the app's free shipping to share them with family and friends. —S.G.
Another activity that can consume a huge chunk of your pregnancy schedule is shopping for your baby. Let me tell you, there are a virtually endless number of shops online that sell must-have baby items that it's really easy to get them mixed up.
BabyList makes signing up for baby registries super easy. Rather than signing up for a bunch on various retail sites, BabyList compiles your finds into one neat list.  You can search for items from the web or within the app's catalog. You can also go to any site on your desktop and add any product to your BabyList; it will automatically sync with your list on your device. —J.K.
Products are grouped into categories and are tagged with prices from stores where they are available to order online. If you're debating between one item and another, take a look at the reviews, or peruse the "Explore" feature in the navigation to read up on registry suggestions. Items can also contain personal notes, if you want to add additional instructions for yourself or for your friends who want to get your munchkin a present.
11) What to Expect Pregnancy Tracker (Android and iOS)
From the pregnancy brand "What to Expect When You're Expecting," this app provides many of the features we've covered in previous apps: community messageboards, tips for taking care of yourself during your pregnancy, a registry, and photo journal.
A few different features on this app, however, include specific community groups for different kinds of parents, such as parents who live in New York City or parents who are due in your baby's birth month, so you can discuss with moms who are in the same stages of pregnancy or understand the same regional differences. The app also explains the test and screenings you'll need during each trimester, as well the risks of each. —S.G.
Even when you're shopping for your baby, you should still be on the lookout for great deals for yourself, too. While the sales app Zulily isn't specific to maternity wear and infant clothing, it does have a section dedicated to parents-to-be, including maternity, infant, and toddler clothes, and baby-related accessories. For their sales, Zulily taps retailers such as PinkBlush Maternity, UV Skinz, and Burt's Bees Baby.
Browsing through the selection reveals deals from 30 to 70 percent off retail price, which last about 72 hours. After making an account or logging in through Facebook, you can favorite sale events, add items to your basket, make your purchase, and even continue your shopping online. From the app's main menu, users can peruse the day's new deals, take a look at bargains ending soon, and set reminders for upcoming events. —S.G.
13) Cute Fruit (iOS)
Sometimes, you don't feel like going through all the trouble of logging your symptoms, your weight, how long you slept last night, or your emotions—you just want a straight-up visualization of how big your unborn baby is in your belly that's getting bigger by the week.
Cute Fruit does exactly that. It's not in the form of what an in-utero child actually looks like on a sonogram, but the next best thing—a cutesy cartoon of a fruit that supposedly resembles the actual size of your little one. —J.K.
14) Baby Names (Android and iOS)
As soon as you confirm your pregnancy, one of the most common things that will plague your brain is this: What am I supposed to call my baby?
While you may have had a few ideas you've been keeping in your heart from a young age, name trends change annually and sometimes your favorite (and not-so-favorite) people may influence your final decision.
Baby Names is an app that compiles thousands upon thousands of suggestions in an easily sort-able list. It can be arranged by initial, by popularity, or by gender (including unisex). You can learn about name origins and common pronunciations and save the ones you like as favorites.
If you upgrade to the premium version of the app, you can even ask it to recommend names it thinks complement your name and your partner's. —J.K.
15) Who's Your Daddy ($2.99 on iOS)
Yes, not all men need a specialty app that caters to understanding pregnancy from the other parent's perspective, but it doesn't hurt for your partner to have the opportunity to understand this journey on their own accord. Who's Your Daddy gives first-time fathers daily and weekly advice over the nine-month long course.
Using preemptive dad-joke comedic stylings and other helpful features such as a pregnancy timeline tracker, a contraction counter, and a hospital bag checklist, Who's Your Daddy will help your future baby daddy stay in the loop on your most overwhelming of days as an expecting mom. —S.G.
16) Ovia Pregnancy & Baby Tracker (Android and iOS)
Come for the size of your baby's handprint, stay for the daily logs and safety guides. While the Ovia app community feature isn't particularly helpful for advice, its weekly pregnancy guide offers insight on how the baby is doing and what kind of symptoms you could be experiencing.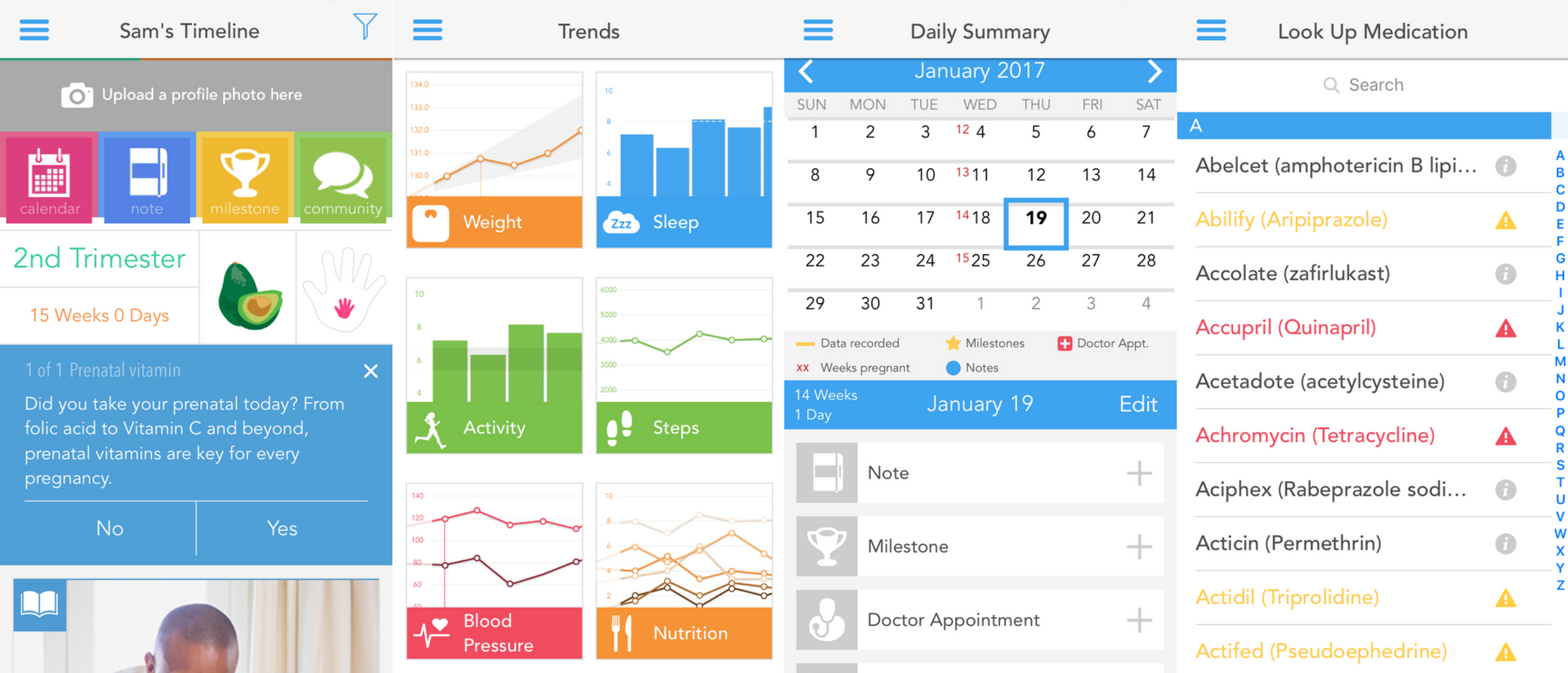 You can also log different attributions, such as your weight, appointments, sleep, blood pressure, baby kicks, and medication. The app also provides three extra guides that are sure to save you minutes of perusing Google search results for verified answers: guides on food, medication, and symptoms. The first two list which foods and medications are safe or risky to consume while pregnant and why, according to FDA ratings or Mayo Clinic recommendations. The latter guide will tell you what's causing your symptoms, as well as how to alleviate them. —S.G.
Other apps might make it possible for you to take memorable tummy-growth photos, but CineMama actually makes it easy to take then, then turn them into a movie after your baby's birth. The app's camera provides a handy aligning guide so that you're sure to take each photo at about the same angle and position. After taking your photos, you can add text and music to your movie, then save it to your camera roll once it's finished.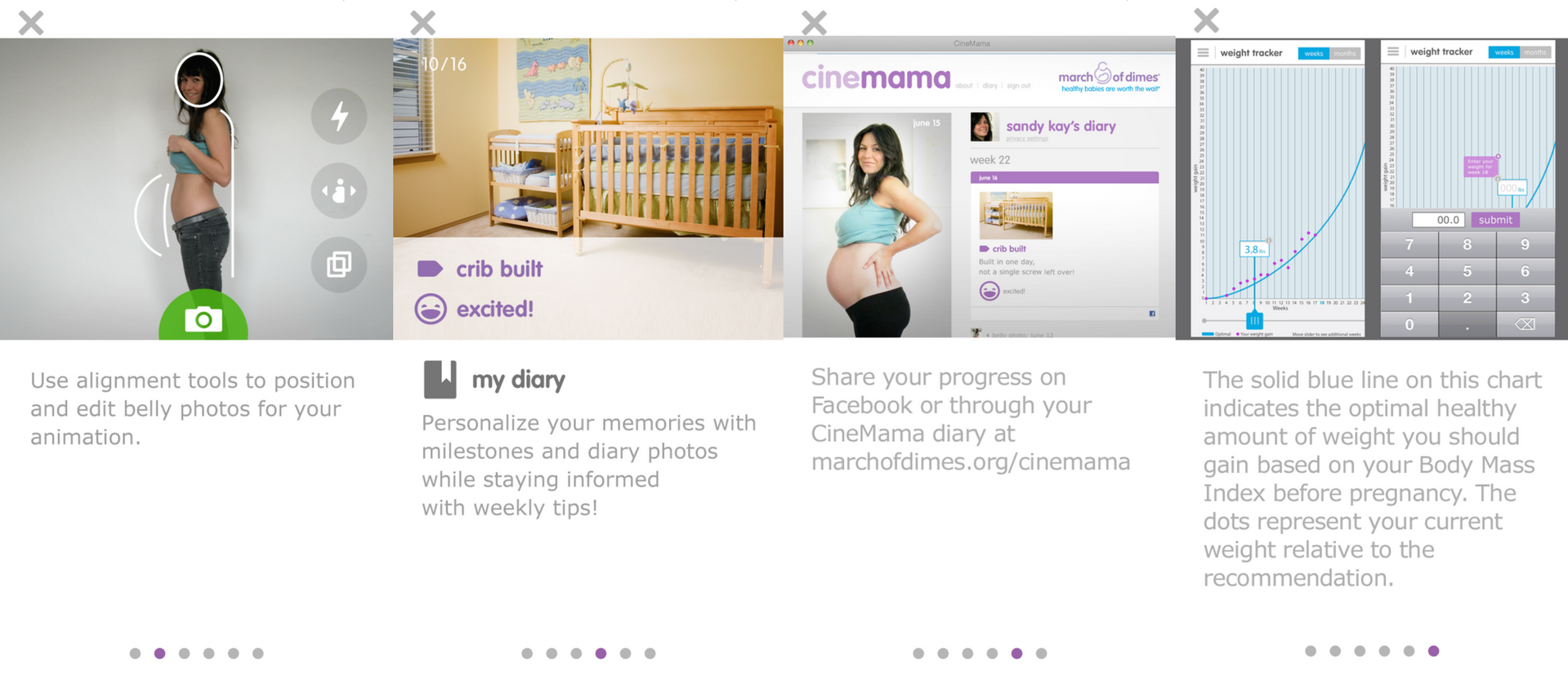 The app also allows you to keep track of memories and milestones through its diary feature, like baby's first kick, your first ultrasound, and the day you have your bag packed for the hospital. These entries can either be private for your eyes only or public to share with family and friends via Facebook. You can also track your weight, and get information on nutrition and exercise. —S.G.
Additional reporting by Samantha Grasso. 
Editor's note: This article is regularly updated for relevance.