Have more than one follower on Twitter? Congrats—you're famous.
And if you're lucky enough to have a thousand or more, you're practically Twitter royalty, at least according to O'Reilly Media Radar's Jon Bruner, who ran an algorithm on activity across the newly IPO'd website and came back with some surprising stats about how many people use—or, more accurately, don't use—Twitter in a given month.
Bruner produced a histogram based on examining general Twitter as well as "active" users, meaning those with public Twitter accounts who tweeted at least once within the last month. Turns out that if you have more than a thousand followers, you're in the upper 4 percent of Twitter's social hierarchy.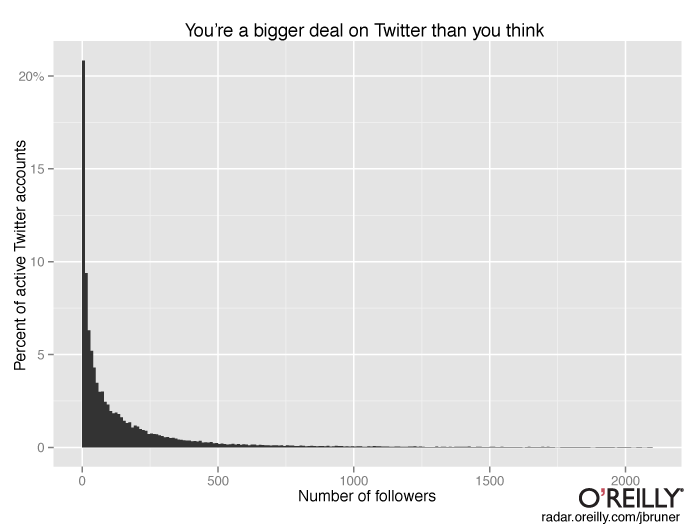 It gets even lonelier: the vast majority of Twitter users basically haven't used their accounts since creating them, and they generally have one follower or less.  And let's face it, that guy's probably a spambot. Bruner admits as much:
@TheBigKlosowski Right. That stat is largely a reflection of the number of empty/spam/bot accounts among Twitter's user numbers.

— Jon Bruner (@JonBruner) December 18, 2013
Among active users, the median follower number is 117. This means that more people are following than being followed. Thanks, Bruner, we needed that punch in the ego.
Bruner's findings suggest that Twitter doesn't so much bestow influence as boost it: with few exceptions, people don't become famous on Twitter; rather, if they're famous on Twitter, it's because they were famous already.
Twitter's relationship to its celebrities gets even stranger. Apparently one in every 500 Twitter accounts references Justin Bieber in some way. No word on what the combined stats are on all five members of One Direction, but we're pretty sure it would make the other Twitter stats cry for their mommies.
Bruner's concludes that the imbalance between those who listen and those who are listened to on Twitter creates what he calls Twitter's "outsized" influence on popular culture.
While this characterization may make Twitter seem like an unfair hierarchy, it helps to remember that outsized influences on pop culture are nothing new. The Algonquin Round Table, for example, only had a dozen to two dozen members in its short life nearly a century ago; yet we're still talking about it. That's because there's one thing that the Twitter statistics can't measure—the quality of all those depressingly one-sided conversations.
Sure, you may never interact with celebrities much, but when Beyonce drops an album in the middle of the night on iTunes, there's nowhere else to be but on Twitter watching all those famous people freak out about it like the rest of us.
That's the kind of Twitter experience that not even follower bots can buy.
Illustration via thecampbells/Flickr