Former Vice President Joe Biden has received a number of endorsements in his campaign to unseat President Donald Trump, from the expected to the surprising and maybe even unwelcome. But none are quite like the statement Bob Avakian, leader of the Revolutionary Communist Party, USA (Revcom), wrote about why he plans to vote for Biden in the fall.
In Avakian's 4,000-plus word statement, he calls the Democratic candidate an "instrument" of the "exploitative, oppressive, and literally murderous system of capitalism-imperialism," and adds that Biden is not "'better' than Trump, in any meaningful way—except that he is not Trump."
However, as the longtime Revcom leader explains, his endorsement of voting in the election itself marks a significant shift in his typical approach to U.S. politics. Avakian has previously argued against voting in "bourgeois elections" in favor of dismantling the system as a whole. In the statement, Avakian still promoted utilizing "mass protest" and other nonviolent means before resorting to voting.
"And if, in spite of mass protest demanding the removal of the Trump/Pence regime, this regime remains in power when it is time for voting, then—without placing fundamental reliance on this—using all appropriate means to work for the removal of this regime must include voting against Trump (assuming the election is actually held)," Avakian wrote. "To be clear, this means not a "protest vote" for some candidate who has no chance of winning, but actually voting for the Democratic Party candidate, Biden, in order to effectively vote against Trump."
Of course, this less-than-enthusiastic endorsement didn't go unnoticed on Twitter. Some on the right, including GOP National Spokesperson Elizabeth Harrington, framed Avakian's support as an opportunity to attack Biden.
"Joe Biden is the preferred candidate of Communists. He is even considering Karen Bass who was part of a group that trained militants in Cuba to be his VP pick. Now, Bob Avakian, founder and leader of the Revolutionary Communist Party USA endorsed Biden," tweeted GOP Rapid Response Director Steve Guest, peddling a claim about Rep. Karen Bass (D-Calif.) that she has repeatedly denounced.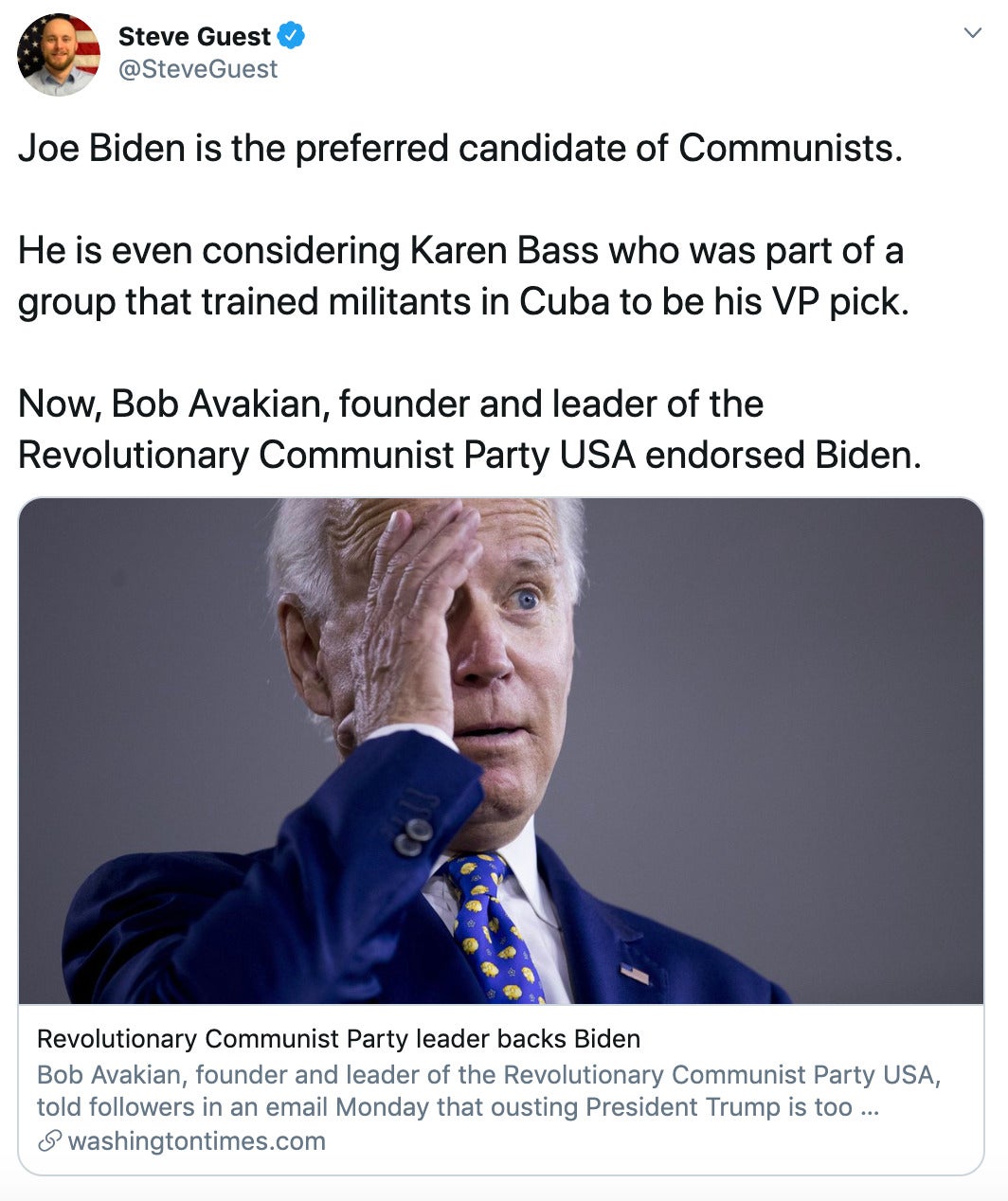 Others poked fun at the unlikely turn of events.
"I'm finally to the left of Bob Avakian," wrote one user.

"Bill Kristol to Bob Avakian is an impressively large tent, tbh," added another, commenting on Biden's appeal to "Never Trump" Republicans.

No word yet on when the Biden campaign will start printing a, "Biden: not 'better' than Trump, in any meaningful way—except that he is not Trump" bumper sticker.
READ MORE: