The Georgia sheriff's office spokesman who said the Atlanta spa shooter had a "bad day" seems to be having a bad day himself, as a Twitter user revealed yesterday that he appeared to promote racist COVID-19 shirts on his personal Facebook page last year.
Captain Jay Baker, director of communications and community relations at the Cherokee Sheriff's Office, caught flak for comments he made during yesterday's press conference about 21-year-old Robert Aaron Long, who shot and killed eight people—including six Asian Americans—at three different Atlanta-area spas on Tuesday.
"He was pretty much fed up and kind of at the end of his rope. Yesterday was a really bad day for him and this is what he did," Baker said of Long's attack, which many people on social media have condemned as an anti-Asian hate crime.
Yesterday afternoon, Twitter user Rich Phelps shared screenshots that appear to be from Baker's personal Facebook that show him promoting custom-made COVID-19 shirts that employ anti-Asian humor. The shirts, which came from Deadline Apparel, parody the Corona beer logo and say, "COVID-19: IMPORTED VIRUS FROM CHY-NA."
"Love my shirt William Rownd! Get yours while they last," Baker wrote on a post from April 2, 2020. He also encouraged people to "place your order while they last" in a March 30 post.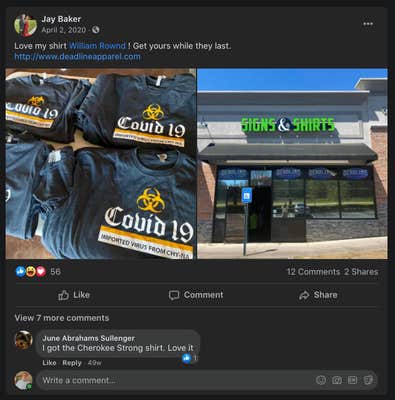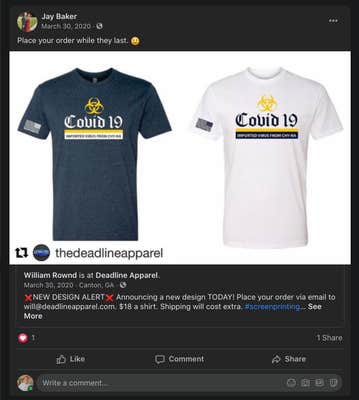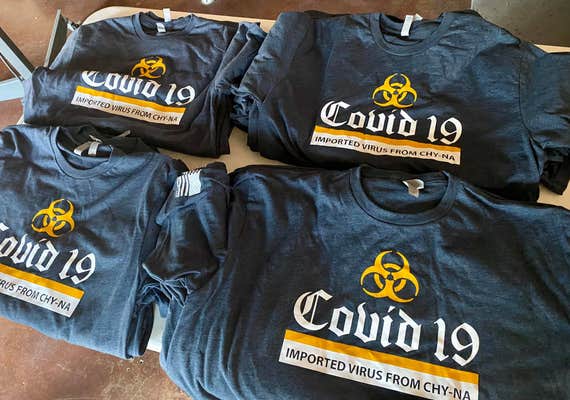 Phelps' screenshots have been retweeted more than 10,000 times, with many people sharing Baker's contact information and calling for his removal from the sheriff's office.
"Hold on. So if it has now been discovered that the police doing the investigation have among their staff a bunch of people who share the values and political viewpoints of the perpetrator, how can anyone even trust the so-called justice system in the US?" Twitter user @ReiMurasame wrote. 
---
From our friends at Nautilus
---
Neither Baker nor Facebook immediately responded to the Daily Dot's requests for comment on the validity of the posts. As of Thursday morning, however, Baker appears to have deleted his personal Facebook account.
Baker drew additional criticism during yesterday's press for suggesting that Long's murders were motivated by a "sexual addiction."
"He apparently has an issue, what he considers a sex addiction, and sees these locations as something that allows him to go to these places and it's a temptation for him that he wanted to eliminate," Baker said.
---
This week's top technology stories