The budding love affair between Reddit and Arnold Schwarzenegger went to the next level after the fitness god turned movie star answered some more questions, made some videos, and entertained a job offer at the social news site Tuesday.
Schwarzenegger returned to Reddit to raise money for After-School All-Stars, an organization that gives young people the tools they need to be successful.
"When you guys help provide these kids with health and leadership education, I will match your donations (I'm asking you to make me spend my money)," Schwarzenegger wrote. "You'll earn the chance to fly to LA from anywhere in the world to ride a tank and crush things together. We'll spend a whole afternoon so we can also work out (on the tank), smoke cigars (on the tank), and whatever else."
As part of his campaign, Schwarzenegger shared the following video of him going undercover as a Gold's Gym fitness instructor. The sight of Schwarzenegger trying to hide his strong Austrian accent and 6'2″ frame under some fake hair and makeup is hilarious.
Schwarzenegger answered questions about filming Predator, the opposition he faced from Turkish lobbyists when passing the Armenian Genocide bills during his time as governor of Calif., and the best deltoid exercise. (Click to enlarge.)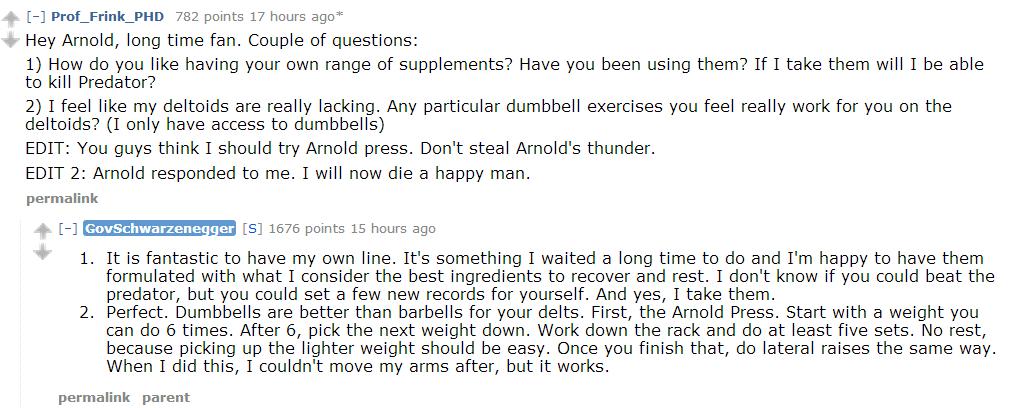 Schwarzenegger also created a video of him reciting "Come with me if you want to lift."
And as if Schwarzenegger needed work, Reddit CEO Yishan Wong offered him the following job.

Under his official Reddit account, u/GovSchwarzenegger, Ahhhnold has dropped in on Reddit a few times over the past year to discuss dieting tips and how to motivate yourself to work out. In May, he confirmed a story in r/TIL ("Today I Learned") about a meal he had with Andre the Giant in 1983. On July 11, Schwarzenegger popped into r/fitness once again to fire back against haters criticizing a cardio routine featured on schwarzenegger.com. About two weeks later, he shared the following letter on r/fitness on his birthday.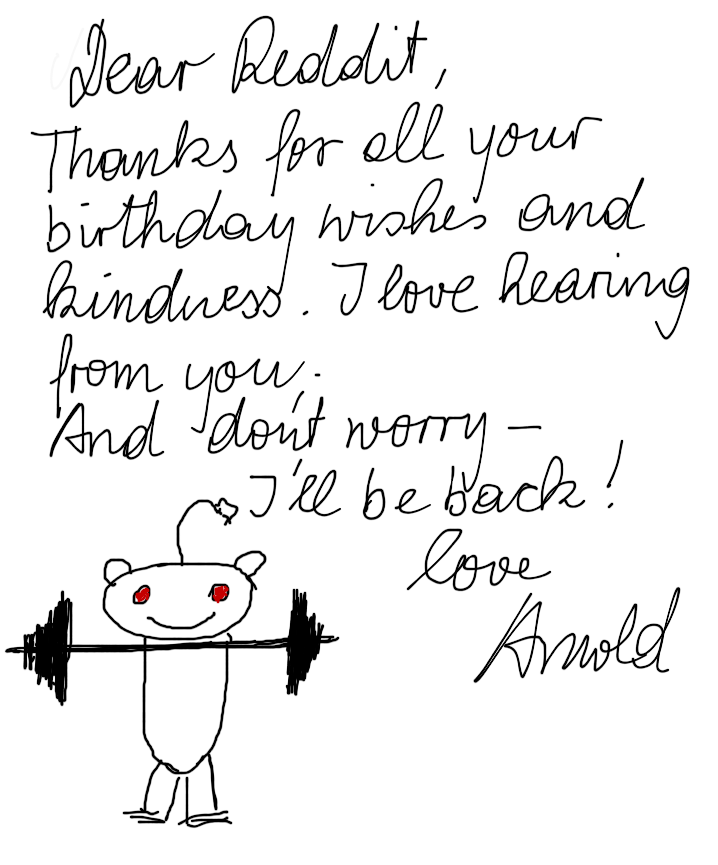 Screengrab via YouTube