An Arizona man has been arrested and charged with more than a dozen felonies after he allegedly flew his drone too close to aircraft battling a fire, briefly preventing officials from containing the blaze.
The Yavapai County Sheriff's Office arrested Gene Alan Carpenter, 54, and charged him with 14 counts of felony endangerment and one misdemeanor count of unlawful operation of an unmanned aircraft, according to the Associated Press.
A witness reportedly saw Carpenter flying the drone near a white van late last month, and authorities later tracked him down after he posted the photos he took from the drone to his website.
Authorities said Carpenter flew his drone in a "close airspace above an active fire area," and risked the lives of the pilots and other fire crews who are trying to fight a blaze in the Prescott National Forest that has burnt 40 square miles. The AP reports more than 1,200 firefighters have been battling the fire, and thousands of people have been evacuated from their homes.
According to police, an Air Attack Pilot supervisor came into contact with the drone last week, and when the supervisor tried to figure out who was flying the drone, it allegedly began to circle his plane. The airspace was cleared immediately, and 14 aircraft were reportedly grounded for nearly an hour, hindering the efforts of the firefighters on the ground.
Last Friday, an off-duty deputy spotted Carpenter's van, and police stopped him. Police said the drone was discovered in his van and seized.
This was one of the photos police allegedly discovered on Carpenter's website, via the Daily Courier.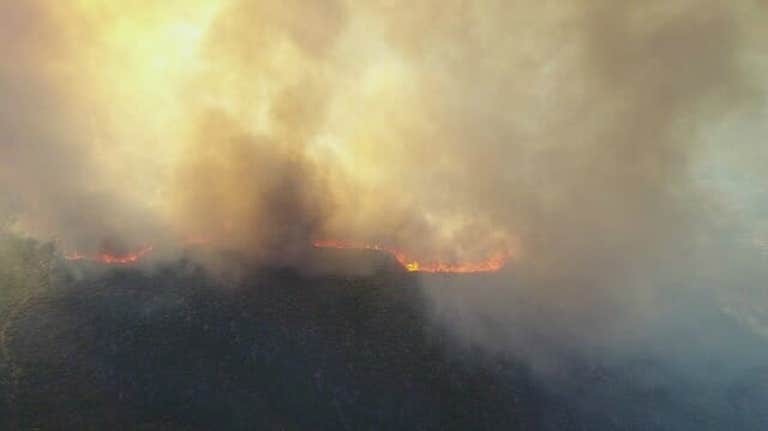 Although the Federal Aviation Administration (FAA) has released guidelines for flying drones in the airspaces around airports and other highly-visible events (the Super Bowl, for instance), some have also caused physical damage recently. Last month, a drone struck a power line in California, causing a blackout that affected more than 1,500 people, and earlier this year, a Seattle photographer was sentenced to 30 days in jail after his drone crashed into two people and knocked one of them unconscious.
H/T Digital Trends