Apple Pay has taken the mobile payments world by storm. In the first 72 hours of its release, the paymet service has added more than 1 million credit cards, quickly becoming the top player in the industry, according to CEO Tim Cook.
Surprisingly, Apple's biggest competition in the mobile payments field isn't Google or Microsoft, it's Merchant Customer Exchange (MCX), a network of popular merchants. Formed in 2012, MCX counts mega retailers including Walmart, Best Buy, Gap, CVS, and Rite-Aid as members.
MCX has its own mobile payments solution, CurrentC, which is slated to roll out in 2015. The problem with CurrentC is it's a solution to a problem that won't help you or me. 
Both Apple and MCX are looking to make money with their mobile payment offerings—just like any and every company—but the way Apple Pay and CurrentC go about that is vastly different.
Apple makes money by charging banks a fee for each transaction completed with Apple Pay.
CurrentC (which won't go live for the public until 2015) was built by MCX to help merchants avoid paying the credit card processing fees (usually between one to three percent) they are charged with every time you swipe your card at their stores. To do this, CurrentC sidesteps the entire credit card industry, placing itself as the middleman between your bank account and the merchant.
But what do the banks thing? Well many we spoke with have little interest in CurrentC as a viable payment option. Sources in the banking industry do not believe that CurrentC adoption will get anywhere near what Apple Pay has already accomplished in its first week of use. 
Randy Hopper, vice president of credit cards at Navy Federal told Daily Dot "acceptance of new payment technology is a complex issue for merchants, and they must decide what form of payment to accept based on how customers want to pay in their stores. Consumer demand will drive the success of emerging mobile payment technology."
CurrentC is an overly complicated service, more so than other mobile payment systems that came before Apple Pay. You can't use your credit cards with CurrentC. The only accepted credit cards are those given out by the merchant partners of MCX.
To pay with CurrentC, you must unlock your phone, open the CurrentC app and—this is where it gets tricky—either scan the QR code (yes, those still exist) on the cashier's screen, let the cashier scan the QR code on your phone, or type in the four digit code on the physical keypad.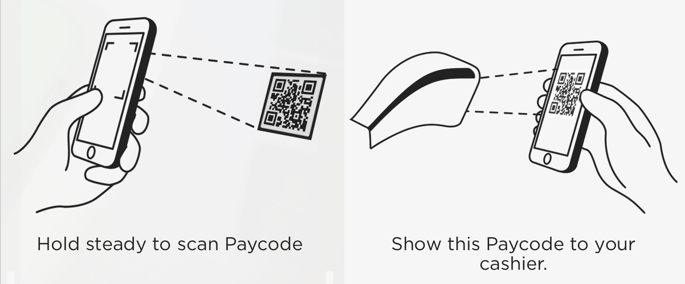 CurrentC will also give merchants the ability to track your purchases throughout the network, giving retailers unprecedented access to your spending habits and allowing them to build a shopping profile of you that extends beyond one single retailer. Merchants with this kind of data—which is currently held by credit card companies who have less incentive to use it than retailers—would allow them to offer users better and more personalized coupons.
Your CurrentC payment information is not stored your device, but are kept on a server in the cloud, a questionable move that MCX touts as proof of its security. 
To Pay with Apple Pay, all you need to do is put your iPhone near the NFC terminal and place your finger on the home button. Apple keeps all Apple Pay information in a Secure Enclave that is separate from iOS. No tracking, no data collection
Apple Pay is available in a number of stores not on its official list of merchants, including CVS and Rite-Aid, since it works over NFC. After realizing this, CVS and Rite-Aid—both members of MCX—shut off NFC capabilities in its stores (these had been active for some time, working with other services like Google Wallet).
According to the New York Times, MCX members are forbidden from accepting other mobile payment services, or they could be levied large fines. MCX posted a non-denial denial—a statement made to look like a denial, that doesn't actually deny anything reported:
When merchants choose to work with MCX, they choose to do so exclusively and we're proud of the long list of merchants who have partnered with us. Importantly, if a merchant decides to stop working with MCX, there are no fines.
Basically, members are not fined for leaving, but any merchant  that joins MCX must do it exclusively, essentially not denying the initial claim.
During a hastily organized call with the press, MCX once again denied there were any fines, with CEO Dekkers Davison stating "it's simply not true, there are no fines … MCX is being attacked because we're challenging the status quo," Davison stated.
The stipulations of the merchants' contracts with MCX hasn't hindered at least one of them from expressing interest in Apple Pay. In a report I wrote a few weeks ago on merchants not accepting Apple Pay, prominent MCX member Best Buy expressed interest in Apple Pay, stating while it won't accept Apple Pay right now, it "will continue to evaluate it as an option, as well as several other competing platforms."
To make things even worse, CurrentC has already been hacked. Email addresses of CurrentC users were compromised in the breach. Davison said "The CurrentC app itself was not affected. We own this and are taking it seriously."
"The hack reminds us that there are people that are motivated to steal information," Davison continued. "Our systems have been attacked repeatedly in the last seven to eight days. Any type of attack or incident is one you have to learn from to get stronger —and we will get stronger."
One thing MCX is learning is that banning members from accepting Apple Pay isn't a long-term solution. When asked by a reporter if CurrentC and Apple Pay could be used side by side, Davison admitted "There will need to be two to three strong players in the ecosystem. One won't simply build the market."
When it comes to mobile payments, users care about two things: Ease of use, and security. MCX has gotten both wrong with CurrentC, no matter how small or insignificant this hack may be.
MCX didn't build CurrentC to solve a consumer issue, it built CurrentC to save money and gather data. Apple created Apple Pay to make mobile payments easier and to secure a market that no one else has conquered yet. Making complicated tasks simple and pinpointing industry holes is how Apple sells iPhones and iPads.
This is why Apple Pay—and eventually whatever Google cooks up for Android—will win the digital payment war. Apple and Google aren't trying to save money—a company trying to save money will cut corners and produce a subpar product (see: CurrentC). Apple and Google make their money by making people want to buy and use their products, and people buy things that make their lives easier.
The main reason people use Apple Pay is because it's easier than anyone thought it would be. You don't have to create another account, and you can still use your credit cards. Simplicity is the rule of the game, but apparently MCX didn't get the handbook.
There will definitely be more than one factor in mobile payments, but third-party options have never worked, and it doesn't look like that's about to change anytime soon.
Photo via Xuan Che/Flickr (CC BY 2.0)