Apple's newest smartwatch, the Apple Watch Series 4, is redesigned from the ground up, inside and out. Apple has revamped its hardware, its display, and the software it runs on.
If you've been holding off on getting a smartwatch of your own, this could finally be the model you've been waiting for. Here are the details on Apple's new Series 4 smartwatch, announced Wednesday during Apple's press conference.
Apple Event 2018: Apple Watch Series 4
The Apple Watch Series 4 looks largely the same as earlier Apple Watch models, but it does have some notable differences.
Apple increased the screen size so it's more of an edge-to-edge display. On the 40mm size watch face, it's 35 percent larger; on the larger 44mm model, it's 32 percent larger. The device is also slightly thinner than its predecessor.
The back of the device also got an update. On all models, it's made of black ceramic and sapphire crystal. This material wasn't just used for looks, it's also highly functional, Apple says. Radio waves can pass through the front and back of the device for improved cellular reception. Apple also redesigned the speaker so it's 50 percent louder, and moved the mic to the opposite side of the device. With these three updates combined, the Apple Watch Series 4 should deliver vastly improved quality on phone calls.
Apple also updated the Digital Crown with haptic feedback, so you get more of a physical response as you turn its dial.
Inside, the Series 4 has a fourth-generation, dual core, 64-bit S4 processor. Paired with a new GPU, it's twice as fast as the chipset in the Series 3.
Heart rate sensing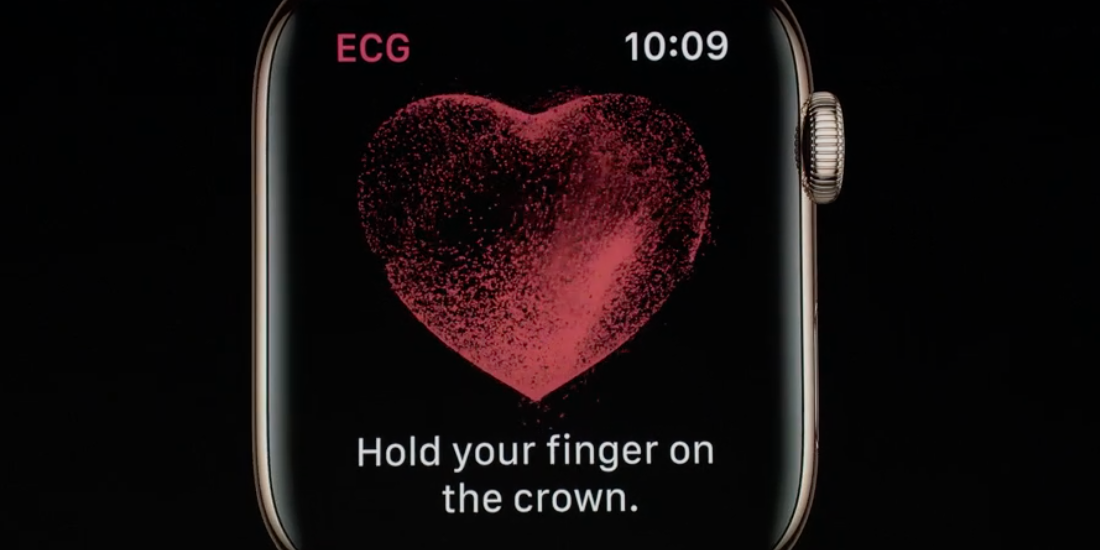 The Apple Watch Series 4 also includes a new electrical heart rate sensor. Thanks to electrodes on the back of the device and in the redesigned Digital Crown, the device can take an electrocardiogram (ECG). Apple received FDA clearance for this, making it the first over-the-counter device for taking an ECG.
In addition to this ECG-detecting feature, which takes 30 seconds to take a measurement, the device can also deliver notifications if you've got an unusually low heart rate and can notify you if it detects irregular heart rhythms, called atrial fibrillation. The device stores your measurements as a PDF in the Health app so that if something is amiss, you can share it with your doctor.
Other updates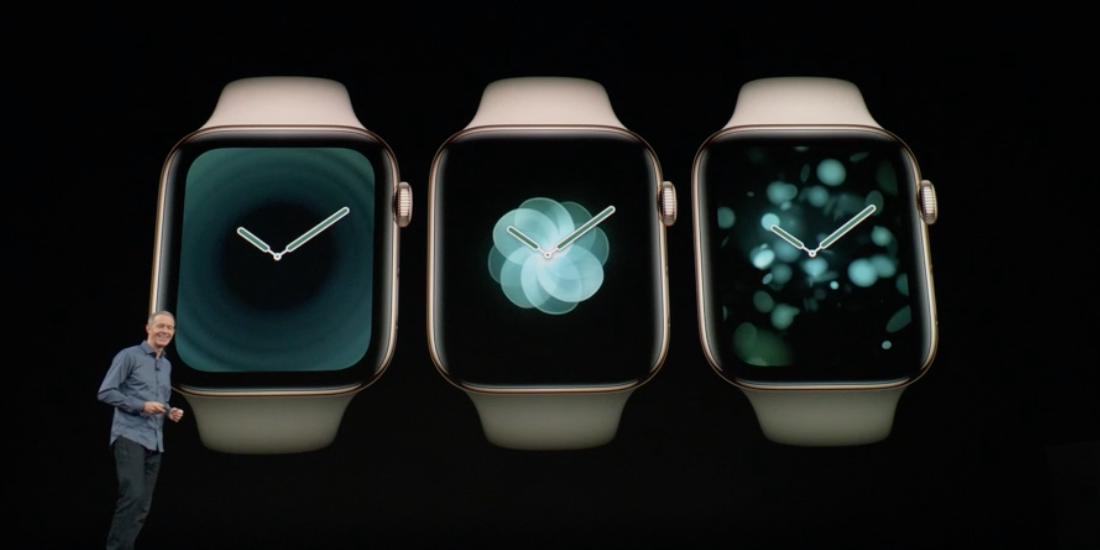 Of course, Apple also added some new watch faces to its collection, including one that can show up to eight different complications at the same time. You can customize this face to whatever suits your needs best—health and fitness apps, clocks showing different time zones, or shortcuts to favorite contacts.
Apple also updated its Breathe app and turned it into a series of different watch faces. Now, you can take a moment to be mindful and meditation even more easily than before.
Pricing and availability
The Apple Watch Series 4 has most other features introduced in prior Apple Watch models, like 18-hour all day battery life, a swim proof design, and availability in different aluminum and steel finishes.
The Series 4 starts at $339 with GPS, $499 with Cellular. For a more affordable option, you can still by the Series 3 at a reduced price of $279. The Series 4 is available for preorder beginning Friday and goes on sale Sept. 21.
And for those who already own an Apple Watch, watchOS 5 will go live on Sept. 17.