Twitter's most famous penis pusher is back, and it only took him 18 months.
Former United States Representative Anthony Weiner (D-New York), whose popularity and pitfalls can be mutually attributed to his unrivaled candidness on the microblogging service, made a quiet return to Twitter on Wednesday, posting a link to a YouTube video detailing a need for relief after Hurricane Sandy hit New York's Rockaway Beach.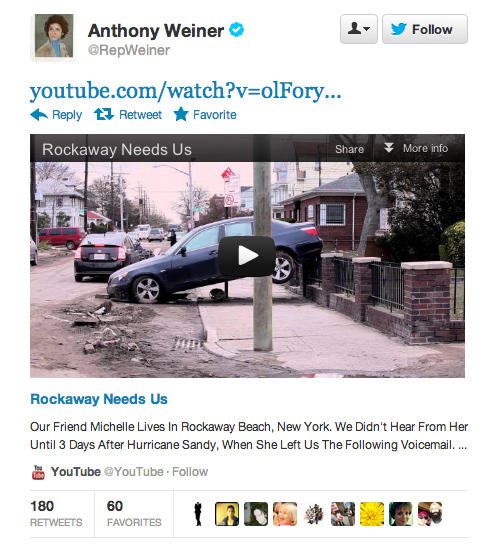 The tweet was Weiner's first since he infamously posted a picture of his penis in his newsfeed last May.
Back then, the fallout that followed was massive. Weiner naturally took a national degree of heat for posting the photo—which he declared was intended as a private message to a woman in Seattle—and resigned from Congress a month later.
His verified Twitter account, once a beacon of laid-back light in a sea of stuffy Congressional darkness, went bye-bye with the position.
No word on if Weiner's account will return to its hockey-following, Rachel Maddow-clowning ways, but we can be sure of one thing: should the one-time politician choose to use @RepWeiner for, ahem, personal conversation in the future, he'll be sure to double check that he's sending Miss Seattle a direct message.
Photo via Anthony Weiner/Twitter