Members of the hacktivist group Anonymous have released what they say is the name and Facebook profile photo of the Ferguson, Mo., police officer who shot and killed 18-year-old Michael Brown.
The St. Louis County Police Department, however, says the officer identified is a member of neither its force nor Ferguson Police.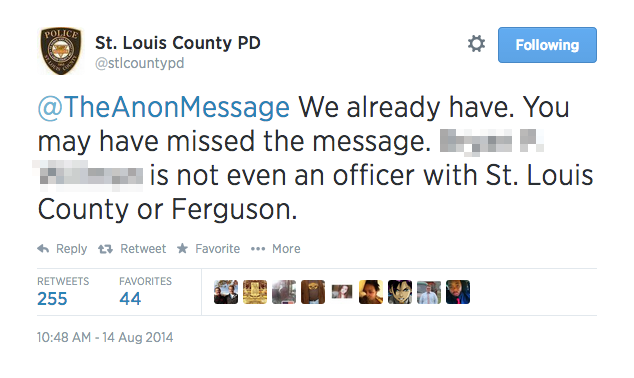 The two officers involved in the incident claim Brown shoved an officer and tried to grab his weapon. But eyewitnesses paint a very different picture.
The incident has drawn massive protests in Ferguson, whose response has brought numerous comparisons to a war zone, both because of how well-equipped its officers are and the fact that they've arrested numerous journalists.
Throughout, Ferguson police have hidden the identity of the officer who shot Brown, which prompted Anonymous to vow to oust him.
Despite the fact that St. Louis police have refuted Anonymous's claim, the Internet lynch mob is already in full force, with his name being shared more than 3,000 times in the first hour since Anonymous hacktivists made the claim. "The things that are happening in #Ferguson disgust me," one Twitter user wrote. "[Redacted] you will be killed soon enough #RIPMikeBrown."
The officer has apparently since changed his name on Facebook, then either deleted his account entirely or removed the search feature.
But Anonymous says it won't stop there. It claims it has video of his body loaded into a police SUV. The hacktivists have also released the officer's full address, and say they will release a full cache of information on him at 1 PM if police do not respond.
Update: Statement from St. Louis County Police Department added.
Photo via Pierre (Rennes)/Flickr (CC BY 2.0) | Remix by Jason Reed