Halloween. The one day of the year when it's (kind of) socially acceptable to dress up in the most offensive costumes imaginable. There are sexy costumes. There are ironic sexy costumes. Then there's the return of "Anna Rexia," a costume that was pulled from New York costume-and-beauty store Ricky's in 2011. 
The outfit includes a skeleton-print minidress, a headband, and a measuring tape used as a belt. It may seem like kind of a stretch, but it's marketed as a "sexy anorexic" costume, with the tagline "You can never be too rich or too thin."
Sold by pop-up costume website HalloweenParty13, Anna Rexia appears to be part of the stock that stirred up controversy two years ago, as the manufacturer claims to have stopped making Anna Rexia dresses in 2007.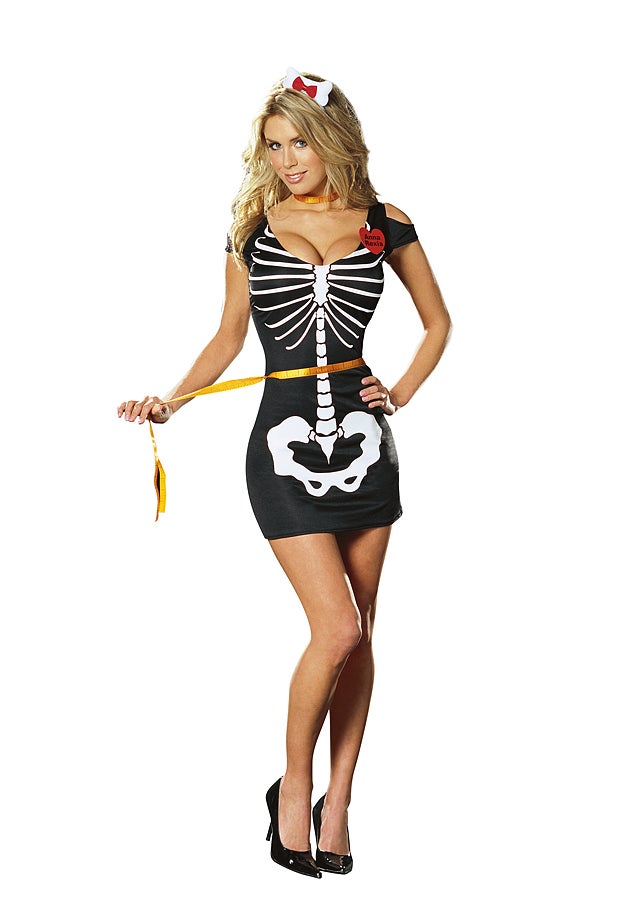 Photo via HalloweenParty13.com
Although the costume is far from popular, it's struck a nerve with many people who feel it makes light of a serious illness. A Change.org petition to have it removed has already received more than 30,000 signatures. The petition page includes mortality statistics for anorexia sufferers, pointing out that eight million Americans are living with an eating disorder—most of them women. 
"Would you sell a 'Cancer Patient' costume, complete with bald cap and hospital gown?" writes commenter Josie Aquino. "It is inhumane to both glamorize and minimize the severity of a disease that claims lives on a daily basis."
Another person asks, "How would YOU feel if you almost lost your life from a disease and someone tried to sell your disease as something 'sexy' or 'dreamgirl' as a costume?"
The Anna Rexia costume has clearly offended a great many people, but unfortunately this may actually end up counting in the Web store's favor. While direct links to the site are functioning, the actual domain of HalloweenParty13.com just leads to an "under construction" page. 
Over at HyperVocal, Marisa Kabas reached out to the sellers:
We tried to reach out to HalloweenParty13.com multiple times. But the email addresses listed on their contact page bounced back — including one to the creepy [email protected] — and the phone number led to a cell phone belonging to someone named Jim with a Kentucky area code and a full mailbox. (The site also now appears to be "under construction" when you go directly to HalloweenParty13.com, instead of going to the ambiguous yahoo.net link being circulated around the Internet.)
And as for the dress itself: As Kabas writes, it's back, but more in spirit than reality.
At the moment, it seems likely that this is a disposable pop-up store that will be gone by the first week of November. The bulk of their traffic may well be the tens of thousands of people clicking through from the Change.org petition.