Anki has made a name for itself as the maker of imaginative robotic toys. Products such as Overdrive and Cozmo take play to the next level because Anki anthropomorphizes these gadgets with a bit of artificially intelligent personality. Now the company is taking the lessons it learned with those toys and applying them to a more practical autonomous robot designed for the whole family. It's called the Anki Vector.
What is the Anki Vector?
The Anki Vector robot is a voice and touch-controlled interactive robot character designed to live with you 24/7—a kind of a roving smart speaker with a mind of its own. While the robot's cuteness and personality are key to its appeal, the device's functions expand from Anki's entertainment roots and get more utility-focused. You can ask it questions about the weather and sports stats or use it to set alarms or timers. You can imagine it living on a kitchen countertop, tabletop, or a shelf, though it can easily be picked up and moved about. As long as it's near its charging station, it will automatically charge itself as needed.
"The goal for this product is we want you to turn it on and if it's still on a year later, that's success," said Mark Palatucci, Anki's co-founder and head of cloud AI and data science. The robot also has a front-facing HD camera on board for taking photos or, perhaps eventually, home monitoring. While there's a companion app, it's really only necessary for initial set-up and transmitting over-the-air device updates.
The Anki Vector looks a lot like its sibling robot Cozmo, or a miniature construction vehicle that can fit in the palm of your hand. It wheels around on tank-style continuous track wheels and has a singular front arm that can push, lift, or nudge obstacles out of its way. Its square black "face" is dominated by a pair of large green eyes that can appear doleful, inquisitive, cheerful, or one of 1,500 total emotions and animations. (Patalucci says the bot can "get happy" in 30 different ways, so each time it expresses that emotion, it feels organic and natural, rather than programmed.)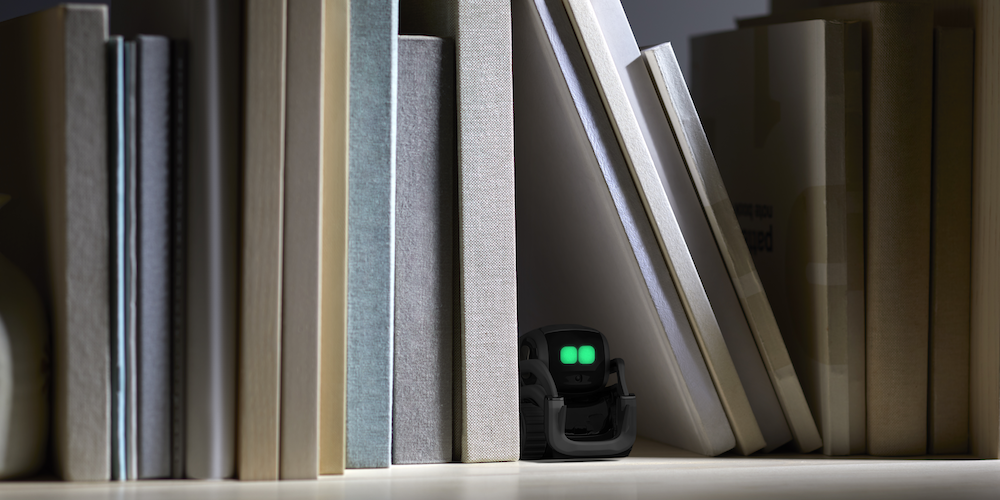 The screen also morphs when you ask the robot questions. For example, it shows time left on the timer or weather data and animations, like rain falling. Vector's facial animations and behaviors are guided by an animation team headed by a 14-year Pixar veteran, which helps the robot's actions feel more like a Hollywood Wall-E or R2D2.
How does the Anki Vector work?
Inside, the Anki Vector is powered by a Qualcomm smartphone processor and a far field voice recognition array of four microphones picks up user commands. Unlike Anki's previous robots, it has a laser scanner for depth sensing and obstacle detection. Since developers realized that child users often want a robot to react to their touch, Vector does react when you touch the top of its head or back. It also has sensors for cliff-edge detection. On the security front, Anki says it does not store any voice or audio data in the cloud and has minimized data collection to protect user privacy.
Early in 2019, the robot will be able to do home automation integration, so you can use it to control lights, thermostats, and other smart home gadgets.
Where can you buy the Anki Vector?
In order to better prioritize what upcoming features are most wanted by Vector owners (and reach "bleeding-edge" early adopters), Anki has decided to launch the robot on Kickstarter. The device will ship to pre-order backers on Oct. 9 and land on store shelves three days later.
Vector comes at an admittedly high price despite packing in a number of features you'd get from a digital assistant-imbued smart speaker. Those that participate in the Kickstarter will get the robot for $199, as opposed to its retail price of $249, and be able to give input on what features Vector should gain through software updates.
But Vector is undoubtedly cute—and could be a must-have if you've always wanted a sci-fi style robot in your home. You can pre-order the Anki Vector on Kickstarter starting today.