After Bitcoin's monumental spike in value, this holiday season will no doubt produce more crypto currency gift certificates than ever before. Here's one tip to keep in mind: Don't air your Bitcoin certificate's QR code on a news broadcast about Bitcoin.
That's right. According to RT, as one Bloomberg newscaster discovered during his "12 Days of Bitcoin" segment, that QR code is enough for any savvy user of the digital currency to wipe your account clean.
On Friday, when anchor Matt Miller surprised his colleagues with a cryptocurrency gift certificates, they unknowingly aired their QR codes online. A Reddit user, milywaymasta, decided to teach the three a lesson about cryptocurrency security.
RT has screengrabs from the broadcast: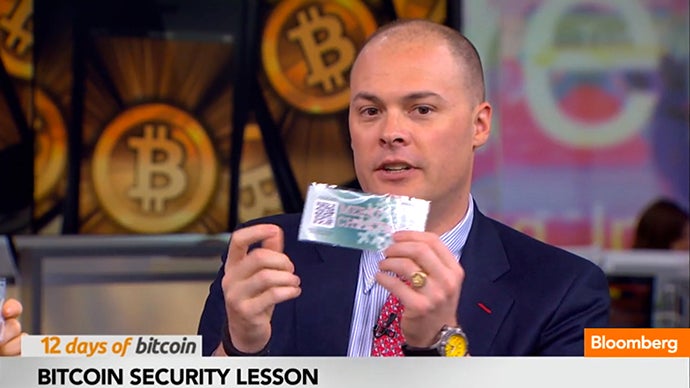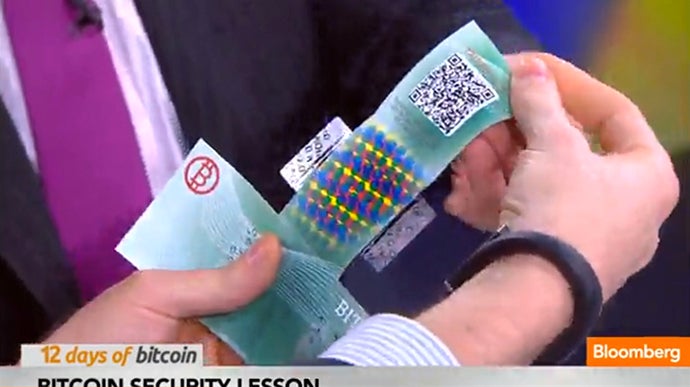 Screengrabs via RT
"The guy that is hosting the series gave Bitcoin gift certificates to the other two hosts. One of them opens up the certificate to reveal QR code of the private key," he wrote. "They then proceeded to show a closeup of the QR code in glorious HD for about 10 seconds. Hilarious… I took it, it was only $20 worth. It was exhilarating nevertheless."
Milywaymasta had no interest in keeping the money, and offered to return it to Miller. But the anchorman took the lesson in stride. "So freaking classic but also a GREAT lesson in bitcoin security!" he wrote. "You can keep the $20—well earned."
Photo by Antana/Flickr