Twitter was dethroned, Facebook rose to the top, and YouTube found itself in a strategic position in the latest study on social media news consumption.
The Pew Research Center study polled 5,173 people from Aug. 21 to Sept. 2 about their social habits. It found that Facebook is the preferred source of news for American adults. 
While Facebook and Twitter dominated nearly every measured statistic, the social news site Reddit made a surprise appearance as the top "news destination for nearly two-thirds of its users (62 percent)."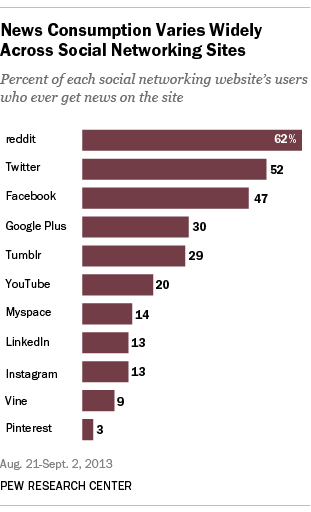 As the self-proclaimed front page of the Internet, Reddit has become a crucial source for media organizations (such as this one) looking for the next big story. The community has also reported on breaking news and provided in-depth analysis on hotbed issues like the Affordable Care Act. Yet despite the news-obsessed nature of redditors, the site did not stack up at all among the general American adult population. That was left to Facebook, which boasts more than 128 million active users in the U.S., and Twitter, 50 million. Both sites accounted for 38 percent of where people get their news. 
Here are the most important takeaways.
 
1) Facebook is the true king of social news; Twitter should be worried
While Twitter has been the sweetheart of news organizations and journalists, Facebook has cemented itself as the preferred way American adults get their news.
Of the top five social media sites used to get news—Facebook, Twitter, YouTube, Google+, and LinkedIn—"a majority of news consumers on those sites (65 percent) get news from just one, and for 85 percent of those, it is Facebook."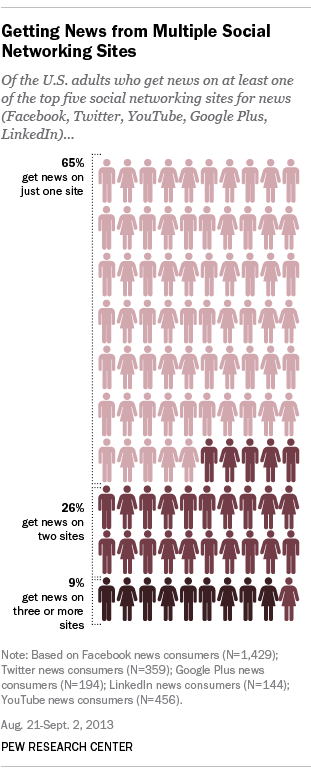 Despite Twitter's successful initial public offering a week ago, the Pew study should give the company pause. News consumption and distribution has been Twitter's point of pride. From reporting on the operation to kill Osama bin Laden, to organizing relief efforts following Hurricane Sandy, Twitter proved to be the ideal way to consume news in real time. 
Yet with additions of the news feed and the ability to upload photos and videos into a status update, Facebook has adapted and improved upon many of Twitter's features over the years. And unlike Twitter, where you're forced to unfollow a user who may be sending messages you don't like, Facebook allows you to hide users temporarily from your feed. Not to mention the lack of a 140-character limit.
For people who get their news from more than one social media site, Facebook is the preferred second choice. Of those people who chose Twitter as their first news source, 71 percent also got their news from Facebook.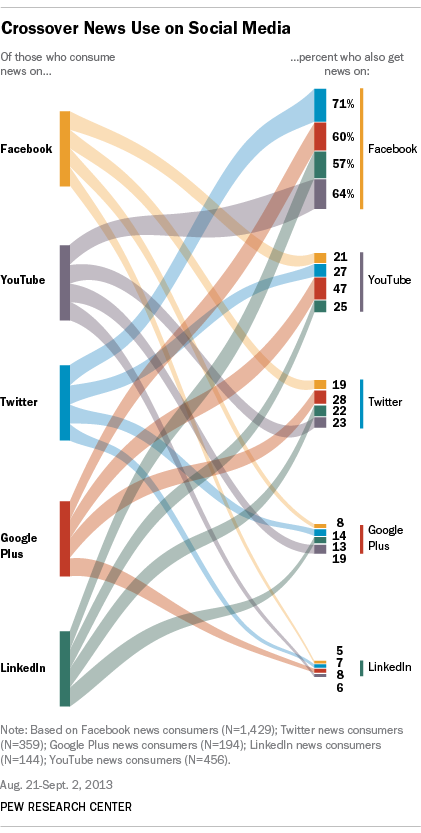 2) YouTube has the greatest growth potential
Coming in second behind Facebook for the most used social network was YouTube with 51 percent. Of that 51 percent, only 10 percent get their news from the site. And therein lies the great opportunity.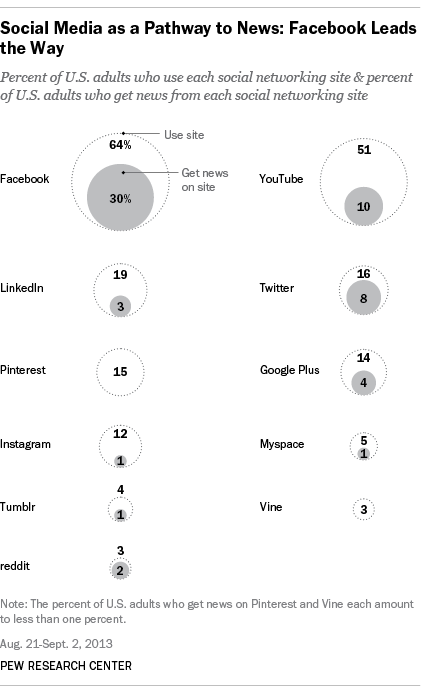 In the third quarter alone, Time Warner Cable lost a record 306,000 subscribers following a month-long feud with CBS over fees. Millennials, in particular, realize that with services like Netflix, Hulu Plus, and torrents, they can get almost all their entertainment needs elsewhere and pay much less for them. Quality news sources may be the last missing puzzle pieces. 
The percent of adults ages 18–29 who get their news on YouTube was 39 percent, edging out Facebook by five points. Mainstream media organizations like CNN have a presence on YouTube but often aren't useful when it comes to breaking news. Most of this sort of news is done through CNN's website in order to collect those traffic stats.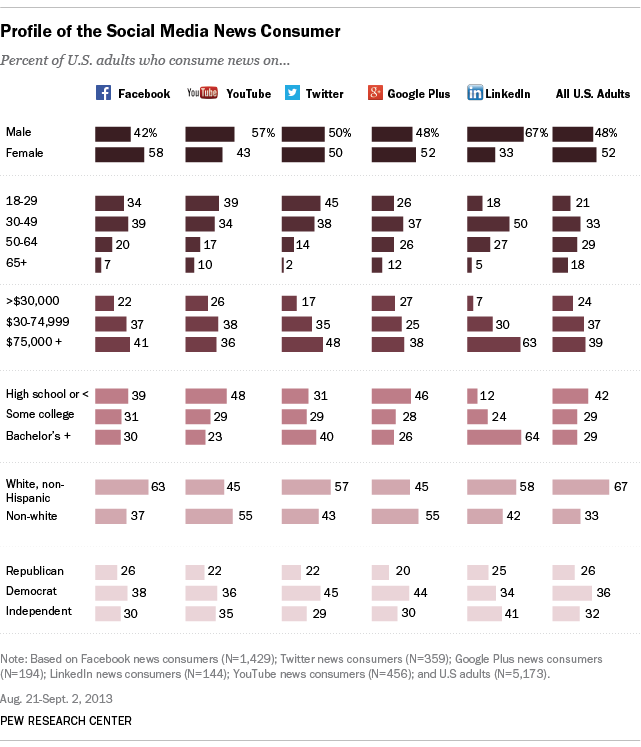 Where YouTube needs to improve is mobile, where it ranks fifth behind Twitter, LinkedIn, Facebook, and Google+. 
What's missing from the study are stats on emerging platforms like Instagram video, Vine, and Snapchat. Each of these applications have been integrated into Twitter and because of the recording limitations on each, has forced content creators to be judicious with their news presentations. One example of this is NowThisNews which has began creating 15-second video segments on Instagram of the day's biggest news.
3) Watch out for LinkedIn
With the third highest percentage of adults who use social media and the second in terms of mobile consumption, LinkedIn is no social news slouch.
LinkedIn, a social networking site geared toward professionals, is second in terms of people accessing news on the site through mobile.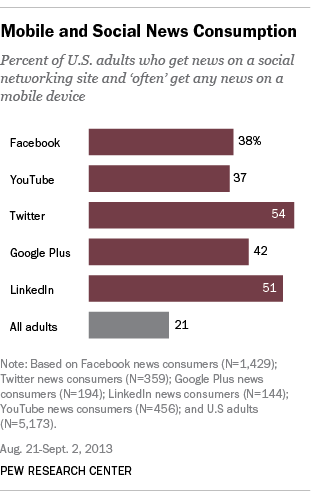 LinkedIn was launched in May 2003, and since then it has amassed 259 million users (in comparisson, Twitter has 232 million active monthly users). The site, popular with job seekers, has adapted a new feed model, similar to Facebook. Just yesterday, the company integrated the social news reading application Pulse into its homepage. Pulse will provide users with larger images and give them the ability to share and comment on stories.
Illustration by Jason Reed