ISIS may be getting all the attention right now, but yesterday's terrorists over at Al Qaeda are trying to stay relevant with a new publication that suggests some strategies for sowing terror in the United States.
Al Qaeda in the Arabian Peninsula released the magazine, entitled "Palestine-Betrayal of the Guilty Conscience Al-Malahem" and filled with ideas for retaliating against America for its support of Israel.
"Our responsibility towards Palestine is that of support; to fight, shed our blood, kill and be killed until Palestine is free," reads the introductory note by Abu Nûh.
One of the sections provides detailed instructions for building a pressure cooker bomb. This "detailed yet short, easy-to-read manual on how to make a bomb using ingredients found in a kitchen" is better known as the "Make a bomb in the kitchen of your Mom" article from the first issue of Al Qaeda's English-language Inspire magazine.
In a section about car bombs, adapted from Inspire issue 12, the authors proclaim that "this type of operation if prepared well and an appropiate [sic] target is chosen and Allah decrees success for you, history will never forget it." Suggested targets include Las Vegas nightclubs; the U.S. Air Force Academy in Colorado Springs, Colo.; and the San Diego, Calif., headquarters of defense contractor General Atomics. Times Square in New York City is also listed, and the bomb-making guide splashes a photo of the Times Square bomber Faisal Shahzad alongside a shopping list of bomb ingredients.
Al Qaeda and its publishing affiliate, Al-Malahem Media, have been eager to recruit Westerners using these English-language magazines, which regularly depict scenes of suffering in the Middle East and paint them as the result of U.S. support for a heartless Israeli regime.
This issue opens with excerpts from previous articles about the Israeli-Palestinian conflict, which lead into an analysis of the American government's support for Israel. One section on the relationship between the two countries is called "Irrational Alliance."
Toward the middle of the document, a timeline depicts terrorist attacks from 1980 through the present. In the entry for the September 11, 2001, attacks, the result is reported as "more than 3,000 Americans dead, change in history."
Click for full size: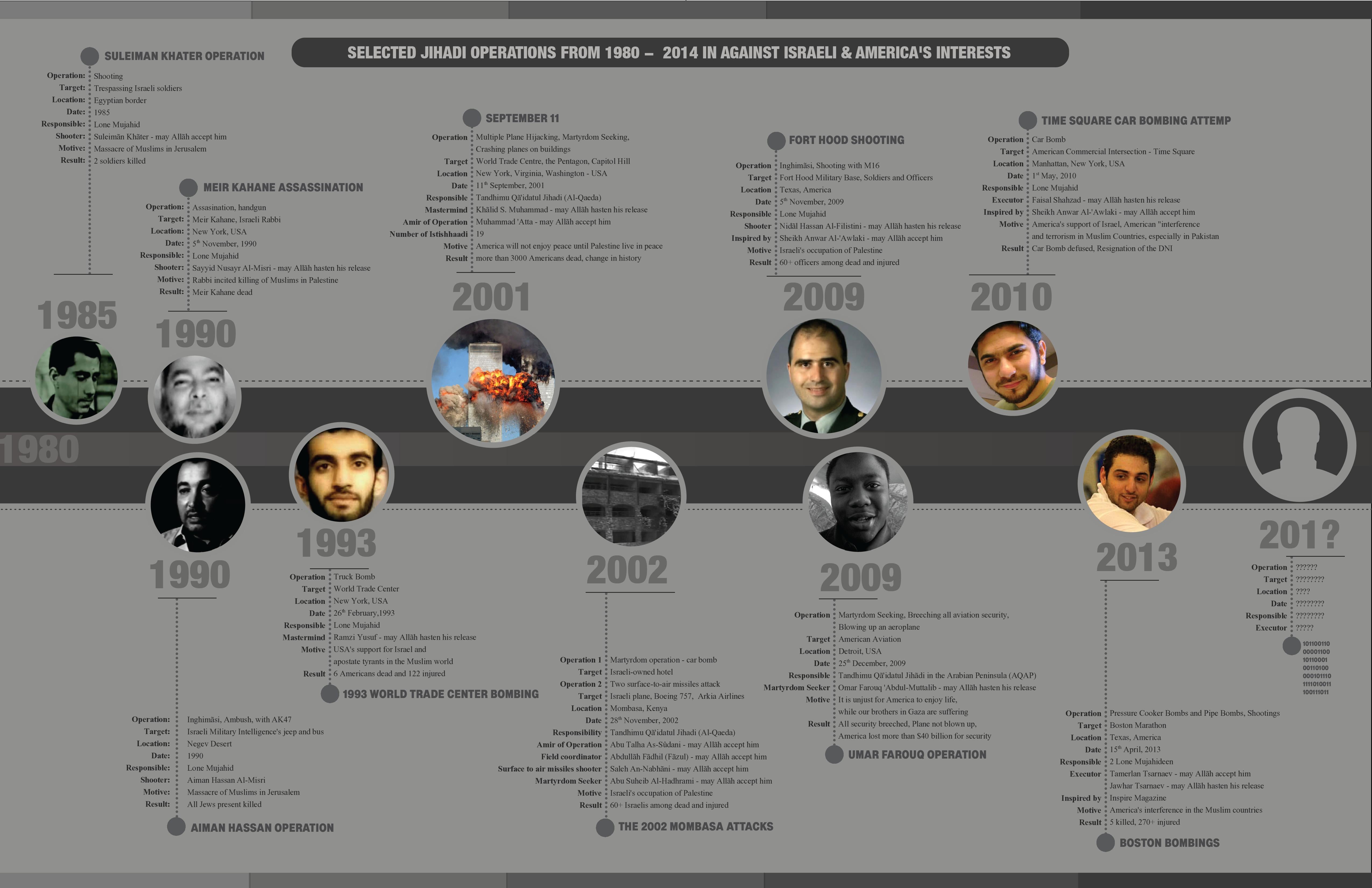 H/T Fox News | Screenshot via Inspire