For all the blessings that come with a nice set of AirPods, there's a good chance you'll need a new case. Maybe you drop yours too often or simply don't think it's providing the same charge it once was. When it comes time to get a new AirPod case, there are a bunch of solid options for keeping your Pods charged. Here are the four best AirPod charging cases.
The 7 best AirPod charging cases
Cliche though it may be, when it comes to Apple products, you get what you pay for. If you're looking for a new charging case, it's worth considering just getting another Apple AirPod charging case. While paying the Apple tax isn't great, you'll never have to worry about any compatibility issues that might pop up with third-party products. The only real downside is the price; the case alone costs $69-$79.
If size isn't a factor and you just want the absolute most juice for your buck, the Bleakteir power bank/AirPod case can't be beat. Holding enough power to recharge AirPods 125 times or an iPhone 7 four times, or an iPhone X two times, no other solution takes you farther. The only downside is its size. This little wonder might be too big to slip in your pocket for a walk. However, for travelers or office commuters with a bag, this is a lifesaver. Still, with space to store and charge your AirPods along with USB and USB-C ports, this may be the tool travelers never knew they always needed.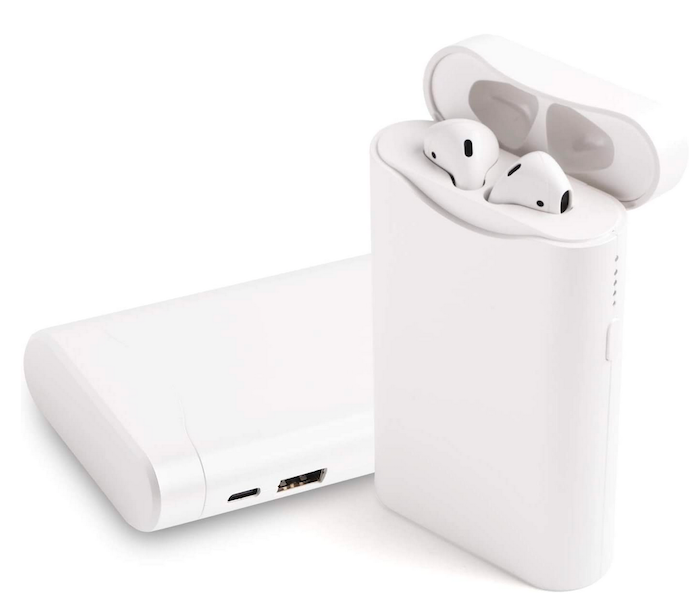 The vast majority of the charging cases on the market only work with the AirPod 1 and 2. That doesn't mean AirPod Pro users are stuck with Apple's expensive charger however. Pennant Patches sales a AirPod Pro charging case for the incredibly reasonable price of just $35.99.
This case can be charged wirelessly or with a cable, thanks to its support for Qi-compatible charging pads. On average this 660 mAh battery can provide up to five full charges of your AirPod Pros. Most impressively, it can fully charge your pods in just 20 minutes. More importantly, the case as a delightful low profile.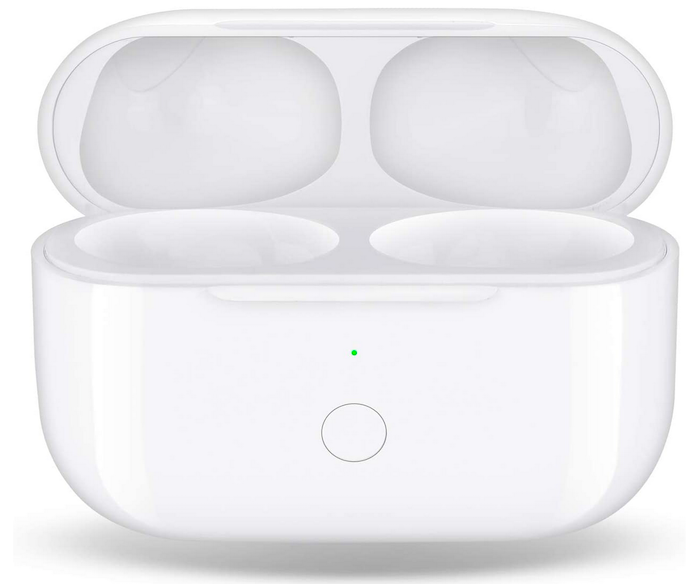 If you're looking to replace your AirPods case, there's no reason not to upgrade while staying within your budget. Neotrix's budget-minded AirPod case supports wireless Qi charging and has enough battery life to fully charge your AirPods five times. You even get a Bluetooth connection button. In fact, the only thing that's different than an Apple AirPod case is the price — it's just $32.99. That's half the price of an official case. Some reviewers have complained about the cheap build, but when you could get two of these for the price of one Apple Airpod case, that's a minor complaint.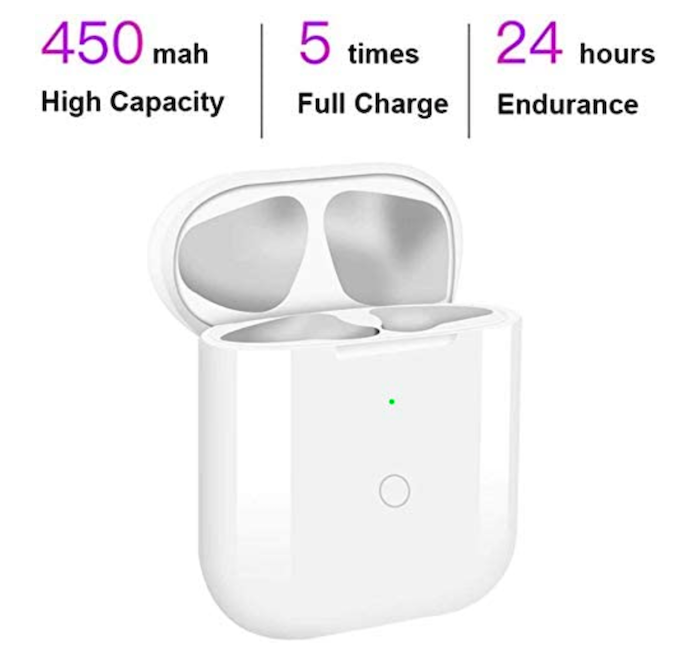 Bleakteir's AirPod replacement charging case is another great alternative to Apple's overpriced official case. This $35.99 wonder works with 1st and 2nd generation AirPods and has the same great quick charge powers as Apple's case. Charging your AirPods for just 15 minutes will give you up to 3 hours of additional charge. Unlike older models, the updated version of this case includes a Bluetooth connection button.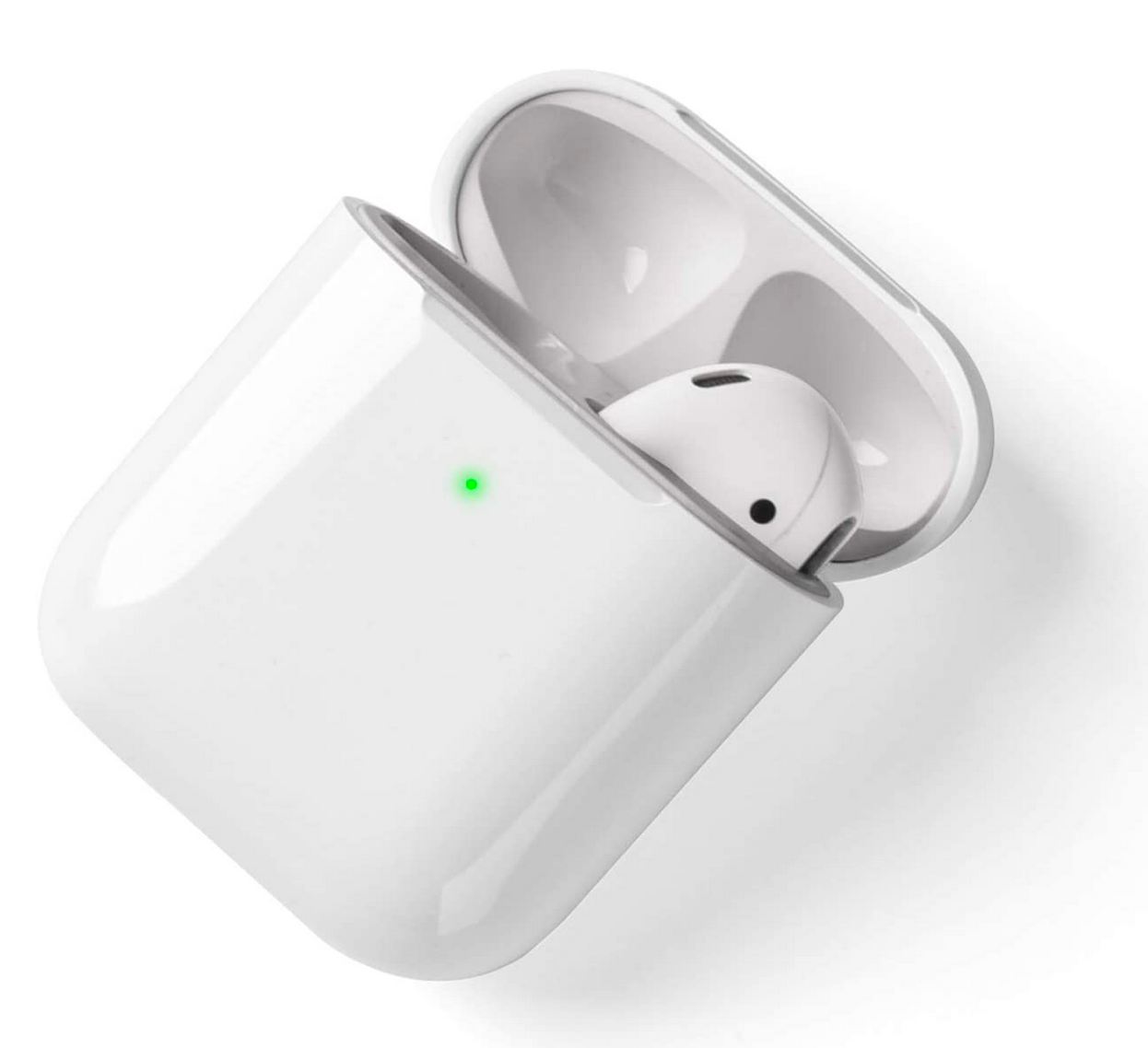 The Catalyst charging case might not be quite as sleek as the Apple option or competitors that mimic the company's design, but it is shockproof and waterproof for accident-prone or adventurous users. It also comes in a variety of bright colors, so if white isn't your thing, Catalyst has you covered. And: It's only $24.99. It won't deliver as much juice as other options and isn't as hi-tech, but if just want to keep your 'Pods safe, it's a great, affordable option.
Perhaps you already love the charging case that came with your AirPods, that doesn't mean they don't need protection. Especially if you work on a construction site or bike to your job. The Moxjoy AirPod Cast is designed to work with AirPod 2, offering a seamless and sturdy frame with handy features.
Supporting both wired and wireless charging, the Moxjoy already works with your set up. But it's the little touches that count, from its dustproof armored case, to its carabener, to its $10.99 price. Protect your investment, even if you're on a budget.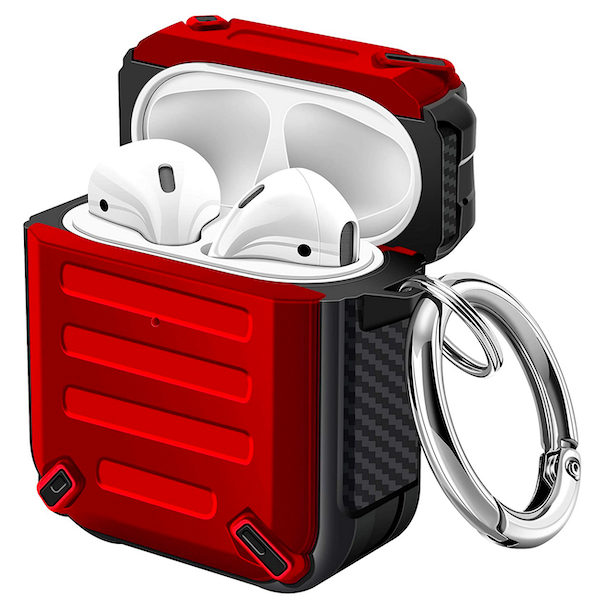 The Daily Dot may receive a payment in connection with purchases of products or services featured in this article. Click here to learn more.