As it has done every election since 1988, on Tuesday, Nickelodeon hosted a special wherein it revealed the results of a poll of children choosing the winner of the presidential race.
Kids Pick the President, which has accurately chosen the winner 75% of the time, is designed as a lighthearted introduction to political engagement.
This year, one group took the unscientific online poll far too seriously: 4chan trolls who make it their business to skew online polls in favor of President Donald Trump.
It quickly become clear that something foul was afoot in the poll that ran from Oct. 20-26.
"Nickelodeon detected cheating on Wednesday, Oct. 21, when threads on online forums began discussing corrupting the Kids Pick the President site with fraudulent votes," Nickelodeon said in a release. "Subsequently, more than 130,000 bot-generated votes were detected."
The company said that it used a voter certification tool to identify and remove fraudulent votes. Ultimately, 90,000 valid votes were tabulated. Democratic presidential nominee Joe Biden won, 53% to 47%.
This election cycle, online presidential polls have been routinely targeted by right-wing trolls. A search for "post the poll" in the politically incorrect message board on 4chan reveals dozens and dozens of links to polls, many, though not all, on Twitter. The results unsurprisingly heavily favor Trump.
Numerous posts linked to Nickelodeon's poll, many offering advice for interfering. "Listen up fucks. Nickelodeon has a thing for kids to vote for the president. Doesn't mean shit but why not. If you're on DuckDuckGo or Jewgle Incognito just refresh the page to vote again," wrote one on the notoriously anti-Semitic anonymous messaging board.
"Nickelodeon is holding an election where there is no registration for it … I say all of /pol goes there to help the Don win at kidspickthepresident.com," another posted.
Numerous users justified cheating on a children's poll by arguing that Nickelodeon broadcasts liberal propaganda.
"It would be funny to have it seem like the kids picked Trump when Nick literally airs BLM propaganda," one said, referring to the Black Lives Matter movement.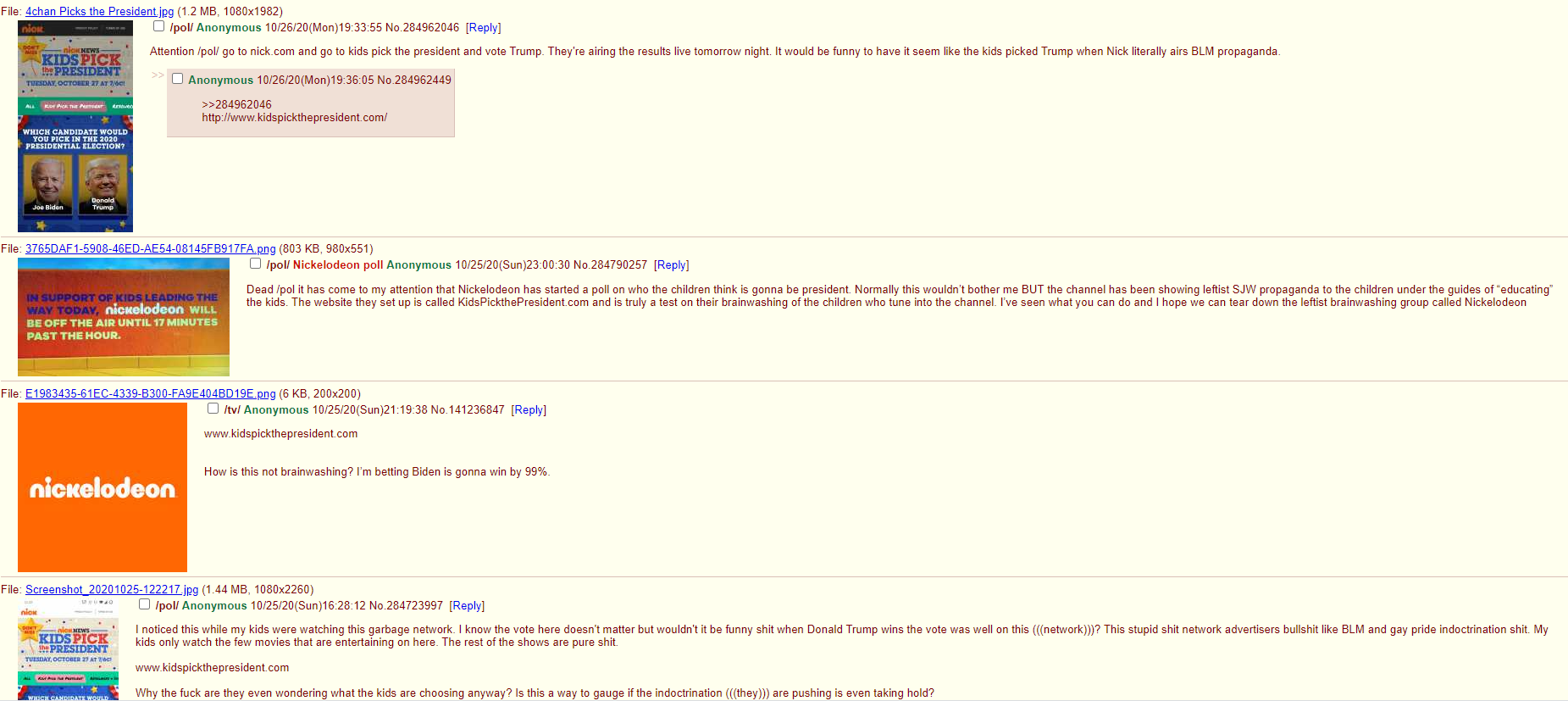 Elsewhere online, people were appalled when Nickelodeon revealed that its poll had been interfered with.
While it may be poor form to interfere with the results of a poll by a random Las Vegas NBC news affiliate, to many Twitter users, targeting Kids Pick the President was a bridge too far.
"Nothing says MAGA more than a bunch of adults taking over a children's poll meant to be educational fun for kids," opined @merry_ghouled. "Reminds me of the bully parents at school sports games going off like it's an NFL, NBA or MLB game."
Some had mixed feelings about a children's television station being arguably better equipped to detect polling fraud than more serious outlets and reporters.
"Why is Nickelodeon better at everything [than] so many respected people?" said @mkees1.
Nickelodeon also won points for honesty. During the broadcast, a voiceover disclosed the attempt to interfere with the poll.
"We know you depend on Nick for fairness and honesty, so we wanted to be honest with you. As we conducted our vote, our tech wizards at Nick discovered some cheating and were able to eliminate the unfair votes from our count.
"After lots of vetting, we feel super confident in our results."