As we spend more and more time inside digital worlds, documenting human behavior in virtual spaces has become an exciting new field of research.
This week on 2 Girls 1 Podcast, Alli and Jen (actors who perform weird internet stuff on stage) talk to gaming archaeologist Andrew Reinhard about his expeditions inside the universe of space exploration game No Man's Sky.
Reinhard, who is working on a Ph.D. in gaming archaeology, is documenting the abandoned civilizations left behind by players when No Man's Sky was recently updated—a transformation he calls a "climate change event" that compelled many to leave their homes among the stars.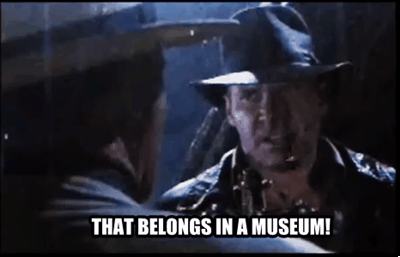 Reinhard was also the archaeologist who assisted filmmakers in unearthing the legendary Atari game dump, in which thousands of E.T. cartridges were buried in the '80s after a massive commercial failure.
UPDATE (6/25/2018): You can now purchase Reinhard's book Archaeogaming, which chronicles his research in video game archaeology.
Subscribe to 2 Girls 1 Podcast wherever you listen to your favorite podcasts and get new episodes one week early on the free TuneIn app!
► TuneIn (Get new episodes early!)
► Apple Podcasts
► Google Play
► Spotify
► Stitcher
► SoundCloud
► Radiopublic
► RSS
We'd love to hear from you!
Email the show:

[email protected]

Tweet us: @alligold, @joonbugger, @alliandjen
Call us: (347) 871-6548 (Leave us a message with a suggestion, personal story, original song, or just shout into your phone. We might play your voicemail on the show.)
If you enjoy this podcast, consider sharing it with a friend or two, and use the hashtag #2G1P. We'll be watching!
2 Girls 1 Podcast is hosted by Allison Goldberg and Jennifer Jamula, and is produced and edited by Matt Silverman in New York City. Production assistance is provided by The Podglomerate.