It's been more than 30 months since New York City micro-engineer Fred Benenson put the last smiley face on his epic new media novel Emoji Dick. But the hits keep coming for his Kickstarter-funded remake of Moby Dick, which refashions Herman Melville's 212,000-plus words into emojis, those Japanese picture characters that kids send through text.
Tuesday morning, Benenson took to his Kickstarter page to announce that he'd recently received a call from the Library of Congress, and they're interested in doing business.
"They wanted to acquire Emoji Dick as the first emoji book in their collection," Benenson wrote to his 83 backers. "So as of very recently, Emoji Dick is now officially part of the Library of Congress' catalog."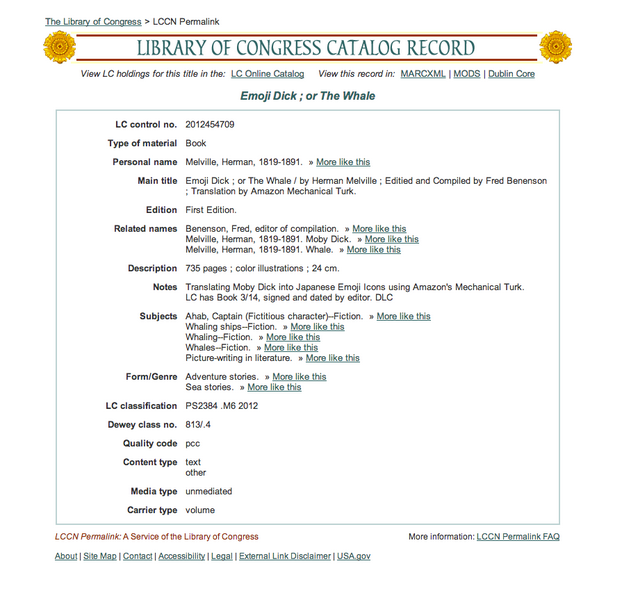 To see Benenson tell it, the idea of emoji book holding a place within the Library of Congress isn't that surprising.
"I'm interested in the phenomenon of how our language, communications, and culture are influenced by digital technology," he told the New Yorker September 2009.
"Emoji are either a low point or a high point in that story, so I felt I could confront a lot of our shared anxieties about the future of human expression by forcing a great work of literature through such a strange new filter."
Benenson has now launched three Kickstarter campaigns and actually works in research and development for the crowdfunding site.
He buried the news under an announcement that his book "can now be considered a work of art," thanks to its inclusion in a gallery show at the Chelsea art institution Printed Matter. That's exciting, but entering the Library of Congress is worthy of its own emoticons.
Photo via Fred Benenson/Kickstarter