Becoming a poet is now only an incomplete Google search away.
Google Poems are by far the simplest example of the art form this side of limericks. To create your very own piece, simply type part of a phrase into Google. The search engine's autocomplete feature will immediately activate, providing you with a list of suggestions with which to complete your search.


That list of suggestions is your Google Poem.
It's ridiculous. It's simple. It's stupid and yet oddly addictive.

In other words, it's perfect for Reddit.
On March 7, a redditor who goes by RECTANGULAR_BALLSACK posted on r/TheoryOfReddit, "They really want "Google Poems" to take off, don't they?" In the post, Mr. Ballsack notes the numerous submissions of Google Poems to the site and their tendency to almost immediately hit the front page, scoring thousands of upvotes:
"'New' is swamped with submissions right now, and /u/Twixii (a new account) just posted this in /r/funny: "Can we make Google Poems a thing?!" [It's 5 hrs old and currently has 2401 karma points with 15,067 up votes and 12,632 down votes and 397 comments]." 
While the r/funny submission has lost some of its karma value since RECTANGULAR_BALLSACK's post in the early hours of March 7, it appears that the popularity of Google Poems is just getting started.
Although the site googlepoetics.com (thanks, Rollin Bishop!) has been around for a while, the r/googlepoems subreddit was brought to life early on March 7. In less than 24 hours, it has seen hundreds of submissions and currently has over 4,300 "Prose Poets."


The first poem posted to r/googlepoems created a monster of search-engine prose.
Currently, the fast-growing subreddit's most popular submission is titled "Distress" and answers the age-old question of "where the hell are."

Will Google Poems become another unexpected success story for the popular search engine, like Google Whack, or will it simply be another flash-in-the-pan phenomenon, like Google Plus? More importantly, are we going to see this next?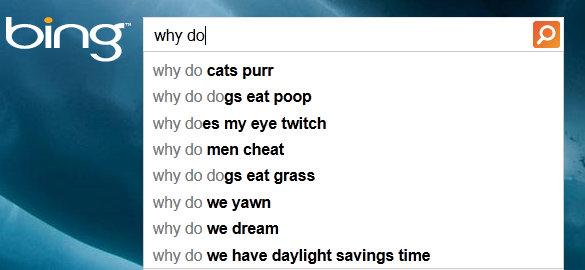 Photo via jf 1234/Flickr