Meet the Brooklyn public relations specialist behind the Tumblr blog, Gram of Thrones. 
The hit HBO show Game of Thrones tells the story of seven different royal families fighting for the Iron Throne. The medieval fantasy series is set in the mythical world of Westeros where a person's worth is determined by family name and status.
The same holds true for Gram of Thrones, a popular Tumblr blog—except each Game of Thrones family is instead fighting for control of Instagram, the popular photo-sharing application recently acquired by Facebook, and a person's worth is determined by the quality of his or her photos.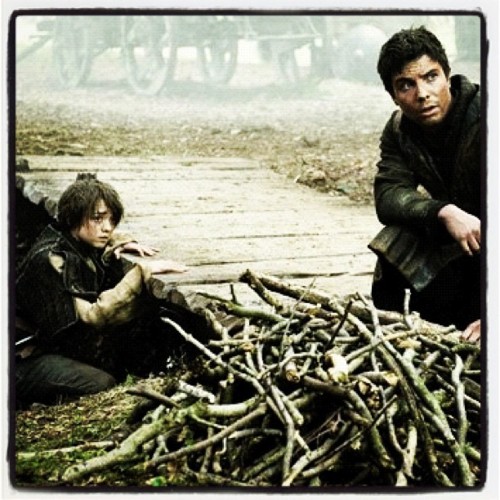 Gram of Thrones is the brainchild of Mallory Blair. The blog features image stills from the show with a stylish Instagram filter and a witty caption underneath. Blair came up with the idea for the blog while watching the show about a month ago with her friend and colleague Leia.
"There was this episode when Sansa Stark was looking into a mirror and they zoomed in on it and it looked like an Instagram photo," recalled Blair, a 23-year-old public relations specialist and cofounder of Brooklyn's Small Girls PR. "Leia yelled out 'Instagram' and everyone in the room started laughing. Throughout the rest of the episode we'd say 'Instagram' whenever there was a moment that looked whimsical or filtered in the show." (The moment Blair described happens at about 1:25.)
The couple started the blog shortly after that, with Blair creating the captions and Leia Instagamming moments from the show using HBO Go, a site and application where people can stream HBO content. The blog has since collected 600 followers and been highlighted by the Huffington Post and BuzzFeed.
"I think it just resonates with people. I think there's a lot of overlap with people who are interested in technology and fantasy. Game of Thrones has dragons in it. You can't meet a dragon in reality but you can now you can look like a professional photographer thanks to technology."
Blair is unsure what the future holds for the blog but is excited to see where Game of Thrones goes this season.
"It's my favorite show of all time," Blair said.
"I'm a sucker for fantasy and character development. But what I think is uniquely interesting is how they give you this character that you fall in love with and they ruthlessly kill them at the drop of a hat."
Photos via Gram of Thrones
Pure, uncut internet. Straight to your inbox.